Mirror Lake Utah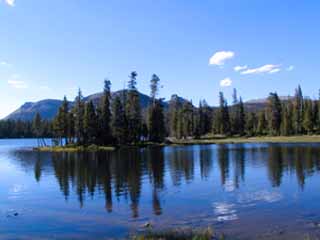 Don't confuse Mirror Lake Utah with the lake by the same name found in Yosemite National Park.  Utah's idyllic lake lies in the scenic and wild Uinta Mountains … often called the High Uintas … rising up about 40 minutes east of Salt Lake City .
If you've seen it, you already know why it's called Mirror Lake. Approaching it from the west, you look down on the lake from a roadside overview.
The reflection of the magnificent Uintas … including towering Bald Mountain … and the emerald green forests surrounding the lake are reflected in its surface.
Escape The Summer Heat
One of my favorite places to go to escape the summer heat below, Mirror Lake Utah is a marvelous camping, fishing, and recreation area. And the shoreline provides full public access.
The last time we drove up, my wife mentioned that it's like driving through parts of Yellowstone. Only shorter and … in some ways … better.
You'll find a Forest Service campground with 94 campsites, day-use areas, picnic facilities, latrines, and a boat ramp for non-motorized watercraft.
If you like to paddle a canoe across a glass-like surface or drop a fly while relaxing in a float tube … like I do … then this is a great place to do it. No motorized watercraft allowed, thank you.
Never Float Tube
Without A Life Jacket
I had one of my more interesting float tube experiences on Mirror Lake. Taking my tube out for the first time one year, I ended up kicking myself leisurely across the lake.
Totally mesmerized by the peace and quiet … and having some nice success … I didn't realize my tube was losing air. I kicked myself back across the lake a lot more energetically than on the way over. Made it albeit not by much. Lesson reinforced. Never float tube without a life jacket.
The water flowing into Mirror Lake Utah is the overflow from the higher-up Pass Lake. While the outflow turns into the headwaters of the Duchesne River.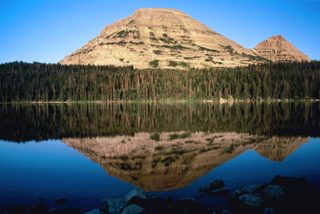 The Mirror Lake Scenic Byway
The drive to Mirror Lake Utah from the Utah side is via one of Utah's scenic byways. The Mirror Lake Scenic Byway.
Open only from late spring through the fall due to massive snowfall, it runs from Kamas to Evanston, Wyoming on UT-150.
There are very few roads that traverse the Uintas. But this one does. It's about a 70 mile (112.6 km) drive. A lot of it parallels the Provo River.
The byway climbs up over Bald Mountain Pass … an elevation of 10,687 feet … before dropping down past Mirror Lake and on up another steep ridge.
Further on, it parallels the Bear River and takes you on to Evanston. Along the way … and obviously at different times of the year … you can enjoy camping,
fishing, hiking, cross-country skiing, ATV riding, and snowmobiling.
You'll also find jumping off points for horseback excursions into the backcountry Uintas. Not something to be undertaken without someone who knows where they're going. And what they're doing. My father-in-law did this every year for many years.


Getting to Mirror Lake 
To reach Mirror Lake Utah from Salt Lake City, take I-80 east up Parley's Canyon towards Park City. About 19 miles (31 km).
Just past Park City, take a right on State Highway 40 and proceed about 3 miles south. Take the Kamas/Uintas exit and head east on Highway 248 towards Kamas.
The entire drive from Salt Lake City to Kamas takes no more than 40 minutes. Unless you get side-tracked at Park City like we do sometimes. Kamas sits at the base of the Uinta Mountains and the entrance to the Mirror Lake Scenic Byway. Add on another half hour or so for the drive to the lake.
If you want to use the facilities in this area, you must buy a recreation pass. A $6 pass is good for 3 days. A $12 pass for 7 days. You can also buy a $45 annual pass. These passes are good for recreation along both the Alpine Scenic Loop and the Mirror Lake Scenic Byway.


Pay To Play Has Improved The Entire Area
I've noticed that in the years since they've been charging these fees … and using them to maintain and improve the area … it's more beautiful, much cleaner, there's less trash, and the facilities are vastly improved. I would definitely be in favor of charging these fees in other areas to get the same result.
There is an abundance of wildlife in the Uintas so keep your eyes open and be careful. Utah's largest concentration of moose are found in these mountains. And be ever-vigilant for mule deer as you're driving through. They like to hang out near the road. Especially after the sun goes down.
And, if you're camping, read the signs explaining how to avoid confrontations with bears . A bear that you never encounter is a happy bear.



Back to top

Back to Uintah Mountains

Back to Home Page