Fishing In Utah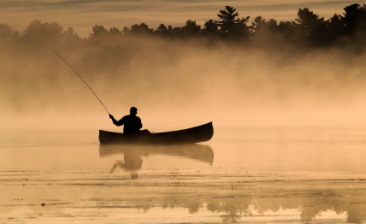 A Cure For What Ails You
Fishing in Utah offers a fabulous cure for those with that amiable madness ... a love for fishing.  You might expect that from a land of soaring mountains, crystal-clear streams, emerald green rivers and misty lakes. 
In a world where so many people spend their lives doing things they dislike, those with a love for fishing tend to do the opposite.  And Utah is a dynamite place to do it.
Although the state's fly fishing waters are well known to residents, fishing in Utah has only recently begun to receive the credit it deserves from outside the state.  Our rivers and streams are famous for trout but there's more.
gargantuan trophy lake trout
whopping striped bass so big and plentiful, there's no limit
savage tiger muskie
walleye
largemouth and smallmouth bass
channel catfish
perch and crappie just big enough for your pan
freshwater kokanee salmon
And, of course:
rainbow trout
cutthroat trout
brown trout
brook trout
And you can enjoy fishing in Utah pretty much year-round if you want to.

My intent here is not to satisfy your curiosity.  It is more to arouse it. Fishing conditions on different waters are ever changing.
It wouldn't make sense for me to try and keep you apprised of current conditions and new regulations.  They might be different tomorrow.
Other sites do a much better job of that.  I will try to direct you to that information as this site evolves.
Sharing Water
As much as I love fishing in Utah, it is rare finding a piece of water with no one within casting distance.  Or not finding someone prowling just around the bend.  At least along the walkable sections of the popular rivers:
The Green
The Provo
The Ogden
But if you've got some stamina and are reasonably fit, there are lots of places to get away from the "crowd".   Since most of the popular waters ... on which fishing in Utah is enjoyed ... are already crowded, I'm compelled to ask you to minimize your impact wherever you go.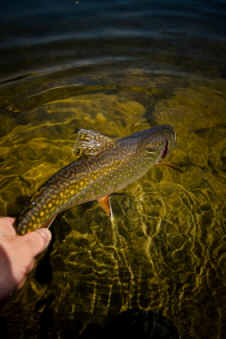 Approach waters with respect for other for example.  Be patient.  With others as well as yourself.  Relax.  Maybe the size of the water means you take turns.
There's room for everyone if we all stay at least casting distance away from the next guy or gal.  And carry out everything you take in!
I don't want to get into the etiquette of fishing in Utah.  This is not the forum.   Whether you enjoy fly-fishing, fishing from a boat, sitting on a lake with your kids, or ice fishing, Utah has something for you.


Most Of Our Fish Are Immigrants!
One thing to remember.  Utah is the second driest state in the nation!  Only Nevada has less water.  In fact, the only game fish native to Utah are:
two species of cutthroat trout – the Bonneville and the Colorado River
three subspecies of whitefish – the Mountain, the Bonneville and the Bear Lake
the Bonneville cisco
Only 27 of the 66 species found in Utah today are native fish!  This means that all of our favorite game fish -
rainbow trout
brown trout
brook trout
lake trout
largemouth and smallmouth bass
walleye
bluegill
yellow perch
and everything else
- are not native to Utah!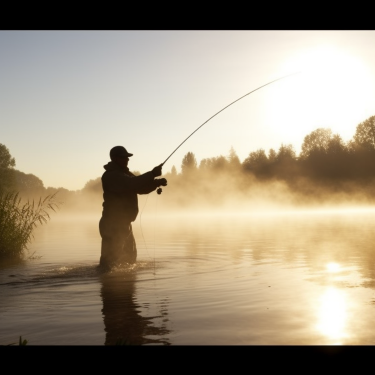 Utah Fishing History
Due to the demand for irrigation and the damming of rivers and streams ... creating our reservoirs ... for needed water, many of Utah's streams were diverted starting in the 1800's.
Between this and the over-harvesting of fish to provide food for early pioneers, Utah's fisheries became severely depleted before the end of the 19th century.
As the transcontinental railroad blazed its path across the frontier, its arrival coincided with a rising public demand to replenish the dwindling fisheries.
Eager fisheries managers were ready and willing to help.   Every known species of fish, along with their eggs, was shipped throughout the country.  And stocked wherever there was available water.
As you would expect, there were various degrees of success introducing non-native species into Utah waters.  Some survived but couldn't reproduce for various reasons.  Only stocking kept those species replenished.
Others, like the three popular strains of trout ... rainbow, brown and brook ... were very successful.  Unfortunately, many of the newly introduced species were too much competition for the native cutthroats.  They almost died out completely.

Fishing In Utah –Better Than Ever
In fact, stocking fish became the most important component of sport fishing across the U.S.  Since rainbow trout were the easiest trout to raise in hatcheries, they became the trout of choice across the country.
The options for fishing in Utah have changed.   Especially over the last 20 years.  Conserving wildlife and "managing for native species" is the mantra.  The most important species in Utah is trout.  But different kinds of trout.
Flyfishermen want to catch and release every trout.  Lake trout fishermen are looking for a trophy.  Some people still want to catch and keep every fish they catch.
And there are always those people who think everything should be banned because they don't like it.  Including fishing.
With the challenges of an exploding population and the diverse interests of sportsmen, fishing in Utah has never been as good as it is now.  Utah fisheries managers have been working hard to introduce and grow the numbers of native cutthroat trout back into our lakes and streams.
It seems that more and more waters are being managed for wild fish.  And greater restrictions on bag limits and methods are being introduced as the pressure on our waters continues to increase.
But due to the fact so many of our streams have been impounded, hatchery raised fish will continue to play a big role in Utah's sport fishing.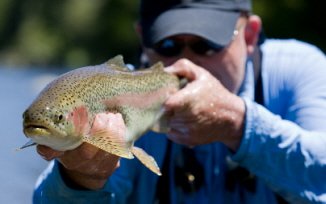 Utah's Best Fishing Waters
Listed here are some of the best and most well known places to enjoy fishing in Utah.
Boulder Mountain - Solitude and awesome fishing.  That's what you'll find in the numerous small lakes on southern Utah's Boulder Mountain.  Due to the area's remote location, few anglers make it here or even know about it.  But those who do, keep coming back to relive their experience.  Maybe to find a new favorite spot.  Cutthroat, brook trout, wild cut bows and browns flourish in these crystal-clear alpine waters.  The lack of pressure allows you to fish in quiet seclusion for trophy-size trout.
Fish Lake - Fish Lake affords excellent trout and perch fishing in a beautiful high mountain setting.  Located in south-central Utah, Fish Lake is a premiere location for catching huge trophy lake trout.  Up to 30 pounds!  It also offers the chance to catch splake ... a lake trout/brook trout hybrid ... up to six pounds.  Rainbows and yellow perch are also commonly found in this beautiful mountain lake.


Green River - The Green River below Flaming Gorge Dam is world famous.  Fly fishing for big browns and rainbows in this paradise of emerald green water is an unforgettable experience.  The wild browns reproduce naturally and grow big quickly in the fertile water.  How big?  A record 29-pounder was caught in 1996.
Lake Powell - Lake Powell in southern Utah gives you the opportunity to enjoy fishing in any one of 96 spectacular canyons.  The famous red rock country.  Striped bass as big as 50 pounds.  Smallmouth bass and largemouth bass to appease any bass lover's appetite.  You can keep as many striped bass as you want and there's no size limits either.
Logan River - The Logan is one of the best blue-ribbon trout streams in the west.  Flowing out of a canyon by the same name near the town of Logan, it is 30 miles (48 km) of scenic trout fishing in Utah.  There is easy access and the mountain scenery is breathtaking.  A superb flyfishing stream.  I've spent many hours on this beauty.
Pineview Reservoir - Pineview lies in the beautiful Ogden Valley east of the city of Ogden.  The Ogden River flows through it.  Pineview Reservoir offers a variety of fun activities - boating, fishing and water skiing.  The Ogden River flowing down from the reservoir towards the city offers excellent trout fishing.  The South Fork of the Ogden River above the reservoir gives fly-fishermen the chance to fish another great blue-ribbon trout stream.  In Pineview Reservoir itself, lurks unique sport fish.  Trophy tiger muskies.  Large hybrids resulting from mixing muskies with northern pike.  These are aggressive fish that attack lures ferociously.  The Utah state record for a tiger muskie weighed 33 lbs. 9 oz. and was 49 inches long!  It was caught here.  Pineview also offers smallmouth bass, crappie, perch and bullhead catfish.  There are a few trout also.
Provo River - The Provo River is a premier blue ribbon trout fishery.  One of the best in the west.  But so close to Utah's major cities.  An hour from Salt Lake City.  Fifteen minutes from Provo.  Big browns and rainbows are caught here.  A typical fish reaches 17 inches or more!  Browns over 30 lbs. have been caught on the Provo.  How about as many as 7,500 trout per square mile in some stretches?  Fantastic year-round scenery.  Great fishing.  Easy access in some places but a lot of private access.
Scofield Reservoir - Scofield is second only to Strawberry Reservoir in popularity among Utah's fishing waters.  An excellent year-round fishing spot for rainbow and cutthroat trout.  Also a first-class ice fishing destination.  If you enjoy sitting on a shore with your kids and throwing a line in, it's easier here than Strawberry or many of the other lakes in Utah.
Strawberry Reservoir – Utah's best and my favorite trout water.  It offers superb fishing for large rainbow and cutthroat trout.  Also kokanee salmon.  Fish grow quickly and thrive in Strawberry's fertile reservoir waters.  Awesome in a float tube.  Or in a boat.  Or even just off the shore.  Fall is spectacular up here.
---
Do You Love To Fish?
Love the outdoors?  And fishing in Utah?
Then you already know that whether it's fly-fishing, boat-fishing, or simply throwing a line off the shore of a lake, there are few things as enjoyable as fishing one of Utah's rivers or lakes!
Telling your fishing story and showing photos of your Utah fishing adventure give others the chance to experience it.
People with whom you share your story get a lot of joy out of it.   And it also adds to their knowledge of the outdoors.  Show YOUR KNOWLEDGE and share your experience to friends who share your passion for fishing in Utah!
But the difference here is that:
your story will be placed on a separate webpage on our website.
sharing your story is FREE .
it's as easy to do as typing your story.
it will be available to you and visitors to this site for years to come!
Share the Best of Your Utah Fishing Experience!
Do YOU have a great story to tell about fishing in Utah?
And a great photo?

Then share them! They will be enjoyed by people from all over the world... for years to come.

Thank you for sharing with all of us!
What Other Visitors Have Said
Click below to see contributions from other visitors to this page...