Flaming Gorge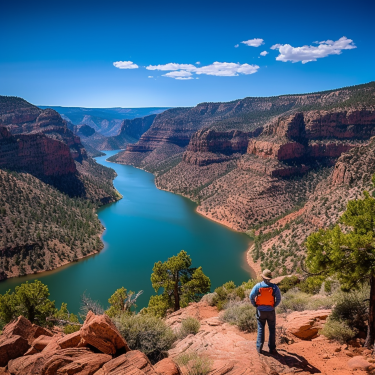 Historic Country
Flaming Gorge is located in truly historic country.  The dammed waters of the Green River have created a breathtaking lake extending upstream for 90 miles (144.8 km). 
The resulting playground ... the Flaming Gorge National Recreation Area ... couldn't be more appropriately named.
It was near this point where Major John Wesley Powell and nine men put their small wooden boats in the water in 1869.  The hardened one-armed Civil War veteran embarked on his voyage into the unknown.  He bet his life ... and those of his men ... on a generalization he had made based on his knowledge of geology.
He was told there must be huge falls down the Green River and on the Colorado River to follow.  It was inevitable.  Powell said no.  If he was wrong, he and his men were dead.
Once they entered the canyon, there was no turning back.  He believed a river so loaded with silt and erosive material would have long ago worn the riverbed to an almost even grade.  He was right. But it was a wild ride.
Other legends began here.  Butch Cassidy and The Sundance Kid. Jim Bridger.  An area rich in western folklore.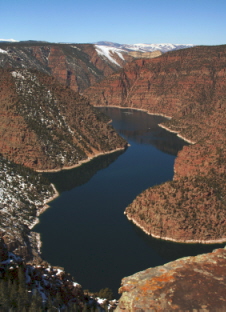 Why Flaming Gorge?
Powell's second journey was much better equipped.  Frederick S. Dellenbaugh accompanied him and authored the expedition's story. He wrote, "we could see high up before us some bright red rocks.
From these bright red rocks, glowing in the sunlight like a flame above the gray-green of the ridge, the major had bestowed on this place, the name of Flaming Gorge."

The Green River
 The magnificent Green starts as a trickle in Wyoming's Wind River Mountains. By the time it has joined the Colorado and ends at the Gulf of California, it will have cascaded through six National Parks or Forest Service units.  Flaming Gorge National Recreation Area is the first one.
Where Is Flaming Gorge?
 The Gorge is tucked into the northeast corner of Utah and southern Wyoming. Although most of the reservoir is in Wyoming, the most dramatic scenery and the best places to visit are in the southern Utah end.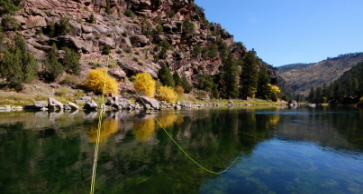 What To Do At Flaming Gorge?
Unique beauty.   Abundant wildlife.  Cougar.  Deer.  Bear.  Antelope.  Elk.  Bighorn Sheep.  Wild horses.  And fishing.  World-class fishing!
Even though Glen Canyon National Recreation Area – Lake Powell - in southern Utah draws more visitors, there is more to do at the Gorge.  In fact, it may have no equal.
Raft and

fish

on the Green River below the dam.  Some of the best trout fishing on the planet is right here.  Even during mid-summer, the surface water is relatively cool.  That means it's a haven for trout.  One of the best tailwater fisheries in the world.  But the Green was an endangered river not too long ago.  We won that battle.

Boat and

fish

on the 91-mile-long reservoir.  Also world-famous for fishing.  But for Lake Trout.  Trophy Lake Trout.  Many 30+ pounders are caught here every year.  The Utah record ... caught right here ... goes over 51 pounds.  There are bigger ones yet to be caught.
Camp at one of 29 Forest Service campgrounds.
Stay at one of the comfortable lodges.
Watch and photograph some of the wildlife mentioned above.
Backpack into the nearby High Uintas Wilderness Area.
Take a tour of the dam.   It's immense.
Visit some of the interesting historic sites.
Mountain bike all over this area.  Enjoy:
windsurfing
houseboating
camping
snowmobiling
cross-country skiing
and ... one of my favorites ... photography
The Best Time To Visit?
 The Gorge is extremely popular but it rarely seems crowded. Except for busy summer weekends when the three places renting rafts near Dutch John sell out.
The ramps get very crowded.  Get a reservation on these busy summer weekends.   The river is fantastic for rafting.  And the fishing is world-famous.
Early fall may be the best time to visit.  The leaves are changing. It's cool during the day. Chilly at night.
The Kokanee Salmon are spawning up the tributaries.  Thousands of bright red fish.  There's even an annual Kokanee Salmon Day.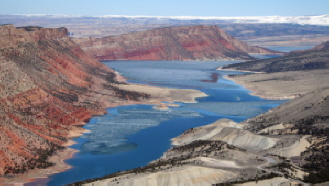 What About The Dam?
 The construction of the dam was started in 1958. Completed in 1964.  Rising 502 feet (153 m).  Surface level elevation of 6,040 feet (1843 m).
The nearby town of Dutch John was established as a base camp during the dam's construction.  It is now essentially an administrative site.
A pretty much meaningless fact for you.   A fellow worker of mine ... a laid-off office manager ... was named the mayor of Dutch John back in the late 1980's.   Not a bad place to be laid off to.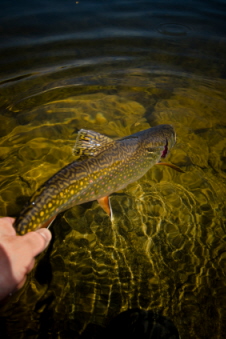 Flaming Gorge Fishing
We've talked above about the world-class Lake Trout fishing this lake is famous for.  The Green River below the dam is also world-famous for fly-fishing.  The ice cold water and perfect structure make for an ideal trout water.
rainbow trout
brown trout
cutthroat trout
lake trout
kokanee salmon
smallmouth bass
You don't need a permit or a guide to raft below the dam. You can rent a raft at three different locations.
How About Going For A Drive?
 One of my favorite ways to experience the jaw-dropping beauty of this area is through a scenic drive. And what a place for a scenic drive!  The recently completed Flaming Gorge-Uintas National Scenic Byway is a gem.
Many roadside exhibits and short nature trails allow you to experience the Flaming Gorge and Uintas area from many different perspectives.  It is a great way to see as much as possible in a limited time.
Why Flaming Gorge?
As I've said earlier, Flaming Gorge gives you the opportunity to enjoy panoramas that are almost too big to fit into the lens of your camera.
It offers unlimited year-round recreational activities.   Great facilities.  The main season runs from May through September.
But a few facilities remain open for cross-country skiers, snowmobilers and ice fishermen.
Enjoy:
More than 600 camping and picnic units.
Two visitor centers. The Visitor Center is open year-round.
More than a hundred miles of trails.
Once again, when it comes to outdoor recreation, the Gorge may be unequaled.