Snowboarding In Utah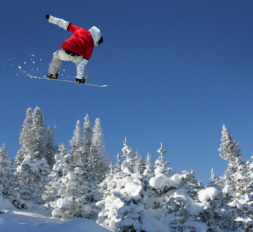 500" Of Powder Every Year
Snowboarding in Utah means light fluffy powder.  Like goose down. 
That's why snowboarders fall in love with Utah snow.  As much as 500" of it falls in Utah's mountains every winter.
People who have boarded and skied here for any length of time will tell you that Utah powder is the perfect snow. Bone dry when it falls. Intoxicating. Even addicting. "The Greatest Snow On Earth."
But what causes such fantastic ski and snowboarding conditions? Unbelievable snowboarding in Utah experiences are the simple good luck of location. The result of a geographic rarity.
Utah is located at the foot of the west edge of the Rockies but also just east of the vast Nevada desert. In fact, directly west of Salt Lake City is pretty much where that desert starts.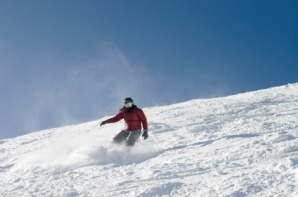 This location results in the fluffy powder boarders and skiers lust for. Most of Utah's winter storms originate in the northern Pacific Ocean. As they move over the Cascades and Sierra Nevadas, they lose much of this moisture.
As these storms hit the high mountains of Utah, even more moisture is squeezed out. Under cold and relatively dry conditions, the resulting snow floats to the ground like fluffy down. "Powder".
And if you're a snowboarder, you probably want vertical. Extreme vertical. And Utah has it. Steep hills. Long tight runs. Amazing terrain parks. That's what snowboarding in Utah is all about.
You can find whatever type of terrain you're looking for in the Utah mountains. Probably why so many pros make their home in Utah.
11 Resorts For Snowboarders
Utah resorts know how to cater to snowboarders. There are 11 Utah snowboarding resorts . Resorts which welcome snowboarding. Alta and Deer Valley are the only two that don't.
As spectacular as the Utah scenery is, its proximity to Salt Lake City makes Utah the most accessible winter vacation playground in the world! It's unbelievably easy to get to.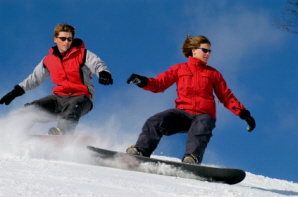 In fact, locals tend to take this closeness for granted. The hardest decision they make all day may be which resort to go to.

Getting Here
Believe it or not, half the people in the US are within a 2½ hour flight from the Salt Lake International Airport. And when that flight lands, you're less than an hour drive from 7 world-class snowboarding resorts.
Salt Lake International Airport is served by 13 major airlines. 726 flights daily. Whether you fly in from the east coast or the west coast, you'll be snowboarding in powder that same day!
And there's a resort for every budget and level of snowboarder. As convenient as it is to get here and enjoy snowboarding in Utah, it's equally as convenient to leave. This convenience can give you two more days of vacation compared to many other places you'll consider.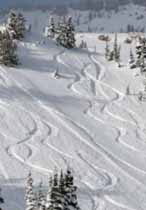 The 2002 Winter Olympic Games provided unforgettable memories for everyone who saw them or participated in them. They also left behind fantastic facilities and an unparalleled winter playground for people like you to enjoy.
As you can see below and in our links to each resort, snowboarding in Utah presents a snowboarding adventure for every budget and expertise level.



Beaver Mountain - Logan area
Brian Head - Cedar City area
Brighton - Big Cottonwood Canyon
The Canyons - Near Park City
Park City Mountain Resort - Park City
Powder Mountain - Eden
Snowbasin - Huntsville
Snowbird - Little Cottonwood Canyon
Solitude - Big Cottonwood Canyon
Sundance - Sundance
Wolf Mountain - Eden
Back to top 

Back to Utah Snowboarding Resorts

Back to Home Page