Brighton Resort


Brighton Resort … one of the country's oldest ski resorts … has been providing skiing and snowboarding fun for families since 1936. Brighton continues to be regarded as the best Utah ski resort for families. And the best value.
Year after year, locals vote Brighton as #1 in Utah for Child/Family-Friendly Terrain and the Best Value. But don't be put off by how old the resort is. Brighton has spent millions upgrading their facilities.
By replacing the old Millicent and Evergreen chair lifts with a new quad, all of Brighton's terrain is accessible by high-speed lifts. With new night skiing terrain and a $2.2 million day lodge, the upgrades have continued.
Brighton is located at the top of Big Cottonwood Canyon only 35 miles from Salt Lake City International Airport. It seems like just about every year, my wife and I take a drive up this beautiful canyon to see the fall leaf display. And another one just before the first snow arrives.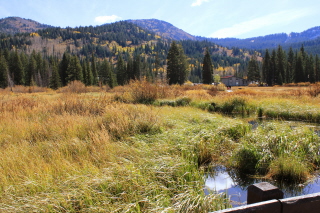 Both skiers and snowboarders alike can enjoy the slopes … and backcountry … of Brighton Resort. The Brighton Lodge provides affordable lodging. And if you need equipment rentals, you'll find them at the Brighton Center.
Night Skiing
Brighton Ski Resort offers the most night skiing terrain in Utah. Every Monday through Saturday … from 4:00 until 9:00 p.m. … night skiing and snowboarding is offered on 20 lighted runs. And served by 3 lifts including the high-speed quads Crest and Majestic.
Night skiing starts in the middle of December and continues through the beginning of April. There are several different night ticket options available.
Skiing & Snowboarding Brighton
Dining
When you get hungry, there are three options for eating at Brighton. The Alpine Rose provides cafeteria-style lunch and dinner. They also offer an outdoor sundeck as weather allows.
Molly Green's is Brighton's bar and grill. Warm up in front of the comforting fireplace. And enjoy the fantastic views of the surrounding mountains. Open during the ski season at 11:00 a.m., it provides a variety of après ski fare. From wings and burgers to soups and pizza.
The Brighton Chalet … at the base of Mt. Millicent … offers burgers and hot dogs. Be prepared to be inundated by young snowboarders.
Programs and Lessons
Brighton has always been the locals' favorite place for learning how to ski. Introductory packages give you a lesson, equipment rental, and a learner ticket. Group lessons started at $40 the last time I checked.
Group Program rates are available for groups of 25 or more. Lessons, tickets, rentals, and food are included. Call Brighton … at 800-873-5512, ext. 4 … for more information.
Terrain Parks
Brighton Resort's beginner park offers smaller rails and jumps. It's also located in a more secluded area.
The top-to-bottom terrain parks and halfpipe are accessed from the Crest Express and Majestic quad lifts. The terrain park includes 36 rails and boxes. A sound system. A yurt. And a 350-foot-long, 15-foot-deep super pipe.
Lodging
The 20-room Brighton Lodge offers affordable rooms and easy access … ski-in/ski-out … to the slopes. Great for families. Probably not so much if you don't have kids. Kids 6 and under stay free.
There are also cabin and chalet rentals nearby in just about any price range you're looking for. And remember, it's less than a half hour drive from Salt Lake City.
Hours
The resort is open 7 days a week from mid-November until mid-April. Hours are 9 a.m. through 4:00 p.m. Night skiing is open 4:00 p.m. until 9:00 p.m. from early December until early April.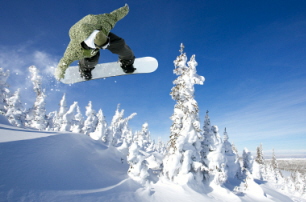 Some Quick Facts About Brighton
For the 2010-2011 season, an adult day pass was $62.
A youth (8-12) day pass was $29.
Kids 7 and under were free.
For seniors (70+), a pass was $35.
1,050 skiable acres
Average annual snowfall of 500"
Difficulty of terrain: beginner – 21%, intermediate – 40%, advanced – 39%
Base elevation; 8.755 feet
Elevation at summit; 10,500 feet
Skiable acreage: 1,050
Number of lifts: 8
Number of Trails: 66
Longest run: 15,840 feet
Contact Information & Mailing Address
Brighton Resort
12601 E. Big Cottonwood Canyon
Brighton, Utah 84121
801-532-4731 or 800-873-5512


Back to top of Brighton Resort

Back to Utah Ski Resorts

Back to Home Page