Utah Air Travel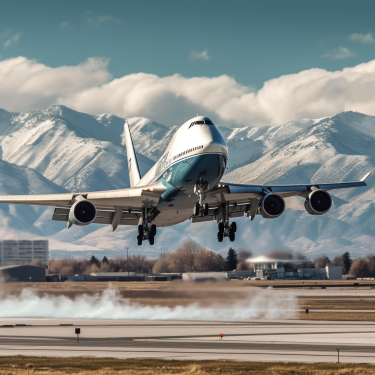 Navigating Utah's Skyways and Highways: A Guide to Seamless Utah Air Travel
Welcome, fellow travelers, to the heart of Utah's dynamic transport network where the skies and roads converge to usher you into a world of adventure.  Join us as we explore the details of air travel and highway journeys into the great Beehive State!  Or, as the button on my site describes it, Getting Here.
Soaring through the Skies: Utah's Air Travel Odyssey
Buckle up because Utah's air travel saga unfolds with 12 major airlines and their affiliates ferrying passengers in and out of the Salt Lake City International Airport.  AeroMexico, Alaska Airlines, American, Delta Air Lines, Eurowings Discover, Frontier, JetBlue, KLM, SkyWest, Spirit, Southwest and United.  SLC is the second biggest hub for Delta Air Lines with about 70% of the total traffic.
Nestled just 10 minutes west of downtown Salt Lake City, this hub stands proudly as the 21st busiest airport in the nation and the 70th busiest in the world.  This is based on total passenger numbers. 
But the convenience doesn't end there.  It is a stone's throw away from half of the entire U.S. population clocking in at a mere 2 ½ hours. Now, that's accessibility at its finest!
The airport covers 7,700 acres (3,116 ha) and has four runways and was built rebuilt right on the site of the old airport.
Each year, this bustling airport caters to the needs of over 22 million travelers exhibiting a vibrant synchronization of human movement. The brand new, completely rebuilt First Phase of the Salt lake City International Airport was opened on September 15, 2020.  Concourse B was opened on September October 27, 2020. 
SLC has a single terminal with two concourses connected by an underground tunnel for a total of 51 gates.  There is a single security check point with 16 lanes and eight baggage carousels.  Concourse A has 30 gates with 17 more opening by the end of 2023. 
Salt Lake City International Airport embodies a harmonious blend of efficiency and convenience.  And guess what?  The modern traveler's need for connectivity isn't overlooked – wireless internet serenades you throughout the terminal.
Delta's Dance in the Skies: Paris and Beyond
Ever the center of activity, Salt Lake City International Airport takes pride in being Delta Air Line's second largest hub.  The partnership bore fruit when Delta initiated non-stop flights to and from the enchanting city (in normal times) of Paris, France.  This just goes to show that the skies are brimming with possibilities and the world is your oyster.
Unveiling Flight Statistics: A Glimpse Behind the Scenes
Have you ever wondered about the rhythm of air travel?  Each day, a staggering 700-plus scheduled flights soar in and out of Salt Lake City International Airport connecting passengers to over 100 nonstop destinations.
According to Cirium, an aviation analytics company, an on-time departure means the flight leaves within 15 minutes of its departure time.  Out of thousands of flights that leave from the Salt Lake City International Airport daily, 83.87% are on-time.  This ranks #1 in North America and #3 worldwide.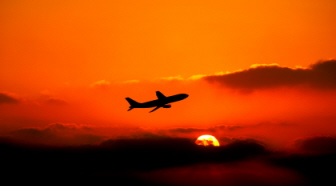 Airlines in Harmony: The Symphony of Departures and Arrivals
A symphony of airlines takes the stage at Salt Lake City International Airport.  The likes of American Airlines, Continental, ExpressJet, Frontier, JetBlue, Northwest, Pinnacle, Sky West, Southwest, United Airlines, and US Airways form an ensemble that coordinates seamless travel experiences for more than 22 million passengers each year.  With each takeoff and landing, they harmonize to create a melody of connectivity and adventure.
Car Rentals: Transitioning from Air to Road
As your feet touch solid ground (always my favorite part of flying), the journey continues with the freedom of four wheels.  Car rental facilities await from the ground floor of the short-term parking garage standing directly across from the terminal buildings.
Here, you're spoiled for choice with 10 rental companies ready to hand you the keys to your chosen vehicle.  It's a seamless transition from air to road and ... if you're here to see some sites … the open highway becomes your canvas of exploration.
From Skyways to Highways: Utah's Transport Thoroughfares
Utah's air travel story unfolds through both the skies and the open roads intersecting to bring you closer to the wonders that lie ahead.
Interstate 80 and Interstate 15 carve their paths through Utah's landscape bisecting the state and linking it from east to west and north to south.
Adding to the tapestry, Interstate 70 bridges the gap between the eastern entrance and the heart of Utah depositing travelers near the doorstep of the state's legendary national parks.
A spaghetti bowl of highways converge in Salt Lake City offering a gateway to all the captivating experiences awaiting your discovery.
And there you have it, fellow explorers!  Utah's skies and highways align to create a harmonious journey where the thrill of air travel is seamlessly woven into the fabric of road adventures.
Whether you're ascending from the skies or cruising the asphalt, Utah's transport network invites you to immerse yourself in the stories that lie ahead.  So, embark on a grand voyage and let the skies and roads be your guide to Utah's boundless wonders!
If you want to know more about Salt Lake City International Airport, click on the link below:
https://slcinternationalairport.com/