Bryce Canyon National Park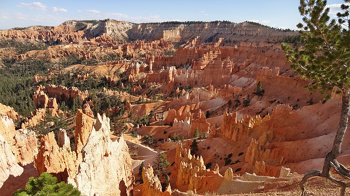 My first visit to Bryce Canyon National Park was with my wife and four small children. Sleeping in our old tent trailer at 9,000 feet above sea level in mid-summer.
A sound like one howling freight train after another woke us up. Wind. Blowing across the top of the Colorado Plateau.
We were on top of the world. But my kids thought we were going to get blown right off the top of the world. Well protected by trees in our cozy campsite, it was an unforgettable experience.
It was early July. A couple hours away in Cedar City, we had left temperatures exceeding 100 degrees F (38 degrees C).
But the daytime temperatures at Bryce were nowhere near that. More like the mid 80's F (29 degrees C). And the evenings were pleasant. Almost cool.
Yearly average temperature range from 83 degrees F (28 degrees C) in July to a minimum of 9 degrees F (-13 degrees C) in January.
Bryce Canyon National Park sits at a much higher elevation than neighboring Zion National Park or the Grand Canyon. The rim varies from 8,000 to 9,000 feet (2400 to 2700 meters) above sea level.
You want clear air? The air here is so sparkling clear, you can, on some days, see as far as 200 miles away! It also has one of the darkest skies in North America making it a stargazer's dream.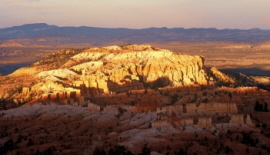 Bryce National Park sits on top of the Colorado Plateau. It straddles the southeastern corner of the Paunsagunt Plateau west of the Paunsagunt Fault. Visitors to the park enter on the top of the plateau and look down over the spectacular valley below.
The area just west of Bryce is home to some of the biggest trophy mule deer on the planet. I know because I've seen some of them. Mule deer are the most commonly seen animals in the park.
There's a gravel road a few miles west of Bryce Canyon National Park running parallel to Highway 63 going into Bryce. It runs north and south and leads to Tropic Reservoir and beyond. If you have a four-wheel drive vehicle, you'll be able to see some of these big deer.
You'll also see some of the most spectacular scenery anywhere. The plateau drops off abruptly down towards the extreme southern part of the state.
You can see almost to Arizona when you stand on the edge of this plateau. It's an amazing area to explore if you have time and a four-wheel drive vehicle.
More than a million visitors per year enjoy what Bryce has to offer.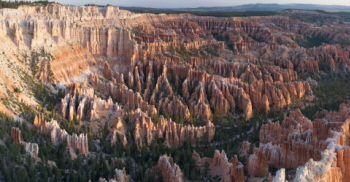 Is Bryce Canyon Really A Canyon?
Bryce Canyon National Park is not really a canyon. It's a break. An area where a mostly level upland is being eroded. But this type of erosion wasn't caused by a flowing river like the Grand Canyon or Glen Canyon . It was caused by slope wash.
Rain, snow, wind and temperature changes have carved a thousand feet deep into the pink and white sandstone. They've done this by loosening and chiseling away the least resistant rock and soil. And created an awe-inspiring spectacle three miles long and two miles wide.
But it makes little difference whether or not it's a canyon. It came into the National Park System as a canyon by name. And a canyon it remains.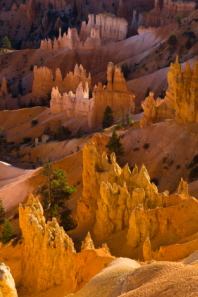 What's A Hoodoo?
One thing about Bryce Canyon National Park. There is no shortage of unique official and unofficial names for the objects of most people's attention. The hoodoos. Bizarre spires and pinnacles. Towers and temples. Cathedrals. Goblins. Cones. The result of the brilliantly colored sedimentary rocks along the cliff faces of the park being eroded year after year.
If you look down at them from one angle, these bizarre shapes look like a random maze. "A tough place to find a stray cow" as one old cowboy is said to have remarked. But from another perspective, there is a pattern.
The whole amphitheater is made up of ridges with other ridges branching out from them. The pattern is sometimes broken due to one of them collapsing but usually the erosion is amazingly consistent. The top of the canyon ridge tends to wear away evenly along its frayed edge.
The canyon rim is receding constantly though. The figures are ever changing. New ones appear. Old ones crumble and fall. The changes to those remaining may not seem apparent but they are incessant.
Are Those Rocks Really Red?
It is said the Native American Paiutes looked down into the Bryce amphitheater and called it "unka-timpe-wa-wince-pock-ich". Roughly translated it means, "red rocks standing like men in a bowl-shaped canyon."
Sure red is the dominant shade. But so is pink. And white. Even cream. Maybe ivory. Or orange and rose. And it's a different shade at different times of the day. One of those places you can't really describe. You have to see it in person.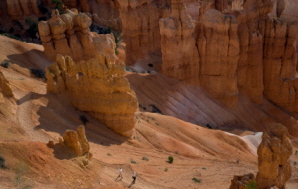 Take A Hike
If you are able, you must go down among the hoodoos. Even if you have little time, take a quick stroll down one of the trails. The further you can go, the more you'll enjoy it. It becomes more enchanting the further you venture into the canyon.
The Park Service has built a series of fine hiking and horseback trails underneath the rim of the canyon. If you don't want to venture below the rim – if you're able, this is something you should reconsider – you can walk along the rim. There are benches available to sit and just take in the view.
Bryce Canyon National Park has eight hiking trails . You can experience the peacefulness of each one in less than a day. Most of the trails in the park start from the canyon rim.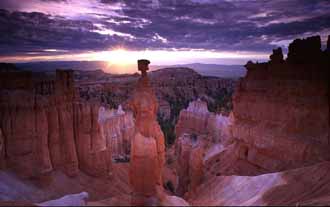 A Little History (But Not Too Much)
Bryce Canyon National Park was established in 1928. It was settled by Mormon pioneers in the 1850's like most of the state of Utah. Ebenezer Bryce, a Mormon cattleman, lived in the area in 1874 and the park now bears his name. His cattle ranged within what are now the park borders.
Other settlers started calling it Bryce's canyon. Drought, overgrazing and flooding forced most of the settlers away from the area. Bryce moved his family to Arizona. Named a National Monument in 1923, it gained National Park status in 1928.
Bryce Canyon National Park is a photographer's paradise. High altitude. Clear air. I've taken some of my best photos there. Some of them are on this page.

Map of Bryce Canyon National Park



Back to top

Back to National Parks In Utah

Back to Home Page