Utah Wildlife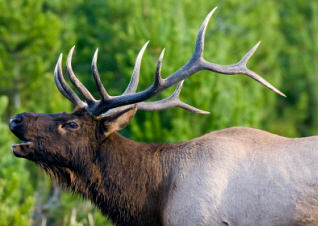 Utah wildlife hasn't had the national reputation for diversity that some of the surrounding states have had.  Don't let that fool you.  Reputation often doesn't align with reality.

For example, in recent years, the state of Utah has become world-famous for its trophy elk hunting and mule deer hunting . And even greater opportunities for watching and photographing wildlife in Itah. More than 600 species - mammals, birds, fishes, reptiles and amphibians – are found in Utah.
Viewing wildlife has always played a big part in my family's life. When my kids were little tykes, one of our favorite things to do in the winter was to drive up one of the canyons. Elk, deer and moose were seemingly everywhere. And often, still are.

Wildlife Is All Around Us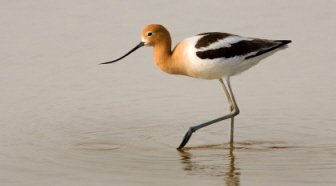 Utah wildlife is all around. Along every trail. Along every roadway. Along every freeway. You just need to know where to look.
Because of the state's diverse climate and terrain, it's only natural that it would have such a potpourri of wildlife.
The Canyonlands region with its desert bighorn sheep. The Henry Mountains and Antelope Island with their herds of bison. The Bear River Migratory Bird Refuge with millions of birds on over 41,000 acres of wetlands! The fast-growing elk herds throughout Utah.
And, as even residents of Salt Lake City know, many of our cities were built right in the middle of prime mule deer habitat.


Wildlife Viewing Sites
The state of Utah has established a really unique way for residents and visitors to easily view wildlife while exploring our mountains and deserts.
A unique multi-agency partnership – of federal, state and conservation organizations - identified 92 sites throughout the state. These sites are identified as the best and most accessible places to see Utah wildlife.
Our Utah wildlife viewing sites have been numbered – 1 through 92 – and they're open to anyone who wants to see wildlife in its natural habitat.
And most of these sites are found along roads and highways! There are nine travel regions in Utah and you'll see a little bit different mix of wildlife in each.
An amazing little book, Utah Wildlife Viewing Guide, published by Falcon Press back in 1992 and written by Jim Cole, shows you exactly where these Utah wildlife viewing sites are.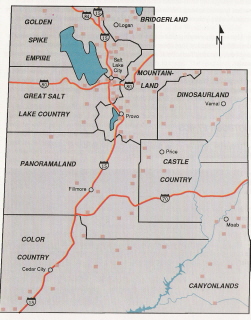 Bridgerland
Golden Spike Empire
Great Salt Lake Country
Mountainland
Dinosaurland
Panoramaland
Castle Country
Color Country
Canyonlands
Each of these areas is unique in terms of terrain and the ecosystems they sustain. Obviously, you'll find a far different group of wildlife near the Great Salt Lake than you will in the Riparian areas of the Wasatch and Uinta Mountains.
What Will You Find Here?
I'm going to tell you about some of the more interesting Utah wildlife. And even some of the more unusual. There are even yearly events scheduled around the movement of certain animals.
Although it's not quite the event it was even a decade or two ago, deer hunting in Utah is still an unbelievable happening. Even now, more than 100,000 people take part in the opening weekend of the Utah deer hunt.
Until the last few years, schools were shut down on the Friday prior to the deer hunt. The classrooms were empty anyway.
You have to remember. The pioneer heritage of Utah was steeped in living off the land. Feeding large families and survival was their biggest concern. This heritage has been handed down from generation to generation.
Utahns who grew up hunting have a hard time relating to the waves of newcomers who question their love of the outdoors and hunting. Political correctness doesn't do well here and hunting in Utah is still a way of life for a lot of people.
There's a reason why outdoor and hunting related shows draw huge crowds in Salt Lake City every year. And why Cabela's built a huge superstore in Lehi just south of Salt Lake City a couple years ago.
Some of the different species of Utah wildlife are listed below. If you want to read more about each one, please click on the links:
Wild Aware Utah
One thing you need to be aware of when dealing with Utah wildlife. Utah's population continues to explode. And so does the number of people coming here to visit and play.
Of course, much of this website is based on the abundance of outdoor activities the state is known for. But as the numbers of people living here … and visiting here … continue to increase, so will encounters between wildlife and people.
And encounters often lead to conflict.
By educating yourself about some basic facts involving Utah wildlife, you can prevent most of the problems people commonly face when they encounter wildlife in the state.
I recommend you visit Wild Aware Utah to learn more about how to interact with … and react to … any wildlife you may encounter.