Yellow-Bellied Marmot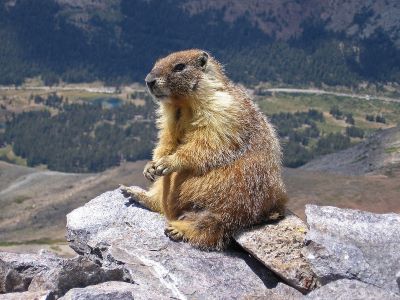 What Kind of Animal is This?
So why would I write an article about such an unremarkable, low-key, unobtrusive animal like the yellow-bellied marmot?  Sure they are difficult to get a glimpse of but why talk about them on this site?
Earlier this year … 2023 … in May, my wife and I rented a condo in Deer Valley.  It was the off-season so Park City was uncrowded and kind of ugly.  Most of the snow had melted but the trees hadn't started sprouting leaves yet. 
It was brown and grey and dirty after the record-breaking snow of the past winter.  But the price was right because the demand was low.
Our condo was backed up against a mountainside.  Literally 15-20 feet from our back window and straight up.  Sage-covered and suffering from the post-winter blahs, it wasn't much to look at. 
One afternoon as I sat reading, I looked out and saw a creature I had never seen before.  It was a giant gopher-looking creature with a mask on.  That's right.  It had a black mask around its eyes like a little bank robber.
As I looked closer at the photos I took, I realized it wasn't a black mask.  The white coloring above the eyes made it look like a mask.  I had no idea what it was as I had never seen one before.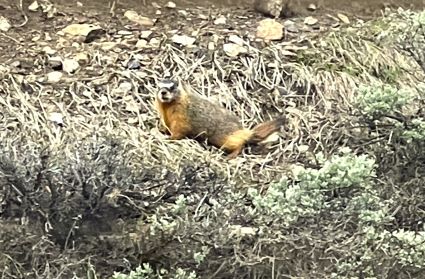 Since my wife … born and raised in Utah … didn't know what it was, I sent a text to my family members (group text for just such an occasion) with several photos.  I asked if anyone knew what it was.
While waiting for an answer, I Googled it and at about the same moment my daughter answered, I found it.  She had Googled it also. Yellow-bellied marmot. 
That started the research trying to find out more.  My son told me he had seen a lot of them in the Park City area near construction sites.  No one else in my family could say they had ever seen one.
A couple jokes went back and forth including a GIF I found showing a group of marmots (semi-animated of course) attacking a vehicle with clubs and bashing it repeatedly.  That prompted the comment that we better be careful as they looked dangerous in the GIF.  Come to find out … explained below … they actually can be a danger to vehicles.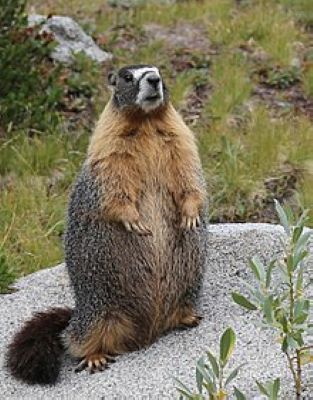 A Closer Look at Utah's Whistle Pig
The diverse landscape of Utah offers more than just panoramic views, breathtaking canyons and intricate rock formations.  Among its inhabitants is this charming and often overlooked creature also known as the "whistle pig" or "rock chuck."
It is so overlooked that I've lived here for 40+ years and hadn't seen one until this last spring.  Known for its intriguing appearance and unique behavior, the marmot is an essential part of the state's ecosystem.
Habitat and Range
The Yellow-Bellied Marmot is predominantly found in the western parts of North America.  While they inhabit many states, Utah serves as one of the ideal locations for these chubby marmots.
Typically, they are found in higher altitudes between 4,000 and 12,000 feet.  Deer Valley … where we saw this one … sits at an altitude of 6,570 feet.  They thrive in alpine meadows, grasslands and rocky outcroppings.  Utah's varied elevation and rocky terrain provides an excellent home for these creatures.
Their range, obviously, is not limited to Utah.  Yellow-bellied marmots also thrive in states such as Colorado, Montana, Idaho, Washington, Oregon, California and even parts of southwestern Canada.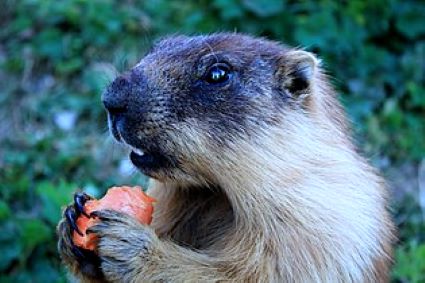 Physical Appearance
Yellow-Bellied Marmots are stout, burly creatures.  Their fur ranges from a mix of brown, black, and gray with their most defining feature being the bright yellow patch on their belly.
The one I saw seemed to have a dark outline around the eyes almost like a mask.  It was actually the white coloring above the eyes that gave this appearance.  You don't normally see this in photos I've seen but I did find a couple examples that did have this coloring. 
Adults can weigh between 5 to 11 pounds and measure up to 2 feet long including their bushy tail.  With sharp teeth.
Feeding Habits
Marmots are herbivores, primarily subsisting on a diet of green plants, flowers, seeds and grains.  During the spring and early summer, when the vegetation is abundant in Utah's alpine regions, these animals will feed voraciously.
Their objective?  To build up fat reserves.  Since they hibernate for roughly eight months of the year, accumulating fat is crucial for their survival during the winter months.
During hibernation, Yellow-Bellied Marmots can lose up to half of their body weight.  As such, their pre-hibernation eating routine is a fascinating routine often compared to "bulking up" before a big event.  Just like little bears.
Lifespan and Social Behavior
Marmots are social creatures.  They often form colonies and live in burrows which can be quite intricate containing multiple entrances, sleeping chambers and even toilet areas.  These burrows … dug deep into the ground … serve as a safe haven from both predators and harsh weather conditions.
Marmots can live up to 15 years in the wild although many don't reach that age due to the various threats they face.  Young marmots, known as pups, are particularly vulnerable in their first year of life with survival rates hovering around 50%.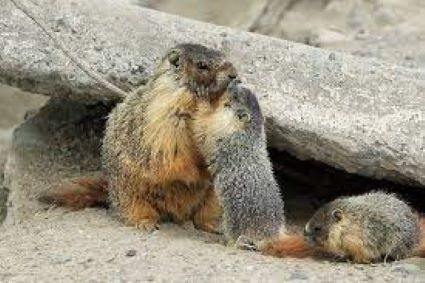 Predators
The Yellow-Bellied Marmot … despite its seemingly leisurely existence … faces threats from several different hungry predator species.  These include foxes, coyotes, hawks, eagles and even the occasional bobcat.
Their distinctive whistle, from which they get the nickname "whistle pig", is not just a quirk but an alarm call.  When a marmot senses a threat, it emits this high-pitched whistle to alert other members of its colony of the impending danger.
The Hibernation Phenomenon
A defining trait of marmots is their prolonged hibernation period.  As mentioned previously, Yellow-Bellied Marmots can hibernate for around eight months from late summer or early fall to the following spring.
During this period of dormancy, they are underground in their burrows.  Their metabolic rate slows and they survive on the fat reserves they've spent their waking hours accumulating.
Hibernation serves as a survival strategy.  In the harsh winter months of Utah, food becomes scarce and the cold becomes intolerable for many animals.  By hibernating, marmots conserve energy and reduce their need for food.
Conservation Status and Human Interaction
Currently, the Yellow-Bellied Marmot is not considered endangered and its population is relatively stable.  However, like all wild animals, they can be impacted by human activities such as habitat destruction or direct disturbances.
Many hikers and nature enthusiasts in Utah and other states have encountered marmots during their outings.  It is essential to observe them from a distance and avoid feeding or trying to touch them.
While they might seem docile, they are still wild animals and human interaction can alter their natural behavior or expose them to risks.
Are yellow-bellied marmots aggressive?  Like most wild animals, if you leave them alone, they'll leave you alone.  They may bite you, though, if you try to feed them or disturb them. 
The most dangerous thing about marmots is that they can carry parasites and diseases.  Ticks they may carry can cause Lyme disease or Rocky Mountain Spotted Fever.
Another thing marmots … in California … have proven to be adept at is disabling cars.  That's right.  They will climb audaciously into the engine blocks of vehicles.  Then they will chew through brake lines and radiator hoses.
Why?  It is speculated they are looking for a fix of ethylene glycol … an alcohol … in the antifreeze.  If you don't believe me, read this:  https://www.nwf.org/Magazines/National-Wildlife/2002/Addicted-Marmots .

Reminds me of some of the Californians I went to college with.  Always looking for a new way to get a buzz.
In Conclusion
The Yellow-Bellied Marmot is a fascinating species that adds just a little bit to the charm of Utah's wilderness.  Or even semi-urban areas as I've discovered. 
The marmot's intriguing habits … from its distinctive whistle to its long hibernation … make it a unique subject for study and observation.
If you're lucky enough to spot a marmot while exploring Utah, rremind yourself to respect these furry creatures and the habitat they live in.  Leave them alone. 
Seeing them right in Park City shows that a lot of their habitat is being altered and taken away forever.
---
Have A Great Story About Utah Wildlife?
Do you have a great story about Utah Wildlife? Share it!