Utah National Monuments


Utah national monuments, like the others in the United States, are protected areas much like National Parks.  One difference.  The President can declare a national monument without Congressional approval.

The latest addition to the list of Utah national monuments? A controversial announcement when it happened. The Grand Staircase-Escalante National Monument . President Bill Clinton, a Democrat, designated this area a national monument in 1996.
The announcement was met with enthusiastic cheers from those who wanted to preserve this wilderness and keep it undeveloped. But others – especially some Utahns - wanted parts of it opened up for exploration and resource development. It's still a hotly debated subject in Utah.
Utah national monuments, like all national monuments, tend to preserve at least one unique resource without the diversity or area of a national park.
They can be managed by one of several federal agencies. The National Park Service. The U. S. Forest Service. The United States Fish and Wildlife Service. Or the Bureau of Land Management.
The power to grant national monuments comes from the Antiquities Act of 1906. President Theodore Roosevelt used this act to declare the very first national monument at Devils Tower in Wyoming. He thought Congress was moving too slowly and wanted it protected before it was ruined.


Eight Utah National Monuments
But what does this all mean for you? There are eight Utah national monuments. This page tells you a little about each of them but you can learn more by clicking on each individual link for more details and secrets.
You can usually enjoy visiting one or more as a side trip. Cedar Breaks, for example, is not far from Zion National Park . Several viewing areas give you a complete picture of the entire monument. The Grand Staircase, though, is immense.
You can spend an entire week due its immensity diversity. The unprecedented amount of Utah land tied up in this monument is the cause of a lot of ongoing debate and controversy.
Bears Ears National Monument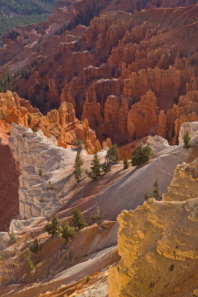 1. Cedar Breaks National Monument
was established in 1933. It sits atop the Colorado Plateau at an elevation of over 10,000 feet. The views are stunning.
It's a giant amphitheater. An amphitheater that stretches for three miles and is more than 2000 feet deep!
Near Cedar City, it may be the most colorful of all Utah national monuments and parks. Extreme erosion over the years has exposed the limestone formations beneath.
The result? A magical array of colors. More than fifty different shades have been identified in the hoodoos of Cedar Breaks.

2. Dinosaur National Monument was established in 1915 to protect a large deposit of dinosaur bone fossils. Although most of the monument is in Colorado, the Dinosaur Quarry is located in Utah. Just north of the town of Jensen.
The Quarry Visitor Center was closed indefinitely in 1996 due to structural problems plaguing the building since 1957. It was built on unstable clay.
A new facility to house the visitor center and administrative functions is being considered. We'll keep you updated.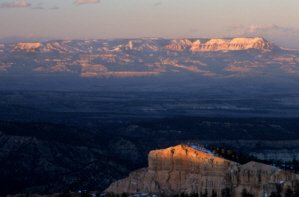 3. The Grand Staircase-Escalante National Monument was established in September 1996 by President Clinton. A very controversial announcement. Covering 1.7 million acres, it dominates a map of southern Utah!
It's the first monument to be administered by the Bureau
of Land Management rather than the National Park Service.
With a geologic footprint more varied than many national parks.
Multicolored cliffs. Buttes. Mesas. Canyons. Plateaus. Pinnacles. You can see them all here.
It's an untamed and hostile land. It can deadly if you're not prepared for it. The terrain can be terribly difficult and dangerous! Nonetheless, it features:
terrific scenic drives
challenging hiking
exciting off-road 4-wheel-drive adventure
countless photo opportunities

4. Hovenweep National Monument protects six prehistoric clusters of Native American ruins. Established in 1923, the villages date from the Pueblo period of the mid 13th century. They are spread over a 20-mile area along the Utah-Colorado border.
Multi-tiered towers perch on canyon rims and balance on boulders. You'll marvel at the skill of their builders.
How did they do it? And why? It's a solitary and non-commercialized environment. Maybe the most remote and peaceful of all the Utah national monuments.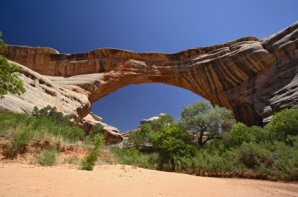 5. Natural Bridges National Monument covers a relatively small area in southeastern Utah. In contrast to Arches National Park with over 2,000 classified arches, there are only three bridges here. The monument does also contain Anasazi cliff dwellings, pictographs and white sandstone canyons.
Natural Bridges preserves some of the most classic examples of natural stone architecture in the southwest. These three natural bridges formed when meandering streams slowly cut through the sandstone canyon walls.
Natural bridges are formed by running water. They are much rarer than arches which result from a variety of other erosional forces.
This explains why bridges tend to be found within deep, often hidden canyons. Arches are usually high and exposed. They're the last remnants of cliffs and ridges.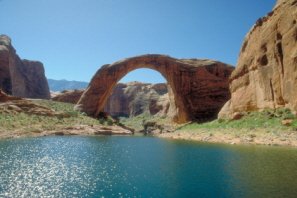 6. Rainbow Bridge National Monument is often described as the world's largest natural bridge. It spans 234 feet (71 meters).  It is 42 feet (13 meters) thick at the top. 33 feet (10 meters) wide.
American Indian tribes considered Rainbow Bridge to be sacred. Some 300,000 people come from all over the world to see it each year.
Kolob Arch and Landscape Arch, also in southern Utah, have confirmed spans several meters longer than Rainbow Bridge. But by most definitions, they are arches not bridges.
It is probably the most inaccessible of the large arches of the world. It can be reached by a two-hour boat ride on Lake Powell. Or you can hike several hours overland from a trailhead.

7. Timpanogos Cave National Monument sits high in the Wasatch Mountains. It's in American Fork Canyon near the city of American Fork. Less than a half-hour drive from Salt Lake City .
The cave system consists of three spectacularly decorated caverns. Helictites and anthodites are just a few of the many dazzling formations to be found in numerous chambers.
As visitors climb to the cave entrance, on a hike gaining over 1,000 feet in elevation,the views of American Fork Canyon are fabulous.
Timpanogos Cave is usually open from May through October depending on snow conditions.