Scenic Byway 12



Driving Utah's Scenic Byway 12: An Unforgettable Journey
Utah's Scenic Byway 12 … also known as Utah's All-American Road …will take you through some of the most spectacular scenery in the entire country.  In fact, it is generally recognized as one of the most scenic highways anywhere.
Stretching across a rugged and mesmerizing landscape, it offers more than just a road trip.  It promises a memorable journey unlike any other you will take.  This 124-mile stretch of highway whispers tales of ancient civilizations, unfurls dramatic landscapes and ensures a rendezvous with untouched wilderness.
From stunning Red Canyon just southeast of Panguitch.  Past incomparable Bryce Canyon National Park.  With a recommended mini-detour at Kodachrome Basin State Park.  Northeast to the sleepy little town of Escalante. 
Right through the middle of the wild and untamed Grand Staircase-Escalante National Monument.  Over Boulder Mountain in the Dixie National Forest and on to Torrey.  Then to Capitol Reef National Park.
Of course you can make this drive in either direction but the last time we went, we took it from south to north.  We actually drove all the way from Salt Lake City to Bryce … through the gateway town of Panguitch … and stayed near Bryce. 
This drive from Salt Lake City to Panguitch is 245 miles and takes just over 3 ½ hours.  There is a lot of nice scenery along the way especially if you get on Highway 89 at the I-70 junction south of Richfield. 
The highway and the Sevier River play a game of switching places as the road crosses over it multiple times.  There looks to be some real nice, touristy lodging along this route.  Some places I might like to explore in the future.
After Bryce, we started our journey heading southeast and then northeast.  I have never done it but would like to try driving Highway 12 in the opposite direction some time.  Seems to me that south to north is the coolest way to do it but that would be a completely different view.    
Panguitch: The Gateway to Adventure
Panguitch is pronounced Pang-wich but we refer to is as Pang-ooch ever since we spent close to a week deer hunting in the Paunsaugunt Plateau many years ago.  No reason why.  We just do.  This plateau runs parallel to Bryce Canyon and is home of the some of the biggest mule deer in the US.
Situated at the crossroads of history and adventure, Panguitch serves as an excellent starting point.  Not here for a long time, just a good time.  Depending on the time of day, grab breakfast at Cowboy's Smokehouse Café, known for its hearty portions and genuine Western atmosphere.  If you're a carnivore like me, BBQ and steaks are on the menu also if it's later in the day. 
If you have time, meander around Panguitch's historic downtown as the red-brick-lined streets tell tales of pioneers and ancient Native American civilizations.  We had driven all afternoon so we gassed up … no EV for us … and drove directly to the hotel at Bryce.
The distance from Panguitch to Bryce is 23 miles.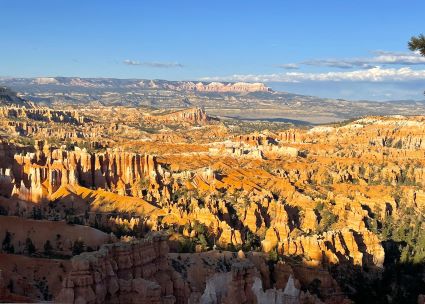 Bryce National Park:  Nature's Amphitheater
The transition from Panguitch's serene ambience to the awe-inspiring vistas of Bryce National Park is nothing short of magical.  As you arrive at the various overlooks, you're greeted by a maze of crimson spires, known as "hoodoos", which appear to be frozen in a dance orchestrated by nature.
Key spots to explore include Sunrise Point.  Catch the morning sun painting the hoodoos in golden hues. 
The Navajo Loop Trail is an ideal hike to become immersed in the park's geological wonders.  We've done this one on previous visits.  I highly recommend it if you like hiking and happen to be in good shape. 
Bryce Point affords a panoramic view showcasing the endless sea of spires.  A great spot for some amazing photographs.  We have a big one from here framed and hanging on our wall which I took years ago.
The Bryce Canyon Lodge is a historic haven offering cabin accommodations with the promise of starlit nights.  As is the former Ruby's Inn now known as Best Western Plus Ruby's Inn.  There are numerous other hotels you can stay at in all price ranges.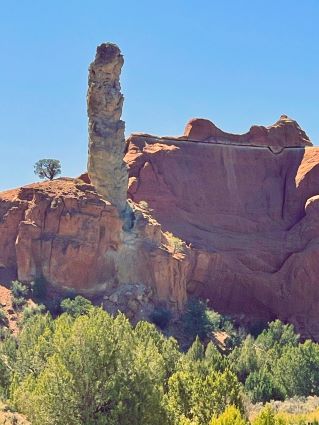 Kodachrome Basin State Park:  A Palette of Colors
Kodachrome Basin State Park is so scenic and colorful, it was named after the 1948 Kodak film of the same name.  It is a wonderful example of nature's canvas painted in vivid colors.
The park is 20 miles down the road as you plunge off the steep plateau driving southeast from Bryce Canyon.  The park, with its 67 monolithic stone spires, beckons you to turn off and drive through. 
It looks like it has been brushed with shades straight out of an artist's palette. There are camping areas so if you have time, invest some of it here.  We didn't have that time.
Don't miss Shakespeare Arch … a unique natural arch sculpted over millennia.  A moderately challenging trail offering panoramic vistas is Eagle's View Trail.
Pack a picnic if you're just passing through.  With no major eateries close by, it's best to prepare and relish a meal amidst nature.  Take lots of water.  It was sunny, warm and dry even in May.
Escalante:  The Grand Staircase and Beyond
Escalante … with its blend of history and pristine beauty … is 47 miles north from Kodachrome on Scenic Byway 12.  It stands as one of the only ties with the civilized world in this vast wilderness. 
They claim a population of 813 as of 2021.  The population line on the graph looks totally flat to me.  Not up or down.  It has the appearance of being stuck in a time warp with very little construction or development.  Probably the way the residents like it.
It is the threshold to the sprawling Grand Staircase-Escalante National Monument.  If you have time to tour the area, there are a number of interesting areas to explore.
Hole-in-the-Rock Road is a rugged route leading to some of the monument's best sights.  Devil's Garden is a playground of sandstone hoodoos.  While Escalante Petrified Forest invites you to walk amidst petrified remnants from the days of the dinosaurs.
We stayed overnight in Escalante at a small, relatively cheap little place we found on Airbnb.  It was just across the side street around the corner from Escalante Outfitters Café which was the highlight of our stay here. 
As you can see from the photo above, it offers pizza, beer, cabins and gear.  I certainly indulged ... but not excessively ... in the first two.  The pizza was awesome and the beer was cold.
Sitting out front among a diverse group of people, my wife and I thought we had stepped back in time several decades.  Not really hippy-looking people but definitely a somewhat countercultural mix.  Maybe neo-hippies or granola hippy-lite. 
One woman definitely looked like an artist.  I can't remember why I thought she was.  Maybe her conversation?  Several people looked like the grad students or college dropouts I remember from my college days.  And everyone seemed to have a dog.  Just describing what I saw. People were friendly, outgoing and social.
The next morning when we gassed up … if you drive an EV through this area, good luck … and looked around for a breakfast place, we were shocked to find there was no place open for breakfast.  I may be wrong but we couldn't find one and the people we asked didn't know of one. 
This may have changed since 2021 but if you want to add to the population of Escalante's 813 by opening up a breakfast place, it would probably be a gold mine.  When I joked that I would like to do it my wife almost decked me. 
We survived with some coffee for me, hot chocolate for her and some nuts, fruit and protein drink we had brought along.  Yummy.
Grand-Staircase Escalante National Monument
This stretch of Scenic Byway 12 from Escalante through Boulder and on to Torrey takes you right through the middle of Grand-Staircase Escalante National Monument.  This particular monument has been quite controversial over the last decade or so with lawsuits, downsizing and then reversals as politics became involved.  It looks like it may stay the way it is for the time being.
You'll read on the sign along the way … if you stop … that this was the last area in the continental USA to be mapped!  I wonder who was crazy enough to wander around and map it.  Without a map.  And yes, the road is excellent but it is still that desolate.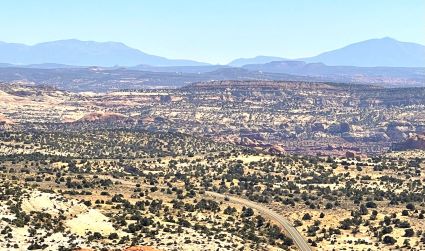 Boulder:  Between the Rocks and Traditions
Nestled amidst the vast terrain 27 miles north of Escalante, Boulder is a town where traditions run deep.  The Anasazi State Park Museum allows you to discover ruins from Utah's ancestral Puebloan culture.
Hell's Backbone Grill is a farm-to-table restaurant where each dish is a testament to benefits of organic farming and locally-grown produce.
Slow down as you have to drive right through the middle of Boulder.  Don't blink or you may miss it.  The population according to the 2021 census was 248. 
It is worth a stop if you want to slow down and check out the museum and get something to eat.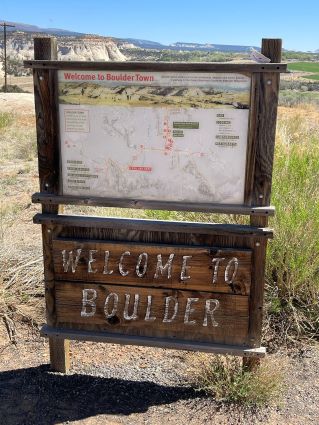 On Scenic Byway 12, between Boulder and Escalante, you'll encounter "The Hogsback."  Some people call it "the Hogback."  It is a daring ribbon of nicely-paved road straddling a razor-sharp ridge.
With the earth plunging dramatically on both sides, you'll feel almost like you're soaring as you navigate this thrilling stretch.  You'll find your eyes wandering to the panoramic views on either side while at the same time trying to keep your eyes on the road ahead.
If you don't like heights or drop-offs, it might be a little unnerving.  It didn't bother us but it does get a little interesting on the narrowest part of this stretch.  The video just below gives you a great view of what it is like. 
I can only wonder about the experiences of the people … and the stories they would tell … who built this highway.
The Hogsback

The Henry Mountains
As you drive from Escalante to Boulder and then to Torrey on Scenic Byway 12, there is one constant in the distance.  The Henry Mountains.  In fact, you can see them off in the distance in some of the photographs in this article.
Rising to a height of 11,522 feet, the Henry's are remote, rugged and are a testament to untouched wilderness.  Often referred to as the last mountain range to be mapped in the contiguous United States, their isolation is palpable.
With limited access due to rugged terrains and few established roads, the Henrys remain a haven for adventurers seeking solitude.  And they will get it.   Maybe more than they want.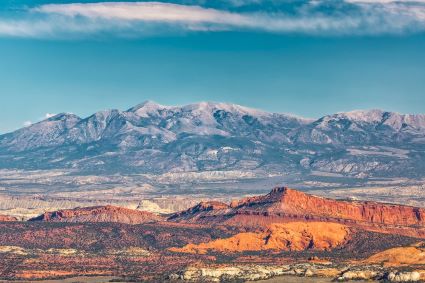 The mountains are also home to a free-roaming bison herd.  One of the few in America.  Amidst the backdrop of peaks and plateaus, wildlife thrives undisturbed by urban sprawl.  Wildlife photographers and watchers will find some amazing subject matter in the Henrys. 
A friend of mine who has hunted these mountains told me that his prayers were answered when his truck didn't break down on their hunt at the top of these mountains.  No one would have known they were missing for days.  Or longer.  
For those seeking an authentic encounter with nature in its absolute rawest form, the Henry Mountains are waiting.  But make sure you are prepared for any emergency.

Torrey:  The Doorway to Capitol Reef
Torrey is 37 miles north of Boulder on Scenic Byway 12.  And upon reaching Torrey, you're on the verge of discovering Capitol Reef National Park.  With its Waterpocket Fold, a nearly 100-mile long warp in Earth's crust, and the enchanting orchards of Fruita, it is a unique gem.
Torrey boasts a population of 242 on the 2021 census.  My wife and I stayed here for a couple nights and enjoyed our stay in this beautiful sleepy little town.  We were there in May and the weather was delightful. 
The traffic and crowds … or lack thereof … were very manageable.  Nothing like the other national parks in the state.  In fact, I would say this was the least crowded of the National Parks in Utah except maybe for Canyonlands. 
Highway 12 intersects with highway 24 in Torrey.  Almost all of the restaurants and hotels are along SR-24 heading east and west or Route 12 heading north to south so everything is easy to find.
We stayed at the very comfortable Red Sands Hotel & Spa.  Nice, comfortable rooms.  With a restaurant with friendly people and a varied menu.  And a nice view of the Henry Mountains from our room.  We would definitely stay there again the next time we go.
My favorite place to eat in Torrey was the Broken Spur Inn & Steakhouse.  Great name.  Excellent steaks.  A nice wine list.  Easy access on the east end of Torrey headed to Capitol Reef. 
There are several restaurants and multiple burger and shake-type eateries in Torrey.  Try any one that looks good.  We ate lunch a couple times at Slacker's Burger Joint.  Good burgers, sandwiches and salads.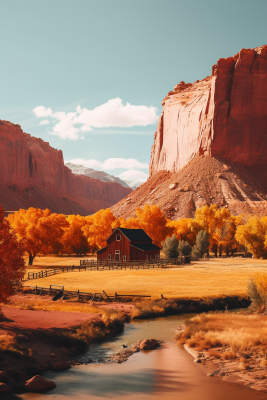 Capitol Reef National Park
Capitol Reef is a unique national park.  The reason being is that you don't have to go very far to find peace and quiet.  Butch Cassidy and the Sundance Kid wandered these canyons.  And used them for their escape routes. 
We were there in May and we were amazed at the leisurely pace everyone seemed to be moving at.  Crowds were … well … non-existent.  Sure there were people.  A little traffic.  But our drive right through the middle of the park … about 9 miles if I recall … was leisurely and uncrowded.
Of course, once again, it was May.  Warm days and cool nights.  Spring and summer are definitely the best times to come here.  You'll experience the best weather … it was in the low 70's F … and avoid the crowds.  The crowds even during the busy summer season aren't even a consideration when compared to Zion, Arches and Bryce.
Capitol Reef is … I believe … now my favorite national park to visit in Utah because of all the other things I've written in this article.  It is part of the whole Highway 12 experience. 
Final Words
A road trip on Scenic Byway 12 isn't just about connecting points on a map.  It is a lot more.  It is about connecting with a timeless landscape that evokes wonder at every turn.  The last explored and mapped area in the continental USA. 
It will be a journey you will always remember.  Until the next time you do it.  My wife and I can't wait for the next time we get to drive this one again. 
The total distance for the trip from Pangooch to Torrey is about 124 miles.  124 miles of pure wonder.  Just pack your bags.  Fuel up your vehicle.  And set out on this road less traveled.  I don't recommend an EV yet.  You may find yourself stranded. 
Always remember that the weather in Utah has one constant … change.  Snowfall and freezing temperatures may make some stretches of the highway less safe or temporarily impassible during the winter months.  Check the conditions ahead of time if you're traveling during that time.
Plan on taking at least 4 hours to drive this byway one way.  Unless you stop and stay overnight like we did.  And doing it the leisurely way like we did is the best way to go.  Take some time and enjoy this one.
And, of course, you can do this road trip in reverse.  Start from Torrey and head south just reversing the directions given above.
---
Have A Great Story About Scenic Byway 12?
Do you have a story or comment about Scenic Byway 12 you want to share!