Kodachrome Basin State Park


Geologists believe Kodachrome Basin State Park was once much like Yellowstone National Park. The hot springs and geysers eventually filled up with sediment and solidified.
The Entrada sandstone surrounding the solidified geysers disintegrated leaving large sand pipes.
You'll see massive sandstone chimneys in a multitude of colors depending on the time of day. The park's ever-changing colors, contrasted with the usual deep blue sky and the seasonal green vegetation, are a photographer's dream.
The National Geographic Society tagged Kodachrome – with the permission of Kodak – with its very appropriate name.
The 2,240-acre park is 9 miles (14.5 km) south of State Route 12 near Cannonville. You'll find:
overnight camping facilities.
drinking water.
modern rest rooms.
hot showers and a sewage disposal station.
Nearby attractions include Bryce Canyon National Park , Grosvenor Arch and Paria Canyon. Enjoy hiking, biking, and off-highway vehicle riding areas.

Kodachrome Basin Hiking
There are several short hikes in Kodachrome Basin State Park leading to some fantastic views.
Panorama Trail – a 3-mile (4.8 km) hike round-trip. It goes to the Ballerina Slipper. And you can ride your mountain bike.
Eagle's View Trail - ¾-mile (1.2 km) each way. It leads to Eagle's View Overlook. Short but not easy. It is vertical and rough.
Shakespeare Arch Trail – an easy, 1/4-mile (.4 km) hike leading to Shakespeare Arch.
Angel's Palace Trail – another easy 1/2-mile (.8 km) hike leading to Angel's Palace.
Grand Parade Trail – a medium-difficulty 1-mile (1.6 km) trail.
Big Bear Geyser/Cool Cave Trail – another medium-difficulty 2-mile (3.2 km) trail. It is an extension to the Panorama Trail.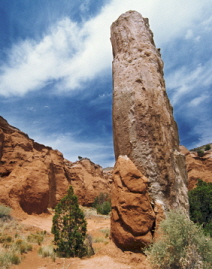 Fees and Hours
Park hours: 6 a.m. to 10 p.m.
No holiday closures.
Day visits: $6 for day-use.
Annual passes are $75 and available at the park.
Overnight camping in the main campground is $16.
Group overnight camping in the two campgrounds is $65. There's a maximum of 50 people and 15 vehicles.
Visitor Center
The Visitor Center is located in the middle of the park. You'll find a shop with food, water, ice, and other supplies.
For more information, contact:
Kodachrome Basin State Park
P.O. Box 238
Cannonville, Utah 84718-0238
(435) 679-8562



Back to top

Back to Utah State Parks

Back to Home Page