Utah Weather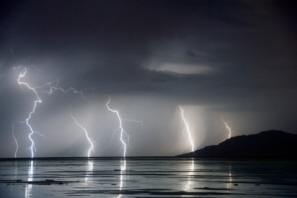 Change Is The Constant
Utahns know there is one constant about Utah weather. Change. If you don't like the weather today, be patient. It'll be different tomorrow.
Or, just take a drive. It'll be different up the road. Been that way ever since I moved here years ago.
When it comes to discussions about Utah weather, variety is a keyword. The state's weather is made up of micro-climates.
There are micro-climates within the Salt Lake Valley! You can have a full-fledged blizzard or downpour in one part of the valley. And have the sun shining in another.
You can get just about any kind of weather and climate you want in Utah. On any given day, the temperature can vary 50 degrees depending on which part of the state you're in.


The Second Driest State In The U.S.?


Most of Utah is a desert. In fact, Utah is the second driest state in the nation! Only Nevada has less water.
It doesn't matter if water is running down the middle of State Street in Salt Lake City (I saw it), we're pounded over the head about conserving water.
Because we have some of the most incredible mountain terrain anywhere, we get amazing winter snowstorms and often frightening summer thunderstorms.
These storms fill our lakes, rivers and reservoirs. Allowing Utahns and visitors to live, work and play here. And even clear out our not-so-pleasant temperature inversions in mid-winter.
Temperatures range from well over 100 degrees F (38 C) in the summer to below zero F (-18 C) in the winter.




Four Seasons
Utah has four distinct seasons and I enjoy all of them. I was born and raised in western Canada where you have winter and summer.
Utah gets an abundance of rain in the spring that turns most of the state green. Even parts of the desert. The summers are hot and dry (usually). The mountains become a comfortable, cool escape.
When fall arrives, temperatures cool and the changing colors rival those anywhere. And, of course, winter buries the mountains and most of the state in the greatest snow on earth starting the cycle all over again.




A couple facts about Utah weather. Specifically, in Salt Lake City:
The average annual temperature in Salt Lake City is 52 degrees F (11 degrees C).
The highest temperature ever recorded in Salt Lake City is 107 degrees F (41.6 C) in July 2002. West Jordan – a suburb of Salt Lake City – recorded a record high of 111 F (44 degrees C) in 1998.
The lowest temperature ever recorded in Salt Lake City is - 30 degrees F (-34 degrees C) in 1933.
The average annual temperature is 52 degrees F (11.1 C).
What does this all mean? Depending on what time of year it is, Utah weather and unique geography allow you to do all the following.
Golf
Biking
Running
Kayaking
Climbing
Some of the best outdoor and wildlife photography anywhere
Sailing
For a Utah weather forecast, go to: