Peter Sinks
Utah's Natural Wonder
And Coldest Secret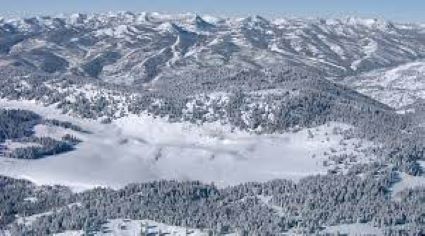 Peter Sinks is tucked away amidst the picturesque landscapes of Cache County, Utah.  It is an extraordinary natural marvel known for its extreme cold temperatures.
Peter Sinks produces the coldest temperatures in Utah every winter.  In fact, it often produces the coldest temperatures in the lower 48 states.  I don't know who Peter was but he must have been real cold when he sunk
Located in the Bear River Mountains above Logan … at 8,000 feet above sea level … in picturesque Cache County, this area is an amazing natural marvel. 
This sinkhole presents an enigma which has been fascinating scientists, adventurers and awe-filled students of nature alike. Its record-breaking low temperatures in mid-winter are a climatological marvel.  It is a fascinating place for outdoor enthusiasts in summer and weather aficionados … at least in theory … in winter.

Under the hood of its unassuming land formations lies a captivating geographical construct that makes Peter Sinks a cradle of cold.  It is a result of a natural depression due to water erosion in the limestone.
Its intriguing bowl-like shape is adept at trapping and retaining cold air.  This unique trait leads to remarkable temperature plunges branding Peter Sinks as the home of some of the "coldest temperatures in the U.S."


Registering these biting temperatures, however, presents both a practical and scientific challenge.  The customary weather stations in the region house atmospheric standard instruments positioned around 1.5 to 2 meters above ground level.
This approach is insufficient here as the heavy, icy air in Peter Sinks tends to be most concentrated at ground level.  Consequently, conventional measurements can often under-represent the sunk-in, ground-level frost.

In a creative bid to overcome this challenge, the local National Weather Service (NWS) installed a specialized thermometer within the sinkhole at ground level.  This innovative solution effectively now captures the true latitude of Peter Sinks' winter temperature extremes.
As the summer sun drenches Cache County, Peter Sinks reveals an entirely different side. The biting winter cold is supplanted with an inviting embrace making the area accessible and welcoming to outdoor seekers.
With cloudless blue skies on many days, although ever-changing, the allure of solitude and a distinct terrain to appreciate makes Peter Sinks an intriguing destination.  The summer season affords a rewarding opportunity to hike to Peter Sinks. 
Absent of icy winter frosts, what remains is a tranquil, serene environment providing a cool retreat from the summer heat below.  Lush green vegetation adorns the area painting a refreshing picture of natural beauty.

If you park where Sink Road meets with Peter Sinks Loop, it is a manageable three-mile hike round-trip.  The wonderful landscapes, refreshing air and a vibrant display of local plants and wildlife make the trek an enjoyable excursion that is as informative as it is adventurous.

Interest in this geological anomaly began to snowball in the mid-20th century when the USDA Forest Service claimed the land.  Since then, its uniqueness has engrossed various interest groups especially meteorologists fascinated by its curious winter temperature inversions.

Peter Sinks is a secluded yet accessible spot located approximately 8100 feet above sea level, nestled in the Bear River Mountains between Logan and Bear Lake.  It is situated roughly 39 miles (less than an hour drive) northeast of the sleepy city of Logan, home of Utah State University.
-
If you wish to extend your adventure beyond Peter Sinks, several intriguing attractions are within reach.  The captivating Wind Caves, picturesque Tony Grove Lake (with an excellent hike) and the high-altitude utopia of Bear Lake are all nearby.
Bear Lake is about 37 minutes (13.5 mi) from the Peter Sinks access.  Remember, you're driving mostly uphill in the mountains.  Renowned for its radiant natural beauty, exciting water sports and quintessential raspberry shakes, Bear Lake provides a refreshing respite from the physical exertion of hiking to Peter Sinks in the summer.

Whether you're looking for a picturesque summer hike or a challenging winter expedition to experience the incredible temperature drops, Peter Sinks is a unique experience nestled amid the beautiful Cache County. 
In winter, the only ways to access the Peter Sinks area are by snowmobile, cross-country ski or snowshoes.  You need to be ready for this one of you want to attempt it.
It is a one-of-a-kind place to see … moreso for its reputation than anything … that will leave you with a tale to tell.  With its exceptional serenity, seclusion and ever-changing skies in summer and its record-breaking low temperatures in winter, Peter Sinks stands as one of Utah's relatively unknown stories of interest.
---
Have A Great Story About Peter Sinks?
Do you have a great story about Peter Sinks? Share it!