Bear Lake State Park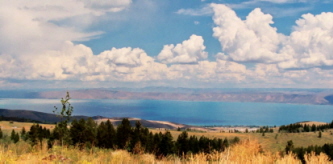 A Stunning Setting
Bear Lake State Park.  As you get your first view of the lake, the unique deep blue color will amaze you.

Almost turquoise. The same color as the Caribbean according to some people. But what causes a lake in the mountains of Utah to turn this extraordinary color? At 5,923 feet?
It's the reflection from limestone deposits suspended in the lake. Stop at the Bear Lake Overlook and you'll get a fantastic view birds-eye of the shimmering waters. In a stunning setting. Bear Lake State Park. Beautiful sandy beaches act like a magnet. Attracting thousands to stay and play.
One of my favorite places in Utah. Bear Lake State Park is a year-round destination for recreation and even cultural activities. And each season provides its own unique blend of activities and adventure. There's something for everyone at Bear Lake State Park.
There are two separate towns on the shores of Bear Lake. Garden City and Laketown.

Three Distinct Areas
There are three distinct areas at Bear Lake State Park for day and overnight use:
Bear Lake Marina – for launching motorboats and sailboats.
Bear Lake Rendezvous Beach – four campsites and a great beach.
Bear Lake Eastside – primitive and secluded camping. Popular with scuba divers and fishermen.
Summer Activities
Boating – a popular activity at Bear Lake State Park. It's a big lake. 20 miles (32.18 km) long and 8 miles (12.8 km) wide.
Personal watercraft – can be rented right on the beach or at the marina.
Water-skiing and wakeboarding - for the same reasons as above, a great lake for this. Lots of room.
Sailing - always popular on Bear Lake. A more relaxing way to enjoy the afternoon breezes.
Camping – how about over 500 campgrounds located around the lake? With whatever amenities you're looking for. From more primitive (tents) to full hook-up with electricity, water, and showers.
ATV riding – there are hundreds of miles of trails throughout the area. You can find any type of trail you want on The Shoshone ATV Trail System and the surrounding canyons.
Fishing - Bear Lake is famous as a trophy cutthroat trout fishery. The Idaho State Record cutthroat of 19 lbs. was caught here. The lake also holds Lake trout or Mackinaw which can reach 30 lbs. or more.
Golf - golf three seasons of the year in Bear Lake State Park. Spring, summer, and fall. The temperatures are heavenly. The courses are laid out on panoramic hillsides. And, of course, with breathtaking lake views always visible.
Hoseback riding – nearby Logan Canyon beckons. You can be riding through fantastic mountain scenery within minutes of Bear Lake.
Hiking – spring, summer, and fall provide spectacular hiking as temperatures are mild up here. Fall hikes during September and October offer amazing colors.
Cycling and mountain bike riding – there are numerous trails throughout the park suitable for mountain biking. And several great cycling roads.
Bird watching/watching wildlife – you'll find The Bear Lake National Wildlife Refuge on the north shore of Bear Lake. With more than 18,050 acres of marsh, open water, and grasslands. Sandhill cranes, herons, snowy egret, white pelicans, Canada geese and a variety of waterfowl find refuge here. And it's one of the largest white-faced ibis producing areas in the western U.S. Keep your eyes open for deer and moose. They're everywhere up here.
Cave exploring - experience probing the interior of an amazing 9-room cave containing stalactites, stalagmites and banded travertine. Minnetonka Cave. Imagine three stalagmites over 10 feet high. You'll have to walk though. It's a half-mile hike into this beautiful cave. The interior is cool (40° year round). And the road to the mouth of the cave is paved.
Photography – if you like photography, you'll never run out of subject matter at Bear Lake State Park.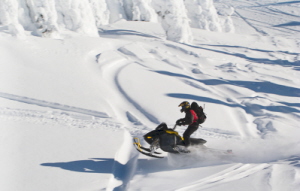 Winter Activities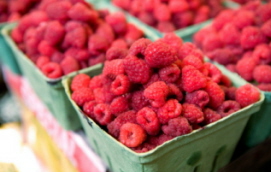 Raspberry Days
Every summer during August, the harvest of the luscious local raspberry crop brings visitors from all over the country – and the world - to Bear Lake State Park.
craft booths
a parade
a rodeo
fireworks
a beautiful lake
boating, water skiing and fishing
world-famous raspberry shakes

History of the Bear Lake Valley
Shoshoni Indian tribes were the first inhabitants of the Bear Lake Valley. Fur trappers followed them into this mountainous paradise. Offering abundant wildlife and solitude.
But between 1825 & 1840, mountain men and Native Americans met on the south end of Bear Lake – where thousands of people gather now to play – to trade goods and conversation. These gatherings became famous and are now known as mountain man rendezvous.
Thomas Pegleg Smith, a one-legged, ex-mountain man may have been the first permanent resident of the area. During the 1840s, he set up shop to provide supplies to people passing by on the Oregon Trail.
As in so many areas of Utah, the Mormons settled the area first in significant numbers. Brigham Young sent permanent settlers into the valley in 1863. Charles C. Rich led this group. The county is, appropriately enough, named Rich County.


Facts About Bear Lake
elevation - 5,923 ft. (1805.3 m)
length - 20 miles (32.1 km)
width - 8 miles (12.8 km)
shoreline - 48 miles (77 km)
surface - 112 square miles (180 square km)
depth - 208 feet (63.3 m)
How To Get To Bear Lake
Bear Lake is located near the Utah/Idaho border in the far northeast corner of Utah. Getting there from the southwest (Salt Lake City) involves a drive up one of my favorite roads – the Logan Canyon Scenic Byway. Bear Lake is a 48 mile (77.2 km) drive from Logan up over the Cache Mountains.
Logan Canyon is one of my favorite places on the planet. Why? For more than 25 years, I've been going there several times a year to my wife's family cabin. And the Byway goes right past our cabin. Fantastic scenery. Uncrowded recreation areas. And less than 90 miles (145 km) northeast of Salt Lake City.
Beginning at the mouth of the canyon on the east side of Logan – home of Utah State University - it also gives you access to outdoor activities year-round. Hiking camping, fishing, skiing, snowmobiling, biking, or hunting.
One of the best trout fisheries in the state – the Logan River – runs in tandem with the byway. Bring your fly gear and indulge yourself. If you want to treat yourself to some of the most stunning fall colors you'll see anywhere, drive this route in the fall.
And, at the summit, you'll get to experience the breathtaking panorama of the turquoise waters of Bear Lake.

Park Hours - 8 a.m. to 10 p.m. year-round. No holiday closures.
Day Visits - $8 for a day-use permit. $75 for an annual pass. $35 for a senior annual pass.
Overnight Camping - varies by campground - $10-$25.
For further information about Bear Lake State Park, contact:
Bear Lake State Park
1030 N. Bear Lake Blvd.
Garden City, UT 84028
(435) 946-3343


Back to top of Bear Lake State Park

Back to Utah State Parks

Back to Home Page