National Parks In Utah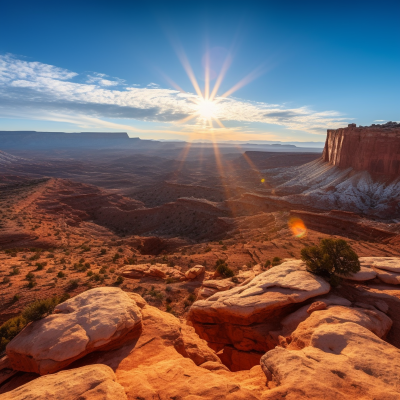 There are five national parks in Utah.  They contain some of the most recognizable landscapes in the world.
To the consternation of some especially long-time residents, Utah could almost be described as belonging to the nation.  Why?  Well, almost 80% of Utah's land is administered by government agencies.
National Parks are areas of land owned and set aside by a national government.   Usually located in largely undeveloped areas, they're characterized by unusual geologic features, native animals, plants or ecosystems.
National Parks Are Special Places
The National Park System of the United States is the group of physical properties administered by the National Park Service. These include National Parks, National Monuments and National Forests.
The first true National Park in the world was established in 1872 in the United States – Yellowstone National Park.
And perhaps the crown jewel of the National Parks system is Yosemite California.  Situated in the Sierra Nevada Mountains, it was established in 1880.   More than 4 million people visit the park each year.
The five national parks in Utah provide some of the best natural scenery and outdoor playgrounds in the world.
This page tells you a little about each one of them.   If you want to know more about the individual national parks in Utah, click on each individual link for more details and secrets.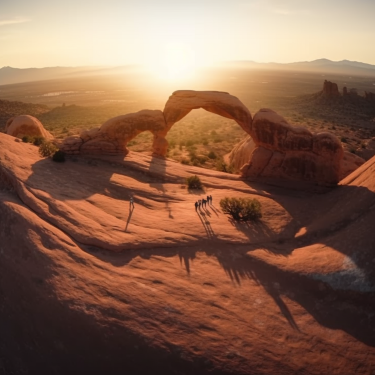 1. Arches National Park is simply stunning.  It contains the largest concentration of natural stone spans in the world.  There are great scenic hikes of varying difficulty throughout the park.  You can also simply drive to overlooks for viewing and photography.  This is becoming increasingly difficult as the crowds threaten to overwhelm the park.
Delicate Arch is actually depicted on the Utah license plate and is recognized throughout the world.  Arches is located just north of the now-famous outdoor recreation town of Moab ... a mountain biking
and off-road vehicle mecca.
"This is the most beautiful place on earth."   Edward Abbey used this sentence to start his book, "Desert Solitaire," published in 1968.
It was based on his employment as a seasonal park ranger at what was then Arches National Monument during a three-year period starting in 1957.



2. Bryce Canyon National Park is unique and awe-inspiring.  There is fantastic scenery but it is not quite as varied or as big as the other national parks in Utah.
Bryce is a series of breaks in 14 huge amphitheaters extending down 1,000 feet through the limestone and sandstone of the Paunsaugunt Plateau.
There are easy scenic drives to great lookouts and a number of hiking trails down into the amphitheaters among the "hoodoos" ... the eroded rock pinnacles and spires that fill the park.  Horseback trips are available and in winter, cross-country skiers enjoy the park on several ungroomed trails.
Even though, it is located in normally warmer redrock country, Bryce has snow most winters and generally lower temperatures than you'd expect due to the altitude.  The area surrounding Bryce is home to a varied wildlife population including some of the biggest mule deer in the world.



3. Canyonlands National Park is a desert backpackers delight.  It is remote and gets the least number of visitors ... among the national parks in Utah ... due to the wild terrain.
Canyonlands contains very little in terms of visitor centers and drive-to spots.  You really need to do some hiking or backpacking to appreciate it.  It was created in 1964 and enlarged in 1971.
The Grand Canyon may be better known but if you've been to Canyonlands, it has more varied geological features.  At least those that the The National Parks Service lets you see.  Another story.  The possibilities to explore them are endless.
Solitude and isolation are easy to find here.  The park is cut into three distinct sections by the meeting of the Colorado and Green Rivers.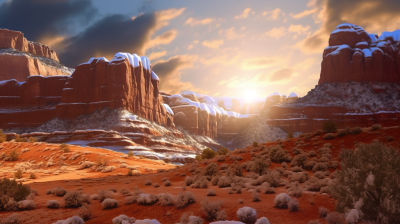 4. Capitol Reef National Park is renowned for its 100-mile (160 km) long escarpment ... the Waterpocket Fold.  It contains rugged desert canyons and shady river valleys.  Capitol Reef tends to be less crowded as it's more off the beaten path. I can attest to this as this is my favorite Utah national park.  
Early settlers thought the mountains of the area actually resembled a coral reef.  There are still reminders of those early settler including a few restored buildings.  The little schoolhouse is especially intriguing.

The Fremont River flows through the middle of the park providing life to the adjacent fruit orchards and cottonwoods.  The rest of the park is bone-dry most of the year.
5.  Zion National Park is the oldest of the national parks in Utah.   It features soaring towers and monoliths but is also known for its incredible slot canyons which attract visitors from around the world.
Zion is Utah's most frequently visited park with nearly three million visitors per year.  Before you decide to see this amazing park, do your homework.  The crowds and traffic can be overpowering and depressing.
Zion National Park has a flowing river and many trees.  It is
basically a deep, narrow, vertically-walled canyon but is quite accessible to visitors as long as you take the seasonality and busy season into consideration.
There are dynamite hikes of all difficulty.  Zion has great cheap park campgrounds if you can get a reservation at one.  Located in southwestern Utah, a simple drive through the park can take your breath away.  As can the traffic.


Back to top

Back to Home Page
---
Have A Great Story About National Parks in Utah?
Have a great story to tell?