Moab Utah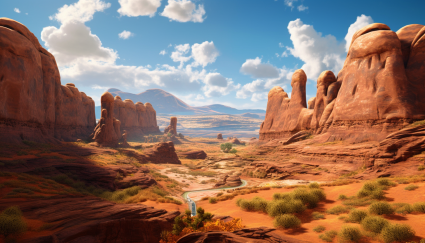 What has made Moab Utah world-famous?  Turning a sleepy stagnant little southeastern Utah desert town into an outdoor recreation mecca?
Well, for one thing, it was "discovered".   Located 233 miles (374 km) southeast of Salt Lake City .   Right in the middle of the beautiful red rock canyon country near Arches National Park and Canyonlands National Park .
Permanent population as of 2023 - 5,029.  Transient population – 3 million people each year!
A Little History
As with much of the state, Mormon settlers originally established Moab as a trading fort in 1855.  The area served as a crossing over the Colorado River along the Old Spanish Trail.
They intended to trade with travelers trying to cross the river.  In 1883, as the railroad bypassed the area by 40 miles, the trade routes started to shift away from Moab.
Moab's economy was originally centered on agriculture but the emphasis shifted from trading with passing travelers to moving goods to distant markets.
Little did these settlers know that people from those distant markets would eventually flock to Moab Utah.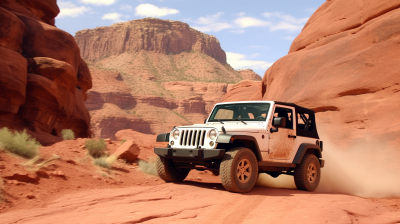 When uranium and vanadium were discovered in the early 1900's, mining took over the local economy.  Moab became "the uranium capital of the world" when a rich deposit of uranium ore was discovered in the 1950's.  Geologist Charles Steen became a wealthy man off his discovery.
The population exploded by five-fold to around 6,000 leading to a construction boom in Moab.  Eventually, like most booms, this one wound down also.  People starting drifting away from the area.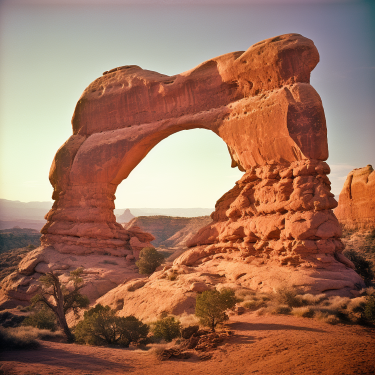 Reel Famous?
In 1949, famous western movie director John Ford was persuaded by a local rancher to film his movie Wagon Master in the Moab Utah area.
The beautiful and unique scenery brought other filmmakers to the locale.  In the following years, many other movies were filmed there.
As the gateway to:
Arches National Park and Canyonlands National Park as well as the vistas portrayed in many of these movies, the area slowly evolved into a tourist mecca.
Dead Horse Point State Park located just 32 miles from Moab Utah is one of the most breathtaking panoramas anywhere.  The view of the meandering Colorado River 2000 feet below is heart-stopping.  Words can't describe what the photo below illustrates.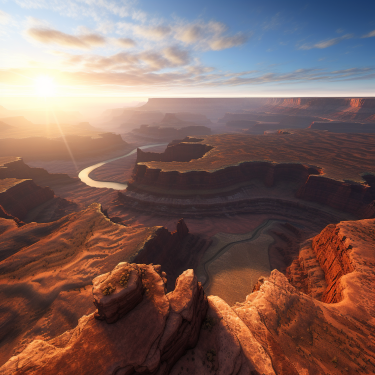 A World-Famous Outdoor Destination
Step into the vibrant tapestry of Moab, a world-renowned haven that beckons adventurers seeking a symphony of experiences.  From photography enthusiasts to hiking aficionados, thrill-seekers to mountain bikers, Moab opens its arms to all who dare to embrace its natural wonders.
And as the secret got out, the exciting sport of mountain biking adds its own exhilarating melody.  But that's not all – off-road four-wheeling and BASEjumping enthusiasts find their nirvana here too.
Embrace the Adventure:  Moab's Calling
Unleash your inner explorer with an array of activities that span the spectrum of excitement:
Embark on invigorating hikes and camp under the star-studded skies of Arches and Canyonlands.

Conquer the legendary Slickrock Bike Trail, a mountain biker's paradise.
Navigate the thrilling rapids of the Colorado River on a whitewater rafting escapade.
Channel your inner cowboy as you gallop through the breathtaking La Sal Mountains on horseback.
Seek off-road thrills on one of the 30 diverse nearby trails where four-wheeling isn't just welcomed but embraced – an invitation crowned by the famed Easter Jeep Safari.
Take a leap of faith (literally, and legally) as you BASEjump from one or more of the 70 nearby cliffs that adorn Moab's landscape.
A Tapestry of Charms:  Moab's Allure
If the charm and warmth of a small resort town resonate with your soul, then Moab may still be your haven despite the crowds.  The heartbeat of the town is its vibrant downtown boasting a symphony of flavors that cater to every palate.
As the sun sets, the stage transforms and the nightlife ignites with energy and excitement.  Moab's heart extends to its sprawling restaurant and shopping district inviting you to explore, indulge and discover.
The Dance of Crowds:  Embracing the Ups and Downs
Amid the splendor, Moab does have its moments when the crowds are almost overwhelming particularly during big events and peak vacation seasons.  It's a testament to the magnetic allure that this town holds.
The area, along with its surrounding parks, can experience an overpowering surge of visitors exhibiting its recent wild popularity.
A Key to Sanctuary:  Navigating Accommodations
A vital piece of advice – secure your lodgings before you get on board your Moab adventure.  The popularity of this captivating town will leave the unprepared traveler searching in vain for a place to rest their head.
The key to a joyful experience lies in having your accommodations in place allowing you to celebrate the moment without any worry.
Guides and Outfitters:  Curating Unforgettable Memories
Should you wish to elevate your adventure to new heights, knowledgeable and experienced guides and outfitters stand ready to help you create an experience that lingers in your memory for a lifetime.  They're your compass to Moab's hidden gems.  Your storytellers and your guardians as you navigate the heart-pounding terrain.
Moab – a canvas of experiences waiting to be painted, a symphony of thrills waiting to be heard, and a treasure trove of memories waiting to be unearthed.  Whether you're a thrill-seeker, a nature lover or a curious soul seeking charm, this enchanting destination can deliver.
Just make sure you are ready for a lot of people having the same idea.  So, heed the call, embrace the adventure and let Moab's beauty and vibrancy leave an indelible mark on your bucket list.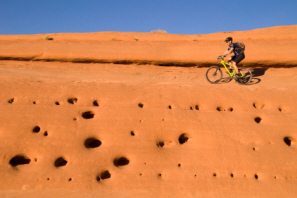 The town has a thriving arts community featuring many local art galleries.  Annual Moab events add to the area's reputation of having something for everyone.
The Moab Art Walk.
The Artists Studio Tour.
The Moab Arts Festival.
The Moab Music Festival in September.
The Moab Folk Music Festival in November.
Moab is featured in the New York Times Bestselling book, 1,000 Places To See Before You Die.  The book describes some of the world's best places to visit.  Moab is truly one of them.  Unfortunately for a lot of us, millions of people now know the secret.
---
Do You Have Something to Share
About Moab or The Moab Area?
Are there upcoming events about Moab you want to tell people about? Do you have a great story about Moab?

Share this info! Each entry will be visible as a link below and have its own web page.

Any photos of the area? Then share them! They will be enjoyed by others for years to come.

Thank you for sharing them with all of us!