Slickrock Trail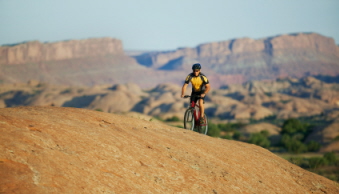 The Slickrock Trail is the trail that made Moab the hotbed of the mountain biking world. It may well be the most popular mountain bike trail in the world.
With over 100,000 visitors each year. More properly known as the Slickrock Bike Trail, it was originally first developed by motorcyclists in 1969. The trail has been taken over by mountain bikers.
Slickrock really isn't an accurate term for the barren red sandstone which is magnetic for bikers from all over the world.
Early settlers couldn't take their metal-shod horses over the rock. They couldn't get any footing on it. Hence "Slickrock". But the traction between the sandstone and fat rubber tires allows riders to seemingly defy gravity.


More Than Just a Bike Trail
The Slickrock Trail is more than just a bike trail. It is located in an area of extreme beauty. Both up close and in the distance. Of course it's important – for your own well-being – to know where your front tire is pointed. And the desire to come out of the ride in one piece often makes it difficult to enjoy the scenery.
The backdrop of the beautiful La Sal Mountains is stunning. As are the dramatic cliffs of the Colorado River. You may find your eyes wandering towards the scenery rather than focusing on where your front tire is going.
The trail crosses the top of an elevated sandstone plateau corralled by cliffs sculpted by the Colorado River and its tributaries. Enjoy the scenery but be careful.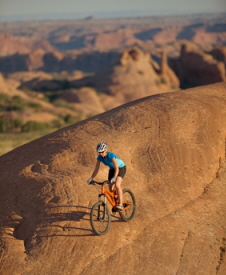 Challenging. Exhilarating. Aggravating.
The Slickrock Trail is only 12 miles (19 km) long. But you'll have to allow yourself 4 hours as it's a challenging ride. But exhilarating. And aggravating at times. You'll find yourself shifting gears non-stop. You never seem to get into a comfortable mode.
It is rated high technical difficulty and high aerobic requirement. But a lot of below-average riders – both in terms of proficiency and fitness – ride this trail. It just may require a short hike over some of the tougher spots.
The Slickrock Trail is marked by a series of white dashes and dots painted on the rock. And the natural inclination is to follow this laid-out path without deviation. But you may find – especially after riding the trail a few times – that you want to try some of the routes outside the boundaries of the marked trail. Some which may require more skill and experience.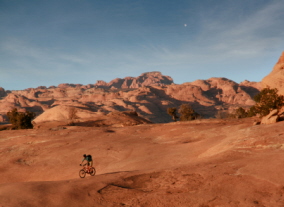 Tread Lightly
If you venture outside the marked trail, make sure you ride only on rock! The surrounding landscape is fragile. Desert vegetation fights for its very existence in this harsh environment.
The cryptobiotic soils – a brown-black and lumpy crust – give life to a unique and rare mix. Bacteria, algae, lichen, mosses, and fungi. This crust is absolutely vital for desert life to exist.
One errant tire track or footprint can snuff out decades of growth and development. And the resulting damage may be irreparable. It takes 50-100 years for the crust to mature and sustain life. And that long to repair itself.
If you've never biked the Slickrock Trail, you might want to try the 2.3 mile (3.7 km) Practice Loop. It's obviously shorter than the main loop. And gives you a feel for it. Even lets you say you rode the Slickrock Trail. And if you want more, you can always attack the main trail.


Getting to the Slickrock Trail
You get to the Slickrock Bike Trail by paying a small fee and entering through the Sand Flats Recreation Area. And you get there by driving or riding just south of Moab on U.S. 191.
Turn right at the first traffic light onto 400 East. Drive or ride for 1 mile (1.6 km) to Dave's Corner Market and Millcreek Drive. Make a right there onto Millcreek Drive. Go ½ mile (.8 km) to the stop sign.
Take the Sand Flats Road up the hill for 2 ½ miles (4 km) to the Entrance Booth. Go another .6 mile (1 km) to the large parking lot on the left.
There are bathrooms here but no water.
The area's "Pay to Play" policy is used to help protect and rehab the delicate ecosystem of this high-country desert area.


Fees
Day-use passes are good for 3 days. $5.00 per vehicle. If you enter on a bike, it costs $2.00. In a shuttle or van, it's $2.00 per person.
Sand Flats has:
124 campsites spread out over 9 clusters.
each site has a picnic table and a metal fire ring.
vault toilets nearby.
bring your own water!
camping is $10.00 per night per vehicle for up to 5 people. Add $2.00 per night for each additional person.
children 7 years old and under camp free.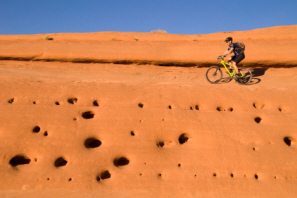 When to Visit
Spring and fall are the best times to bike in southern Utah. Temperatures in mid-summer approach or exceed 100 degrees F (37.7 C). And mid-winter temperatures can reach below freezing.
But that doesn't mean you can't ride at other times if you're prepared. Dress for the temperatures. Bring emergency clothing. And bring plenty of water. Dehydration comes on quickly in this dry climate.


Back to top

Back to Utah Attractions

Back to Home Page