Uinta Mountains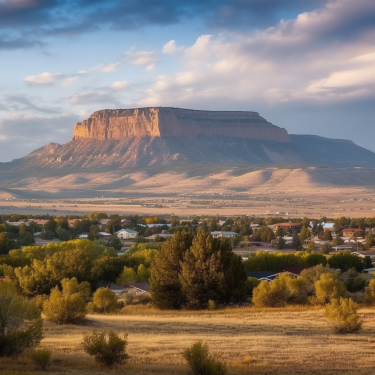 If you head east towards the Uinta Mountains from Salt Lake City, you have to drive right through the Wasatch Mountains to get to them.

Maybe it's because you're already at high altitude when you first see them in the distance but at first glance, they don't look imposing at all.
They certainly look nothing like the towering Rocky Mountains rising up majestically west of my old stomping grounds of Calgary, Alberta.
But as you drive into them, you soon realize the terrain is as beautiful as any you'll find in North America.  And equally as wild and dangerous.
Lying approximately 100 miles (160 km) east of Salt Lake City, the Uintas are the highest range in the continental United States running east to west.
The Uinta Mountains are also the highest mountain range in Utah.  And they have Utah's highest peak … Kings Peak … at 13,528 feet high.
The beautiful Mirror Lake Scenic Byway cuts right through the Uintas ... and over the top ... on its way to Evanston, Wyoming.
Almost all of the Uinta Mountains lie within the Ashley National Forest established by President Theodore Roosevelt in 1908.  The extreme western part extends into the Wasatch-Cache National Forest.
The High Uintas Wilderness … established by Congress in 1984 … covers 460,000 acres.  The largest wilderness area in Utah.  The Uintas are a popular area for:
camping
backpacking
horseback riding
horsepacking

mountain biking

sightseeing

snowmobiling
Throughout much of the Uintas backcountry, you'll find that vehicles are prohibited as it's been designated a roadless wilderness.  There are a few roads and 4 x 4 trails leading to trailheads and areas outside the wilderness though.
With heavy winter snowfall, the Uinta Mountains turn into a snowmobiler's paradise.  Some parts of the Uintas receive more than 500 inches of famous Utah powder each year.  When conditions are right, this can lead to extreme avalanche danger so do your homework.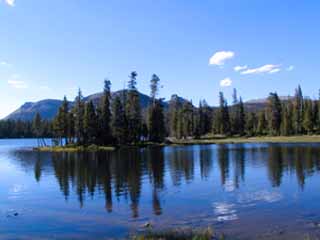 A Land of Lakes and Streams
Throughout much of Utah, a lake usually means a man-made reservoir.  But there are over 1,000 natural lakes dotting the Uintas landscape.  And more than 400 miles of streams.  More than half of the lakes hold game fish.
Due to the altitude, the growing season is short in the Uintas.  As is the season for warm temperatures.  During the height of summer, temperatures up high rarely exceed 80 degrees F ( 26.6 C).  And night temperatures can plunge into the 30's F (below 0 C).
Summer rain and thunderstorms are a daily occurrence up here.


Uinta Mountains Camping
The Uinta Mountains are one of Utah's favorite summer time camping areas.  There are developed campgrounds located pretty much wherever a road heads off the main highway into the forest.  You can also camp in undeveloped areas.
Summer is a busy time and without a reservation, you probably won't find an open spot.  This is especially true along the Mirror Lake Scenic Byway.  Reservations for holiday weekends are gone soon after they are available months in advance. 

Reservations can be made up to 4 months in advance.  Up to 11 months in avance for group sites.  Call (877) 444-6777 or go to https://www.recreation.gov/.

Memorial Day through Labor Day is the busiest time.   Some sites may stay open after Labor Day but the weather can turn bad quickly.

Many Ways To Experience The Uintas
Camping.  As mentioned above.
Backpacking - Miles and miles of trails.  Like the Highline Trail which traverses the entire range east-west.  Be prepared for rain and lots of insects especially mosquitoes.   If you like quiet and solitude, you'll find it here if you work at it a little.   But these mountains can be treacherous if you don't know what you're doing.  You can reach many of the lakes by taking a short hike. This will get you away from most of the crowd.  If you want something longer, you can even day-hike King's Peak – the highest point in Utah.
Driving - The Mirrow Lake Scenic Byway … Highway 150 … just happens to be one of the most scenic drives you'll find anywhere.  Covering 42 miles (67.6 km) from Kamas, Utah to Evanston, Wyoming.  It is usually open from June through early October.  A permit fee is required for any activity along the route.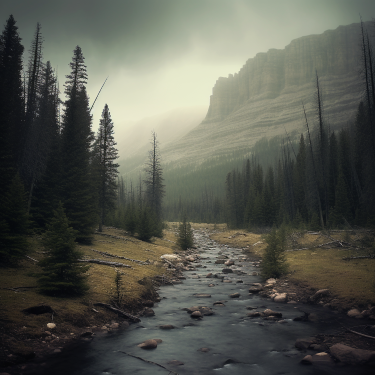 Fishing - In both the lakes and the streams.  lakes are well-stocked.  Drop a fly in a stream or kick a float tube about as I enjoy doing.  Great therapy and a wonderful way to escape life below.
Wildlife Viewing - Moose, deer, elk and a variety of birds and small mammals can be found in the Uinta Mountains.
Pack in Using Horses - or llamas.  My father-in- law did this with horses for years with family and friends.  But he knew what he was doing and where he was going.
He told us a story about one trip ... close to 40 years ago now.  On his way out, he and his companions met a man and his son wandering along.  They were totally lost and disoriented.  It also turns out the man was a multi-millionaire local ski resort owner and quite famous especially for some of the adventures he had been on.
My father-in-law helped him out and got them back to help.  Quite possibly saved their lives.  Even though this man asked him for his name and contact number ... and thanked him profusely ... my father-in-law never heard from him again.  Maybe reality didn't fit in with the narrative he was known for.
Snowmobiling - Highway 150 ... The Mirror Lake Scenic Byway, is a well-known and spectacular snowmobiling area in winter.  The avalanche danger be be extremely high so learn about the area, do your homework and be prepared.
The Uintas Are A Wild
And Potentially Dangerous Place
Before you plan a visit to the Uinta Mountains, make sure you understand that this mountain range can be a dangerous place if you're not prepared.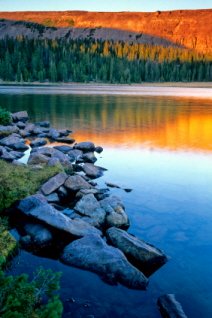 Like most mountain ranges, it seems to rain almost daily up here.  With rain, comes lightning.
And lightning can be deadly in the Uinta Mountains.   If it looks like a storm is brewing, take cover.  Stay off ridges, mountain tops and away from lonely trees.
With altitude and moisture come the hazards of extreme temperature changes.  And rapid ones.  Once again, it rains just about every day up here.  It can hail … even snow … in August.
Bring clothing that will protect you from rain.  Temperatures can plummet quickly up here.  Plan on having the clothing, food, and gear with you that will keep you warm and dry.
High altitude means thinner atmosphere.  Such conditions mean that sunburn occurs much more quickly than at lower altitudes.  It can, consquently, be a lot more severe because of this.
Although not as bad as in some parts of where I grew up in western Canada, Uinta mosquitoes are everywhere.  They'll overwhelm you if you aren't prepared.  Bring a good repellent.
When you visit a Uinta Mountains campground, you'll see signs posted everywhere warning about the dangers of black bears.
Don't leave food or garbage around your camp.  Don't keep food in your tent.  Follow the instructions on the signs and always pay attention to advisories.
During the summer of 2009, five black bears were shot and killed as a result of encounters with humans.  Strange.
And a young man was killed by a black bear in a Utah campground just two years before that probably causing some of the paranoia.  I haven't read about many such encounters recently though.
So be aware and realize that the Uintas can be wild and dangerous.
Map of the High Uintas Wilderness
---
Have A Great Story About The High Uinta Mountains?
Do you have a great story about the High Uinta Mountains? Share it!