Mirror Lake Scenic Byway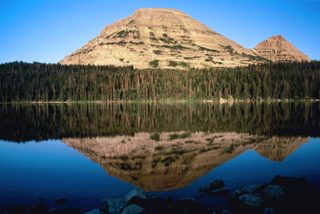 The Mirror Lake Scenic Byway is one of Utah's most scenic drives. But it's open only from late spring through the fall due to the massive snowfall which falls on these mountains.
The road runs from Kamas to Evanston, Wyoming on SR-150. There are very few roads that will take you through the heart of the Uinta Mountains . But this one does. It's about a 70 mile (112.6 km) drive.
A lot of it parallels the Provo River. The byway climbs up over Bald Mountain Pass … an elevation of 10,687 feet … before dropping down past Mirror Lake and on up another steep ridge.
Further on, it parallels the Bear River and takes you on to Evanston. Along the way … and obviously at different times of the year … you can enjoy camping, fishing, hiking, cross-country skiing, ATV riding, and snowmobiling.
In fact, this is one of Utah's most popular winter snowmobiling areas. Some people refer to this byway as the Mirror Lake Highway.
You'll find jumping off points for horseback excursions into the backcountry Uintas. Not something to be undertaken without someone who knows where they're going. And what they're doing. My father-in-law did this every year for many years.
Plan on at least 2 hours total driving time one way if you drive all the way to Evanston. If you plan on stopping along the way, you've got to buy a recreation pass.
A $6 pass is good for 3 days. A $12 pass for 7 days. You can also buy a $45 annual pass. They're good for recreation along both the Alpine Loop Scenic Byway and the Mirror Lake Scenic Byway.



Back to top

Back to Utah Scenic Byways

Back to Home Page