Alpine Loop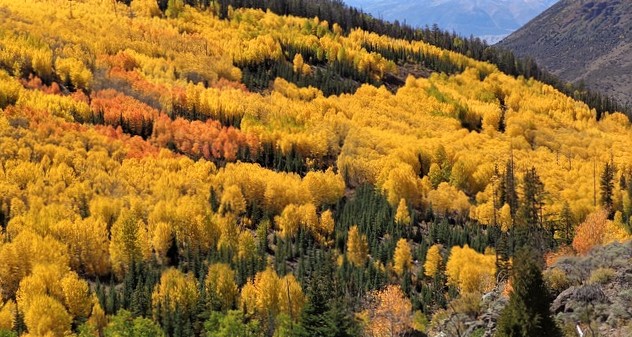 The Alpine Loop ... or more aptly, the Alpine Loop Scenic Byway ... is one of my favorite drives in the entire state of Utah.
It's close to suburban Salt Lake and Utah Counties. Minutes away actually. But it takes you so far away from those same places.
It's a serpentine 20-mile (32.18 km) drive through American Fork Canyon ... Highway 92 ... right through the heart of the Uinta National Forest. It emerges in Provo Canyon … at Highway 189.
Unbelievable views of the formidable alpine canyons of the Wasatch Mountains. Mount Timpanogos ... glacier-carved ... towering overhead. Are you in the Alps?
In my opinion, the best fall leaf display I've ever seen. Yes, on this drive.
Timpanogos Cave National Monument is located along this drive. Robert Redford's Sundance … inspired by two of his movies … is also found along this route.
Sundance, of course, from Butch Cassidy and The Sundance Kid. And Jeremiah Johnson which was filmed entirely in these canyons.
And, just off the byway ... Cascade Springs ... an idyllic mountain spring. With a ¼-mile boardwalk leading you over crystal clear pools and terraced mini-falls. Filled with fish and lush with aquatic plants. You won't want to leave.
The Alpine Loop Scenic Byway is paved the whole way. The winter snows are heavy up here. So it's open only from late May to late October.
Some parts of it may be open outside this window. But you'll have to turn around at either end when you reach the closed gates.
If you're driving one of those monster RV's ... over 30 feet long ... forget it. Rent a car. Some of the turns will be too tight.
If you want to stop along the way ... relax a little bit ... then you've got to buy a recreation pass to use any of the area's facilities.
A 3-day pass is good for $6. A $12 pass for 7 days. Or how about an annual pass for $45. Good for the Alpine Scenic Loop and the Mirror Lake Scenic Byway.


Back to top of Alpine Loop

Back to Utah Scenic Byways

Back to Home Page