Monument Valley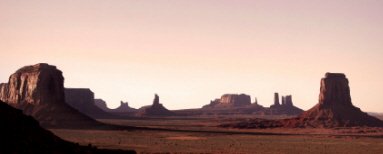 You've Likely Seen It Before
A haunting landscape.  One you've likely seen many times whether you know it or not.  And it's on the top of every page of this site.

Monument Valley has set the scene for more Western movies than any other locale.  Quiet, empty, overpowering space and beauty.

More properly known as Monument Valley Navajo Tribal Park, many people's first view of this area was in a John Wayne/John Ford movie. What an awesome place to make a movie.
Magnificent multi-colored buttes. Luminous mesas of sandstone, limestone and shale. Out-of-this-world rock formations like The Mittens. Icons of the American West.
Stone hands saluting the landscape. Relics of prehistoric sand dunes shaped by weather and erosion.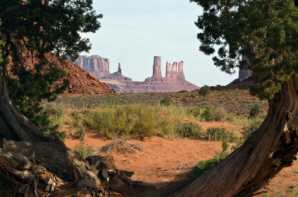 The monuments are the magnificent result of eroded material from the Rocky Mountains being deposited and cemented into sandstone. As erosion worked its magic, geologic uplift caused the land's surface to expand and fracture.
As the years passed, wind and water sculpted the land into what we see today. The cracks became canyons and gullies. The remaining uplifts were tagged with colorful descriptive names.
Big Indian
West Mitten Butte
Merrick Butte
East Mitten Butte
Elephant Butte
Ernie Pyle, the great World War II reporter once said, "in the desert, it's likely to occur to you that our daily lives in the cities are full of seeing, hearing, and worrying over a great many things that are of no damn consequence whatsoever."
Those kinds of thoughts go through your mind when you experience a place like this.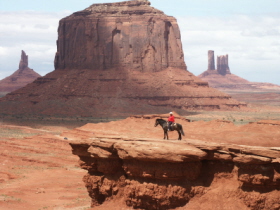 Monument Valley is located near the Four Corners area. The only place in the U.S. where four states intersect. Utah, Colorado, Arizona and New Mexico.
The Navajo reservation makes up almost a quarter of the Four Corners country. More than 300,000 Navajo people live in the 16 million acre "Navajo Nation" .
People seeking solitude from crowded, crime-ridden and frenetic cities come here to see the story of the earth's past scrawled in its rocks. In their unhurried isolation, they often hope to learn something about themselves. And they very likely will if they take the time.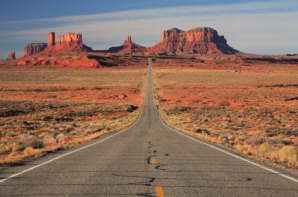 Of course, over the years people have done more than just experience the Four Corners area. But just because we've thought up clever names for a land, mapped out its dimensions, dammed up its waters and criss-crossed it with roads doesn't really mean we own it.
Monument Valley Navajo Tribal Park lies 5,564 feet above sea level and covers 91,696 acres. But if you think about it, it covers a lot more. Or a lot less. It covers this acreage simply because the U.S. government deems it so.
The Navajos have lived here and made their living here for many years. They still retain a combination of love, respect and even fear for the land.
A land where earth meets sky. Little changed from centuries ago. And that's reason alone to experience the Four Corners area.
But, time is of the essence for most travelers. If you want to gain the usual tourist overview of the area, Monument Valley Navajo Tribal Park has a visitor center, campground and restaurant. And a beautiful new hotel ... The View ... is due to open soon.
Monument Valley Navajo Tribal Park is remote enough that it's really never bustling with tourists. It is magical. It is peaceful and unique. And it is far away from the crowded hectic pace of most attractions you're used to visiting.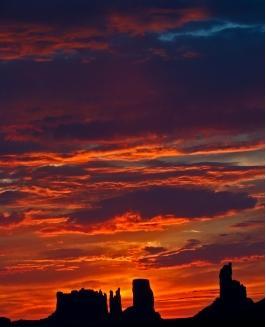 And yes, those colors are real.