Skiing In Utah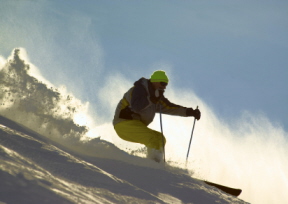 The Greatest Snow On Earth
Skiing in Utah means the "Greatest Snow on Earth" according to Utahns. And we're not the only ones saying it. SKI Magazine says it too. 
Utah resorts took the top four spots and six of the top 10 spots in their ranking of "Best Snow".
An average of 500 inches each year. 42 feet. 14 yards. That's how much snow falls in the Wasatch Mountains of Utah in an average year during the prime skiing months of November through May.
But what causes such fantastic ski and snowboarding conditions to exist? It's the simple good luck of being located where we are. The result of a geographic rarity.
Utah is located at the foot of the west edge of the Rockies but is also just east of the vast Nevada desert. In fact, directly west of Salt Lake City is pretty much where that desert starts.
This location results in the fluffy powder skiers lust for. Most of Utah's winter storms originate in the northern Pacific Ocean. As they move over the Cascades and Sierra Nevadas, they lose much of this moisture.
As these storms hit the high mountains of Utah, even more moisture is squeezed out. Under cold and relatively dry conditions, the resulting snow floats to the ground like fluffy down or "powder".
When enough of this powder accumulates, the general effect on a skier is a feeling of floating down the hill. And skiing in Utah means powder.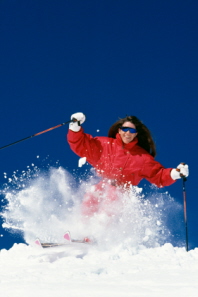 The wild card in all this is the Great Salt Lake. Located just west of Salt Lake City, it can create a multiplier effect on the amount of snow dumped on the Wasatch Front and beyond.
Passing storms suck up and feed off the lake's moisture. This often spectacular "lake effect" multiplies the amount of snow which hits the Wasatch often dumping 2-3 feet at a time.
The Greatest Snow On Earth!
I fell in love with it the first fall and winter I spent in Salt Lake City . The Wasatch Mountains. Not like in some cities where you can see mountains way off in the distance.
They're right here. Part of the city. Rising straight up from the east side of the Salt Lake valley floor.
Only Minutes Away
As spectacular as the scenery is, this unique geography makes Utah the most accessible winter vacation playground in the world! It's unbelievably easy to get to.
In fact, locals tend to take this closeness for granted.
Believe it or not, half the people in the US are within a 2½ hour flight from the Salt Lake International Airport. And when that flight lands, you're less than an hour drive from 11 world-class ski resorts. At the most, less than 4 hours from skiing in Utah.
14 total in Utah
7 within 30-45 minutes
4 of them actually on the Salt Lake City public bus route
And world-class resorts. Deer Valley was just named the #1 Resort in North America! Park City Mountain Resort was ranked #5 by the same Ski Magazine survey.




How To Get Here
Salt Lake International Airport is served by 13 major airlines. More than 900 flights daily. Whether you fly in from the east coast or the west coast, you'll be skiing in Utah powder that same day!
And there's a ski resort for every budget and type of skier. As convenient as it is to get here, it's equally as convenient to leave. This convenience can give you two more days of vacation compared to many other places you'll consider.
The 2002 Winter Olympic Games provided unforgettable memories for everyone who saw them or participated in them. They also left behind fantastic facilities and an unparalleled winter playground for people like you to enjoy.
Want nightlife to go with your ski trip? Utah has outgrown its old-school reputation. Visitors from all over the world, during the Olympics and after, discover a wide variety of choices to satisfy whatever they are looking for in terms of beverage and atmosphere.
What is it about skiing in Utah which has prompted professionals from LA to New York to move here and take a low-paying job so they can ski every day?
What causes millionaire business people to travel the world to earn their fortune but return to their home in Park City or Deer Valley so they can live, play, and enjoy skiing in Utah powder?

Utah Means Powder
Skiing in Utah means powder skiing. Brooke Williams said in his book Utah Ski Country, "To ski powder is to be engulfed by nature."
In this year's Ski Magazine survey, the Little Cottonwood Canyon resorts - Alta and Snowbird - finished right at the top in the "Best Powder" category. Alta was #1. Snowbird #2.
When you see photos about powder skiing in Utah, you might wonder whether they've been enhanced. Most likely not. There's no need to retouch or alter them. It really does look like that.
Nevertheless, as more and more people come to Utah in search of those perfect powder conditions, the harder it becomes to find them. They still exist but more and more it's becoming a matter of being in the right place at the right time.
But that's why you want to keep coming back. Once you experience it, you can't get enough.
The Utah ski resorts are grouped in three geographic areas. The Northern Wasatch. The Southern Wasatch. Southern Utah. As you can see below and in our links to more info about each resort, there's a skiing experience for every budget and type of skier.
Alta - Little Cottonwood Canyon
Beaver Mountain - Logan area
Brian Head - Cedar City area
Brighton - Big Cottonwood Canyon
The Canyons - Near Park City
Deer Valley - Park City
Eagle Point - near Beaver ... formerly Elk Meadows
Park City Mountain Resort - Park City
Powder Mountain - Eden
Snowbasin - Huntsville
Snowbird - Little Cottonwood Canyon
Solitude - Big Cottonwood Canyon
Sundance - Sundance
Wolf Mountain - Eden