Park City Utah




A Year-Round Recreation Area
Park City Utah is quite simply still one of the best places to go in Utah. 

When we first met, my wife and I would drive up and hang out just about every weekend.
Back then, it was still somewhat of a secret from the rest of the world. It stopped being a secret long ago.
Yes, to many Utahns, it's gotten too expensive, too crowded, too snobbish, too trendy and even too big.
I've been going to Park City Utah for more than 30 years. It's changed. A lot. And some locals would say not for the better.
But it's an amazing year-round recreation area. A vibrant and fun place.
It wasn't that many years ago that this little mountain town seemed destined to be just another Utah ghost town.
But Park City history has taken some wild and crazy turns over the years. After a devastating fire destroyed the now-famous Main Street in 1898, the residents started slowly rebuilding their town.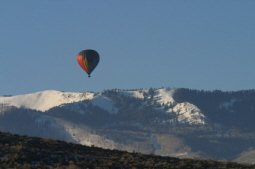 In the 1800's, as a booming silver mining town, Park City Utah produced some of the state's richest and most flamboyant personalities. Established many famous family fortunes. As the silver ran out, the population fell to as low as 2000.
Sure, the occasional tourist ventured up I-80 from Salt Lake City ... a mere 32 miles (51 km) ... to look around. Maybe look for an antique. Hang out. Cool off in summer.
But in 1963, a seemingly random decision changed everything. The first Park City Utah ski resort opened – Treasure Mountain. It was later renamed Park City Mountain Resort.


Three Resorts Within Five Miles
Today, Park City is one of the few resort areas in the country where you can find three year-round resorts within five miles of each other:
The Canyons
Park City Mountain Resort
Deer Valley Resort
Over the years, Park City Utah has been transformed into one of the truly exceptional destinations in the world for skiing and outdoor recreation.




This area now offers you more than 8,800 skiable acres of famous Utah powder. Some of the most exceptional skiing in the world. Convenient and world-class lodging. A vibrant nightlife . Superb dining.
So good it attracted some of the best venues during the 2002 Olympic Winter Games. Park City was transformed into the Games party headquarters.
An awesome place to be during those Olympics. I was lucky enough to be there along with tens of thousands from all over the world.
Park City is more than just a paradise for skiers though. It's become a year-round recreational area. It's an unbeatable destination for
Yes, Park City is second to none for winter activities such as cross-country skiing, helicopter skiing and snowmobiling. But during the non-winter months, nearby lakes provide unparalleled water-skiing, boating and fishing.


Minutes From Salt Lake City International
Park City still looks like a picturesque, old-school mining town but has taken its place among the exceptional modern alpine resorts in the world. What's more...no mountain resort town in North America is so close to an international airport.
Salt Lake City International Airport is only 36 miles away. You can literally leave the office in LA or New York. Take a direct flight.
Be skiing or golfing in the mountains the same day. Try that in Aspen or Vail! Or take a plane from anywhere in the world. Direct flights from the major airports in the US will have you knee-deep in powder that same day.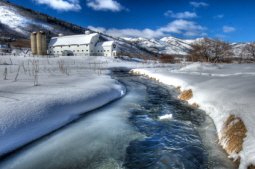 The summit of the Wasatch Mountains separates Park City, Utah from Salt Lake City. But the separation is cultural also. Park City was one of the few cities in Utah not settled first by Mormons.
In Salt Lake City, you can even see billboards sponsored by The Park City Restaurant Association touting the eating pleasures of their members as being located in "The Republic of Park City".
Nonetheless, the people living along Utah's Wasatch Front generally consider Park City to be a unique gem and integral part of their culture.
Although I'm indifferent to the rich and famous types who frequent Park City, I guess some people think it's cool.
You're very likely to see such people shopping or dining among the common folk in Park City. They flock to Park City Utah for the world-famous Sundance Film Festival . Many of them make the Park City area their second home. Or third home.
Whether it's for a winter ski trip, the Park City Arts Festival, the summer session of the Utah Symphony ... Music in the Mountains ... and everything in between, you'll never know what you're missing until you visit Park City.
And once you visit, I guarantee that you'll be back.