Park City Utah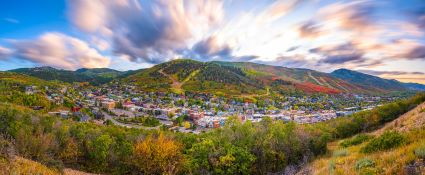 Park City, Utah:  The Timeless Allure of a Mountain Paradise
For those in the know, Park City, Utah has been a gem in the rugged terrains of the American West since the 1960's.  Tucked away among the Wasatch Mountains, this little picturesque town has transformed over the decades from a modest mining town to a globally recognized skiing and leisure destination.  What has remained consistent, though, is its undeniable charm.
A Personal Journey with Park City
When we first met, my wife and I would drive up and hang out just about every weekend.  Back then, it was still somewhat of a secret from the rest of the world.  It stopped being a secret long ago.  But like all good things, secrets get out.
Over the past four decades, I've witnessed Park City's evolution from its humble beginnings to the bustling, vibrant destination it is today.  Yes, to many Utahns, it has gotten too expensive, too crowded, too snobbish, too trendy and even too big. 
They might mourn the loss of the quiet town they once knew but the undeniable fact is that Park City Utah has become an amazing year-round recreation area.  An energetic and exciting place to visit.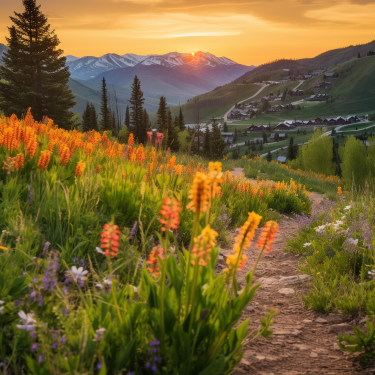 A Glimpse into Park City's Storied Past
It is said that to truly understand a place, one needs to explore its history.  Park City's history is as rich and varied as its terrain.  It saw its original boom in the 1800s, flourishing as an epicenter for silver mining.  The mines … and the lifestyle that went along with them … attracted a diverse collection of people.  These people created a vibrant community giving rise to some of Utah's most influential personalities.
Many famous family fortunes were established in this era.  However, as with most mining towns, Park City Utah faced a decline when its mines began to deplete.  The population dwindled to as low as 2,000 and it seemed that Park City was destined to become just another forgotten Utah ghost town.
The 1898 fire, which razed its famous Main Street, only added to the town's woes.  But like the Phoenix of ancient Greek lore, Park City rose from its ashes.  The community rallied and slowly but doggedly rebuilt their town.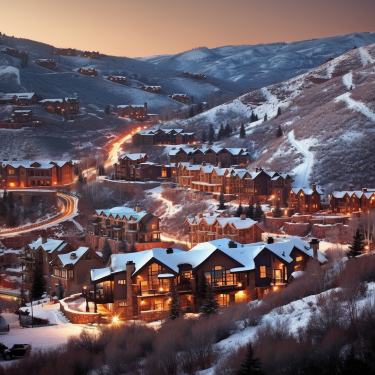 Sure, through the ensuing years, the occasional tourist ventured up I-80 from Salt Lake City ... a mere 32 miles (51 km) ... to look around. Maybe look for an antique.  Hang out.  Cool off in summer.  But I-80 wasn't the multi-lane superhighway it is now.  And Park City wasn't anybody's idea of excitement.
Then in 1963, a seemingly random decision changed everything.  The first Park City Utah ski resort opened – Treasure Mountain.  It was later renamed Park City Mountain Resort.  This decision marked the beginning of Park City's transformation into a globally-renowned winter sports hub.
Three Resorts Within Five Miles
By the 1990's, Park City had solidified its reputation as one of the best year-round resorts in the country.  Today, Park City is one of the few resort areas in the country where you can find three year-round resorts within five miles of each other:
The Canyons: An expansive area boasting some of the best skiing terrains in Utah.
Park City Mountain Resort:  A delightful fusion of modern amenities with challenging ski slopes.  And the Alpine Slide.

Deer Valley Resort:  Known for its upscale amenities and meticulously groomed runs.
Together, these resorts give access to over 8,800 acres of pristine Utah powder offering an unparalleled skiing experience.  Convenient and world-class lodging.  A vibrant nightlife.  Superb dining.
The 2002 Olympic Winter Games … which used Park City as its party headquarters … further catapulted the area into the global limelight.  It was an awesome place to be during those Olympics.  I was lucky enough to be there along with hundreds of thousands from all over the world.
But Park City isn't all snow and skiing.  It's a haven for outdoor enthusiasts, offering:
Golfing: lush greens set against the dramatic backdrop of the mountains.
Horseback Riding: trail rides that provide a unique perspective of Park City's landscapes.
Fishing: with rivers and lakes teeming with trout and other freshwater species.
Mountain Biking and Hiking: miles of trails catering to both beginners and pros.
Hunting:  rich in local wildlife, the area promises a rewarding experience for hunters.
RVing:  modern campgrounds with all amenities set amidst nature.
Yes, Park City is second to none for winter activities such as cross-country skiing, helicopter skiing and snowmobiling.  But during the non-winter months, nearby lakes provide unparalleled water-skiing, boating and fishing.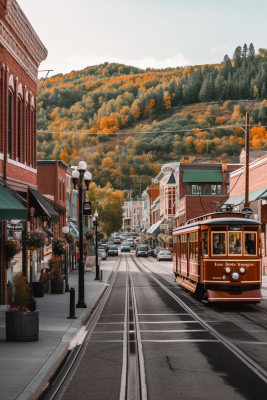 A Blend of Old World Charm and Modern Convenience
Park City still looks like a picturesque, old-school mining town but has taken its place among the exceptional modern alpine resorts in the world.  What's more...no mountain resort town in North America is so close to an international airport.
Salt Lake City International Airport is only 36 miles away.  You can literally leave the office in any major US city, take a direct flight followed by a short half-hour drive, and be skiing or golfing in the mountains the same day.  Try that in Aspen or Vail!
Or take a plane from anywhere in the world.  Direct flights from the major airports in the US will have you knee-deep in powder that same day.  Delta even has direct flights from Paris.
The summit of the Wasatch Mountains separates Park City, Utah from Salt Lake City.  But the separation is cultural also.  Park City was one of the few cities in Utah not settled first by the Mormons.
This distinct identity is often playfully highlighted.  In Salt Lake City, you used to be able to see billboards sponsored by The Park City Restaurant Association touting the eating … and thirst-quenching … pleasures of their members as being located in "The Republic of Park City".
Nonetheless, the people living along Utah's Wasatch Front generally consider Park City to be a unique local gem and integral part of their culture.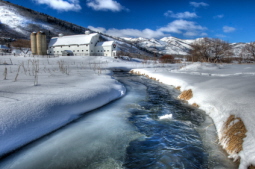 A Playground for the Rich and Famous
Although I'm indifferent to the rich and famous types who now frequent Park City, I guess some people think it's cool.  You're very likely to see such people shopping or dining among the common folk in Park City.
They flock to Park City Utah for the world-famous Sundance Film Festival.  Many of them make the Park City area their second home. Or third home.
In Conclusion:  Park City's Timeless Appeal
Park City, with its myriad of offerings … from the Park City Arts Festival to the Utah Symphony's summer sessions or to the varied winter recreational activities … remains a destination with something for everyone.  Its evolution over the years only adds layers to its appeal.
If you've never been here, this year is as good a time as any to discover the magic of Park City.  And for those who've visited in the past, the town's evolution guarantees a fresh experience with every trip.
In my four decades of frequenting Park City, if there's one thing I've learned, it's that this mountain paradise never ceases to elevate my mood. 
Even so, the increasing crowds and rapid population explosion mean that you'll have a lot of company here.  At times, too much.  I never thought I'd have to say it but traffic jams have become a common occurrence in Park City.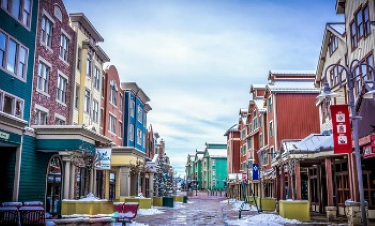 ---
Have A Great Story About The Park City Area?
Do you have a great story or a comment about Park City? Share it!
What Other Visitors Have Said
Click below to see contributions from other visitors to this page...