Sundance Film Festival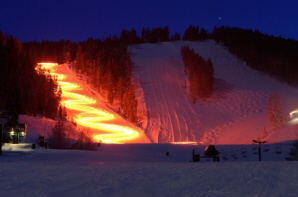 The Sundance Film Festival has evolved into one of the top five film festivals in the world!
It shares accolades with Cannes, Toronto, Venice, and Berlin. And is the largest independent film festival in the U.S. And yes, it's in Utah!
Sundance is held every January primarily in Park City but also in Salt Lake City, Ogden, and the Sundance Resort. It's become the most important venue for introducing new work by American and international independent filmmakers. And Park City is literally and figuratively Sundance central.
Sundance has grown into an extravaganza drawing Hollywood celebrities, paparazzi, and people who congregate wherever people like that do. If you like that sort of thing, come to Park City in January. This year, in 2011, it runs from January 20th through the 30th.
Robert Redford didn't start this festival even though he often gets the credit. Yes, he's been involved from the beginning in 1978. But Sundance was actually started by a BYU film graduate – Sterling Van Wagenen – and Utah's Film Commissioner – John Earle.
During an event such as the Sundance Film Festival, the population of Park City blows up from 8,000 full-time residents to over 60,000.
More Cramped Than Usual In Park City
This year, at Sundance Film Festival 2011, one of the festival's normal 600 seat venues ... the Park City Racquet Club theater ... won't be available. The club is undergoing an extensive renovation.
The gymnasium itself isn't being touched. But the profusion of construction equipment makes it impossible to set up the usual red-carpet and wait-list tents.
How have they compensated? By adding seats to the other venues ... starting movies earlier ... and starting them later. And by using the Redstone Cinemas down the road at Kimball Junction.
This leaves one large venue ... the 1,270-seat Eccles Theater. And seven other locations. They range in size from the 478-seat Library Center Theater to the tiny Holiday Village Cinemas.
Some simple advice. If you're going, make sure you have tickets. A lot of wait-list people will be waiting a long time.
Park City Venues For Sundance Film Festival 2011
Eccles Theatre (1,270 seats) - each U.S. Dramatic competition film gets one screening at Eccles.
Library Center Theater (478 seats) - late-night screenings each night. And also a shorts program on "Day One".
Egyptian Theatre (290 seats) - with its signature marquee.
Holiday Village Cinemas (164 or 156 seats) - one screen for the public. Three for the press and industry.
Prospector Square Theatre (336 seats)
Redstone Cinemas (175 and 193 seats) - at the Kimball Junction multiplex with shuttle buses from downtown Park City.
Temple Theatre (314 seats) - currently listed on the United States and the Wisconsin Registers of Historic Places.
Yarrow Hotel Theatre (295 seats) - will offer midnight screenings for the first time. Good luck to the hotel guests trying to sleep.
Want To Know A Secret"?
Some of the best venues aren't in Park City. Salt Lake City and Ogden host festival screenings also. Of course without the celebrities, crowds, traffic, and ... yes ... some of the excitement.
But you can expect to have a much easier time finding parking and avoiding those same crowds and celebrities.
Other Festivals During Sundance Film Festival 2011
There are several other festivals that try to take advantage of local ... and national ... interest created by Sundance. The three biggest are:
Slamdance Film Festival - 2011 is the 17th edition. Scheduled from January 21-27 at the Treasure Mountain Inn in Park City, Slamdance concentrates on small-budget emerging filmmakers. Ones who haven't earned a distribution deal yet.
LDS Film Festival - 2011 will be the 10th annual festival. Features films ... and shorts ... by or about LDS (Mormon) people. This year, it runs from January 26-29 at SCERA Theatre in Orem.
X-Dance Action Sports Film Festival - was kicked off in 2001. The goal? To showcase summer and winter sports films. This year, it runs from January 22-25 at The Depot in Salt Lake City.
For more information about the Sundance Film Festival 2011 including movies, schedules, venues, and more, visit:






Back to top 

Back to Park City Utah

Back to Home Page