About Me And This Site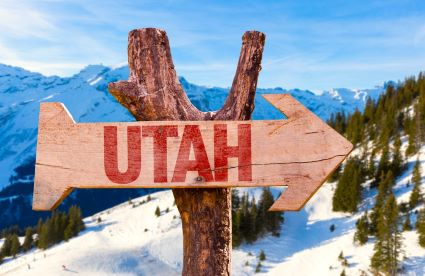 Hello!
So, I'm not a native Utahn.  But I am pretty darn close.   I'm a LONG-TIME resident.  In fact, I've lived here far longer than I care to admit.  
I arrived in Utah on a plane from Canada many years ago with no intention of staying longer than 4 years.  I came on an athletic scholarship for football as well as to study at the University of Utah. 
"Studying" in college when I went to school didn't exactly mean what it does now.  If you survived that era with a degree, I commend you. 
So many of the people I met in college in that era majored in botany and beer tasting.  With a minor in skiing.  Partying was a popular elective.

I did earn a degree in economics.  The plan was that it would be a 4-year stay and I would move on.  Maybe 5 at most.  There was little concern by coaches or the administration at that time whether athletes got a degree or not. 

Hell, the way I ... and so many other good men ... were abused mentally and physically by the "coaches" at the University of Utah during those years, it's a miracle I made it through the first week.  80% of my freshman class didn't. 

When I was in high school, I read a book called "Meat On The Hoof.'  It was an expose about "big-time" college football at the University of Texas.  The main gist of the book was how the players were literally treated like animals.
Shortly after that, I read an article in Sports Illustrated about the same thing taking place at Florida State.  So, like a fool, I still wanted to come to the US to play college football.  Probably just because someone told me I couldn't
And ... believe it or not ... after a kick-ass performance at an evaluation camp for the top high school seniors in my home province of Saskatchewan, one of the schools that contacted me was Florida State.
The article I'd read ... though ... cured me of any desire to go to Florida State.  Besides, I was from Canada.  There was nothing about sweating 24 hours a day, snakes or gators that appealed to me.
Being somebody who doesn't like to be told I can't do something, I ignored the naysayers and came down from Canada to play so-called "big-time" college football in the USA. 
I ended up here at the University of Utah.  At least I hadn't read any books or articles about them.  But I wasn't ready for it mentally or physically.  At least not for a couple years after spending 2-3 hours in the weight room every day and putting on 40 lbs.

The first time I got off the plane in Salt Lake City, it was early August.  I wasn't ready for what smacked me in the face.  About 99 degrees of cloudless blue sky.  And heat.  A dry heat they said.  "Dry heat" my butt.  It was a hot heat.
I saw the temperature displayed on the old Utah Power and Light Building as we drove into the city along North Temple from the airport.  If I remember right, it read 99º F.  For a boy from Saskatchewan, Canada, that might as well have been 119º.

I noticed right away I had a hard time breathing.  No one had told me about the altitude.  Or about the difficulty of moving around and breathing at the same time.

But I survived.  I survived bad coaching and being treated like a piece of meat.  "Meat on the hoof."  I read the book and then lived it.  Even after all that, I've been a Utah football "fan"atic and season ticket holder for many decades.  Because a lot of it was awesome.
The coaching got a lot better my last couple years at Utah as did our team.  I went from not being good enough to play to starting and then being elected by my teammates as one of four co-captains going into my senior year. 

Boy, do I have stories. 
Once thing that remained constant though.  Once I saw those mountains on the east side of the Salt Lake Valley, I was hooked.   Even now, I live near the base of those mountains ... not even 5 minutes away.  With an up-close view of Mt. Olympus right outside my home office window.
Not too long after I got here, I experienced the fabulous Utah autumn weather along with the most vivid array of fall colors I'd ever seen.  A glorious time of year in Utah.  My favorite.

And then ... not long after ... the first snow in November.  Thanksgiving Day to be exact.  I was on the University of Utah campus when the Utah powder I'd never seen before started falling ... and continued to fall.  12 - 14 inches deep.  It looked like goose down coming down. 

And it was so quiet.  There were few students on campus and the snow muffled whatever sound there was.  It wasn't cold either.  At least not from my perspective.  Being from Canada, I wore nothing thicker than a down vest over a Levi jacket for most of my college years and I loved it.

For perspective, my memories of the first snow in the fall growing up in western Canada aren't positive ones.  The term "wind chill factor" must have been invented in Canada.  Wind and chill go together in the Great White North. 
How about driving to the next small town to play hockey as a kid?  Wondering if you were even going to make it.  Hoping "the coach" ... some dad ... driving you and 5 other kids wasn't an idiot about to get you killed.

As a "freshman" at the U ... and, yes, we called it the "U" back then long before anyone knew Miami had a football team ... I remember talking to fellow students and athletes from different places.
Many of the "students" from the U.S. didn't think it was cool to actually admit how much they liked Utah.  Especially the ones from California.  A lot of those "athletes" from California would tell you they couldn't wait to go back.  "Tits Cal"  they called it. 
Many of those from other states ... and other countries (like me) ... had no problem admitting they loved it here.  Especially the longer they stayed.

Funny how many of those people who whined about how "Utah sucks" still live here and wouldn't live anywhere else.  And how many of those people from "there" are now moving "here".
So many of us long for the way it used to be.  I know I do.  With fewer people and fewer visitors.  But the secret has been out for a long, long time.  People will continue to come here to visit.  And then to live.  Why do you think I stayed?

Without people wanting to come here, there wouldn't be a need for this site.  And a lot of the neat things about this place wouldn't even exist.
As I said on my Home Page, this site or online guide will tell you about the usual tourist attractions in Utah.  But it'll cover much more.
My wife was born and raised here so she brings a different perspective than I do.  She just happens to be another reason I stayed here.  Actually the main reason.
If you like photos,  I hope you'll like this site.  They often tell a story far better than words.  I love to take photographs.  I love to look at photos.  And there are lots of photos on this site.  Some taken by me.  Some not.  Please enjoy them.
I know.  There are many other websites about Utah out there.  There are numerous books and travel guides available about Utah.  But you'll find a unique personal perspective here along with just maybe some information you may not find anywhere else.
This site will continue to grow and evolve.  So please bookmark it ... save it in your favorites ... and keep checking back to see where we're at.  Also, come back and check out my blog "The Utah Travel Guy" to see my latest pages and posts. 
And please sign up for my FREE eBook. 
It's more than 100 pages with lots of photos.  And is actually very informative and completely free.  It could be sold as a stand-alone ebook as people have told me. 

You'll notice we're real people.  Not a faceless corporation.  Nor a government tourism site.  We're having fun after taking a long hiatus and learning as we grow.  We're planning on learning as much as you do.


This Site
Why do people use the web?  To search.   For information.   Credible, high-value information.  Or for a solution to a problem.  They don't go to the web to look for "businesses".
I've built this site step-by-step (and continue to build it) with the best online business package available.  To give you information.  Answer your questions.  Help you solve a problem.
This site is powered by Solo Build It (SBI!).   It includes everything you need to plan, host, build, manage and monetize your website.  As well as build your traffic.  It does it all!
SBI! is the only package available that prepares you to build a profitable business before building your site.  No matter what your level of online expertise, SBI! guides you all the way.  From beginning to end.
SBI! has the best Customer Support in the business!  And the SBI! Forums are the friendliest and most educational e-business forums available anywhere.
Building a successful online business means choosing the best site concept for your particular business.  Brainstorm It! and Niche Choose It! make it easy to choose your best online path.  Whether yours is an established business or a brand new one.
SBI! was designed for the novice or the advanced webmaster.  And all levels in between.  The block-by-block SiteBuilder allows even a beginner to build the best website possible.   It assumes you know nothing about site-building.
It is also compatible with the popular HTML editors and WordPress.  SBI! allows the maximum flexibility in creativity for any skill level including experienced pros.
SBI! provides fast, reliable web hosting.  It's all part of the package.
Where else does SBI! excel?  Traffic-building.  It overcomes all barriers to traffic building - Search Engine mastery, technology, keyword analysis.  You name it.
That's why a large number of SBI! sites make it into the top 3% of all web sites in terms of traffic.
Click Analysis and Traffic Stats tell you what your visitors like most about your site.  This helps you to know what to write about.
The more quality content you add to your site, the more your business grows.   It's that simple.  Give visitors the information they want, the more your traffic grows.
List-building and e-mail marketing are included in the SBI! package. With automatic site blogging, you can enjoy all the benefits of your own blog with a few simple steps.
Ken Evoy's SBI! has helped thousands of people build successful online businesses.
Click here to learn more.