Logan Canyon
National Scenic Byway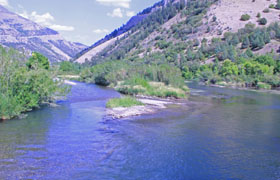 The Logan Canyon National Scenic Byway takes you from the town of Logan ... through the magnificent Cache Mountains ... and back down to the deep blue waters of Bear Lake.
Logan Canyon is one of my favorite places on the planet. Why? Well, for more than 25 years, I've been going up there several times a year to my wife's family cabin. And the Byway goes right past our cabin.
Fantastic scenery. Uncrowded recreation areas. And its entrance is less than 90 miles (145 km) northeast of Salt Lake City.
The best place to start this drive is at the entrance to Logan Canyon just east of the town Logan ... home of Utah State University.
The Visitor Center at the Ranger District Office will give you a lot of information about the surrounding area ... Cache Valley ... and the Byway.
These mountains were once home to the Shoshone Indians as well as so-called "Mountain Men". Logan Canyon National Scenic Byway gives you access to year-round outdoor activities. Hiking camping, fishing, skiing, snowmobiling, biking, photography, or hunting.
One of the best trout fisheries in the state ... the Logan River ... runs in tandem with the byway. Bring your fly gear and indulge yourself.
If you want to treat yourself to some of the most stunning fall colors you'll see anywhere, drive this route in the fall.
And, at the summit, you'll get to experience the breathtaking panorama of the turquoise waters of Bear Lake. At an elevation of 5,923 feet, Bear Lake is located in a stunning setting - the Bear Lake Valley. Sandy beaches attract thousands who come to boat, fish, water-ski, camp, and play.
Winter outdoor activities along this Byway are as varied as the terrain. Whether you enjoy skiing … Beaver Mountain Ski Resort is up this canyon … cross-country skiing, or snowmobiling, you can do it here.
And if you enjoy viewing wildlife ... although you may have to get off the main route ... this canyon is teeming with mule deer, elk, and moose.
A beautiful side visit off the main route is Tony Grove Lake . A small glacial lake, it lies seven miles off the Byway.
Elevations along the Logan Canyon National Scenic Byway vary from 4,700 feet to 7,800 feet. Without any stops, the 47 mile (75.6 km) drive will take about an hour one-way.
But there is so much to enjoy along the way. Take longer and plan on making some stops. You'll enjoy the drive much more.



Back to top

Back to Utah Scenic Byways

Back to HomePage