Timpanogos Cave
National Monument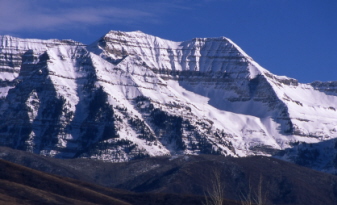 Timpanogos Cave National Monument is unique among Utah's national parks and monuments.  It only covers 250 acres!  But makes up for size in terms of elevation gain.
A Trail winds upwards 1 1/2 miles (2.4 km) from the Visitor Center. An elevation gain of 1,065 feet. Up to an elevation 6,730 feet above sea level!
This trail is the only access to the wonders of the cave system established as a national monument on October 14, 1922.
But along this trail, you'll have some of the most stirring views you'll ever have the opportunity to see. Views of the Wasatch Mountains, American Fork Canyon, and Mount Timpanogos.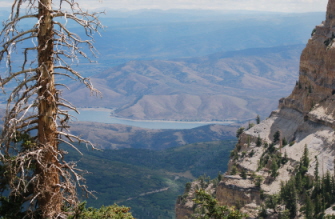 Mount Timpanogos is a magnificent, snow-capped giant rising up to more than 12,000 above sea level. One of a group of peaks in the Wasatch Mountains towering over the populous Wasatch Front.
Timpanogos Cave National Monument is located in American Fork Canyon near the city of American Fork. Less than a half-hour drive from Salt Lake City .
The round-trip hike and caves system tour usually takes around three hours. You can only enter the Timpanogos Caves as part of one of the guided tours led by park rangers. These tours are given daily throughout the summer season.


Three Spectacular Caverns
The cave system of Timpanogos Cave National Monument consists of three spectacularly decorated caverns. Much of the interior is covered by an ornamental display of pink and white translucent crystals glimmering and sparkling like fine jewels.
Needle stalactites, helictites and anthodites are just a few of the many dazzling formations to be found in the numerous chambers.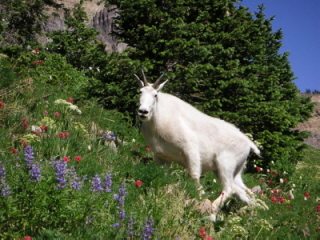 The smaller formations culminate in larger displays such as the Jewel Box and the Great Heart of Timpanogos. These formations continue to change – ever so slowly – as times passes.
From the tips of an infinite number of stalactites hang sparkling drops of water. Each drop leaves behind a tiny bit of lime before dropping to the floor below where it adds to a complimentary formation. It may take hundreds of years to add one inch of mineral!

History
The story goes that a Mormon settler from American Fork named Martin Hansen was following mountain lion tracks when he discovered this legendary underground museum.
He came upon a cave in 1887 with amazing deposits of colorful minerals, fantastic formations, and clear underground pools. The cave, one of three in the monument, is named Hansen Cave.

How To Get Here
To get to Timpanogos Cave National Monument, head south on I-15 from Salt Lake City . Take Exit 284. Turn east onto State Highway 92. Go ten miles (16 km) up American Fork Canyon to the base of the monument.
Along American Fork Creek, you'll find picnic areas. And also private and public campgrounds. There are three state parks nearby in the Uinta National Forest with plenty of good fishing, hiking, and outdoor recreation.




Tours
Tours of the cave are 45-60 minutes long and limited to 20 people. These tours tend to sell out especially on weekends and holidays. You can buy tickets up to 30 days in advance by calling the visitor center at (801) 756-523 and using a credit card.
Temperatures on the trail leading up to the caves can reach 100 degrees F (38 C) during the summer. But the caves average a cool 45 degrees F (7.2 C) so bring a light jacket. Wear a good pair of hiking shoes. Bring water, a flashlight and apply sunscreen.
Strollers and other wheeled vehicles are not allowed. The trail is much too steep. You can bring a baby backpack or carrier for hiking but these will have to be left outside the caves during the tour.
You'll be carrying that little one if you choose to take him or her along. And absolutely no pets are allowed either on the cave trail or in the caves!
Depending on snow accumulation, Timpanogos Cave National Monument is usually open from May through October. A fall visit will provide not only comfortable hiking temperatures but amazing fall color displays from the changing leaves.


Map of Timpanogos Cave National Monument
Back to top

Back to Utah National Monuments

Back to Home Page