Dead Horse Point State Park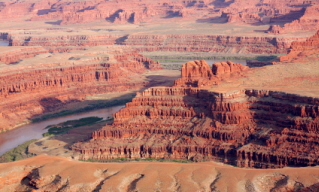 The Most Impressive State Park?
Of all the Utah state parks, Dead Horse Point State Park might just be the most impressive.
Dead Horse Point looks over the Colorado River 2,000 heart-stopping feet below. And as you stand at the edge of the overlook, you are doing so at 6,000 feet above sea level.
Located just 32 miles (51.5 km) from Moab, it is one of the most breathtaking panoramas anywhere. When you actually stand looking down, you may get the urge to grab something for balance. Just in case.
The first time we visited Dead Horse Point State Park, I kept looking around to make sure my young kids were nowhere near the edge.
If you enjoy stretching your legs, you can walk along the Rim Walk. It gives you contrasting views of the Colorado River's serpentine journey below.
On its way to the Gulf of California. And stretching out as far as the eye can see, the harsh and beautiful Canyonlands National Park.


How Was This Canyon Formed?
If you want to see what a master sculptor can create given a little time – say 150 million years – then come to Dead Horse Point State Park. From the magnificent overlook, view canyon erosion on a giant screen.
Much of that erosion was caused by the Colorado River now thousands of feet below. It continues today. In fact, the often muddy river is a great illustration of the erosion which created this canyon.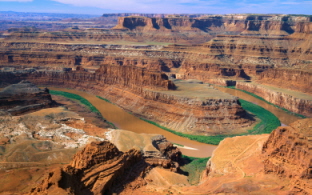 Why The Name?
Now what about the name? Dead Horse Point. Where did that come from?
Well, the story goes that before the turn of the 20th century, mustangs ran wild and free over the mesas near the point. Cowboys used the natural corral formed by the point to drive these wild mustangs into.
A tapering 30-yard fenced area enabled the cowboys to round up, rope, and break the better horses. These were kept for personal use. Or sold to eastern markets. The leftovers were allowed to wander off the point to freedom.
Supposedly, a band of these "broomtails" was left corralled on the point but with the gate open. But, for some unknown reason, they wouldn't leave.
Dying of thirst when they could have simply walked through the gate. And so, Dead Horse Point State Park.


Vegetation And Wildlife
As you can imagine from the photos, it's a harsh dry land. Only plants and animals that have adapted to a very limited water supply can survive. The few plants which grow here have smaller leaves. To preserve water instead of losing it by evaporation.
Animals are nocturnal. They come out at night. When it's cooler. And they are better left alone. They don't need any more stress as their struggle for survival is a daily one as it is.


Weather At Dead Horse Point
There's an old movie famous for a song, "On A Clear Day You Can See Forever". Well, that's what you usually get at Dead Horse Point State Park. The clear skies of the southwest desert enable you to see up to 100 miles away. It seems like forever.
Summer temperatures at Dead Horse Point State Park frequently reach the upper 90's F (upper 30's C) in the day. And fall into the 40's and 50's F (5-10 C) at night. Be prepared for afternoon thunderstorms which can be very dangerous due to the lightning.
Spring and autumn temperatures can be quite pleasant. Days tend to be sunny and warm. Not scorching. And the evenings are clear and cool. But, as with the rest of Utah, things can change quickly. You can get just about anything down here. Rain, hail, strong winds, and snow.
Winter brings much cooler – even cold – temperatures. Even snow. Temperatures tend to rise above freezing during the day. But they'll often fall below freezing at night.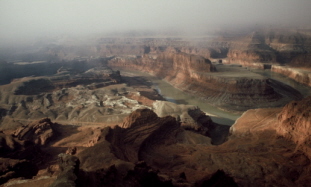 How Do You Get To Dead Horse Point?
You get to Dead Horse Point State Park by heading nine miles (14.5 km) north from Moab on US 191. Turn west on SR 313 and drive for 33 miles (53 km). There's a visitor center. A museum. A developed campground. And a large shelter covering the overlook itself.
P.O. Box 609
Moab, Utah 84532
435-259-2614
Park Hours: 6 a.m. to 10 p.m.
Visitor Center Hours:
Summer - 8 a.m. to 6 p.m.
Winter - 8 a.m. to 5 p.m.
Holidays: The Visitor Center is closed Thanksgiving, Christmas, and New Year's Day. The park stays open though.
Day Visits: $10 for the day per vehicle. Up to 8 passengers are allowed in one vehicle without paying extra.
Overnight Camping: Kayenta Campground: $20
Group Overnight Camping: Group Campground: $3 per person (10 person min/30 person max/10 vehicle max).



Back to top of Dead Horse Point State Park

Back to Utah State Parks

Back to Home Page