Moab Jeep Safari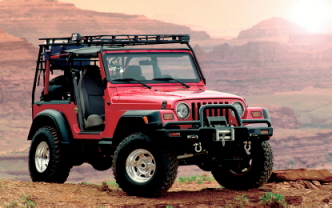 Moab, Utah has become popular for  off-road four-wheeling. And famous for the Moab Jeep Safari. Or, more properly, the Moab Easter Jeep Safari.
Red-rock country attracts millions of outdoor enthusiasts every year. It's become a world-renowned destination for adventurers who enjoy photography, hiking, whitewater rafting and, in the more recent future, mountain biking.
Each year, during the week leading up to Easter, thousands of off-road four-wheel drive devotees gather in Moab's red-rock country for the Moab Easter Jeep Safari.
My family always knows it's that time of year as my wife has had a jeep soft-top repair business for years. Her business spikes in the weeks leading up to this event. Can't have bad zippers and rips in your top at the Jeep Safari.
Moab welcomes these enthusiasts but the scene is almost beyond words. And the noise! It's the first big event of the spring in Moab.
The town comes alive as the streets are taken over by "invaders" from all over the world. Welcome invaders though.
Yes, it's called the "Jeep Safari" and you'll see more Jeeps than anything else. But four-wheel drive is the qualifying statement.
Every make, model and knock-off is seen here. Most of the participants like to show off their modified versions but you'll see straight stock models too.
The 2009 Moab Easter Jeep Safari is April 4-12.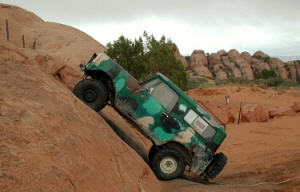 More Than 30 Offroad Trails
There are more than 30 trails to choose from. Most of them are within a stone's throw of Moab. But including both the privately-owned and BLM (Bureau of Land Management) trails, there are more than 50.
You get what you want at the Moab Jeep Safari. Families looking for laid-back desert drives. Hard-core "addicts" pushing themselves and their machines to the limit. And everything in between.
These trails will let you experience some of the most rugged, beautiful and scenic country you'll find anywhere:
Desert.
Sculpted canyons.
Rivers.
Mountains.
Forests
The famous Moab "slickrock".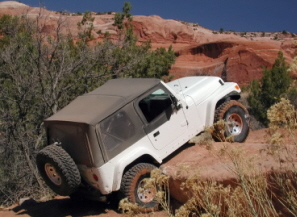 Variety beyond belief. Enchanting beauty. Difficulty of trail? Easy to almost impossible. But be forewarned. Leave your lawyer at home.
The higher difficulty trails are extremely dangerous for inexperienced four-wheelers! If you like to four-wheel, whatever your level of skill and interest, you'll find a trail here!
The Moab Easter jeep Safari is organized by Red Rock 4 Wheelers in Moab. For more information on the annual Easter Jeep Safari, write (yes, snail mail) to:
Red Rock 4-Wheelers, Inc.
P.O. Box 1471
Moab, UT 84532-1471
or go to their website at http://www.rr4w.com



Back to top

Back to Moab Travel

Back to Home Page