Capitol Reef National Park




Hiking And Solitude
They really go together in Capitol Reef National Park. And if you want peace and quiet, you don't have to hike very far. It's a unique place. Unspoiled by civilization over the years.
Colorful outlaws once used its bewildering network of trails as escape routes. Blind canyons and "invisible" water holes provided the ideal hideout and escape route for Butch Cassidy and the Sundance Kid. And others.
An area immortalized in books such as The Wild Bunch by Pearl Baker. The Outlaw Trail by Charles Kelly. Robber's Roost by Zane Grey. But not a place to find yourself without water, a horse and a keen knowledge of the area.
It can still be as desolate and remote an area as you'll find anywhere in the world let alone in the continental US. And as beautiful as any.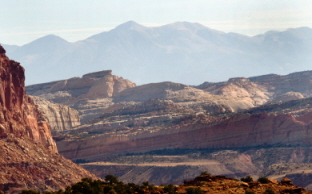 The Waterpocket Fold
An escarpment. A steep slope or cliff formed by erosion or, less often, by faulting says Webster. How about an escarpment stretching 100 miles (160 km)? From Utah's Thousand Lake Mountain southeastward to the Colorado River. The Waterpocket Fold. And it's the dominating feature of Capitol Reef National Park.
Nearly all of the 100 miles (160 km) of the Waterpocket Fold now lie within Capitol Reef's boundaries. Capitol Reef is actually the most formidable and striking section of the Fold.
The Waterpocket Fold is a wrinkle in the earth's crust. Layer upon layer of rock folded over each other. Elements and time have done the rest. Water from ancient seas, rivers and rainfall combined with dramatic temperature changes to sculpt what we see there today.

Why So Unchanged?
Prehistoric Native Americans made their home here ... in what is now known as Capitol Reef National Park ... as they did anywhere in the west there was a trickle of water and a patch of dirt. As far as "civilized" man was concerned, it was pretty much uncharted territory until Colonel John C. Fremont gazed upon it in 1854.



Later, groups of Mormons endlessly searching for tillable ground surveyed this land. The Capitol Reef area was ill-suited for farming but the fertile soil alongside the Fremont River not only tolerated, it encouraged, the planting of fruit trees.
Today, those beautiful orchards offer a grand contrast to the parched, rocky landscape. The former small Mormon colony of Fruita is surrounded by these orchards. Peaches, pears, apples, cherries, and apricots are ready for picking from June to October.
The Powell survey of 1875 was the first real study of the area we now call Capitol Reef National Park. Not suitable for homesteading, it has been left much like it was then.
Even less than 50 years ago, Capitol Reef National Park and the Waterpocket Fold were accessible to only the hardiest and intrepid adventurers. There were no paved roads. Those "roads" that existed weren't roads at all. But state Route 24 through the Fremont River Canyon provided paved access in 1962.


Where is Capitol Reef National Park?
The park is located about 60 miles (96 km) south of Interstate 70. I-70 runs east to west across Utah about 135 miles (216 km) south of Salt Lake City.
Designated a national monument in 1937, Capitol Reef didn't become a national park until 1971.
The nearest town is Torrey, Utah. It is 8 miles (13 km) west of the Visitor's Center on Highway 24. The town is small but provides several motels and restaurants.
There is a large campground in the park but usually fills up early during the busy summer weekends. Overnight camping within the park is allowed only with a permit obtained from park rangers at the Visitor's Center.



Look At All That Sandstone
Three main types of sandstone are responsible for the Waterpocket Fold's rugged scenery. Navajo Sandstone makes up the white domes and peaks - up to 1000 feet thick.
They look like the domes on the US Capitol building. And on many state capitol buildings. It dominates the Capitol Reef skyline. Reef was a borrowed nautical term used to describe a barrier. Hence, the name. Capitol Reef.
The shale along the bottom layer is reddish brown. High and straight. Wingate Sandstone. Directly on top of that is another layer of many colors. The Kayenta formation.
The Kayenta and Wingate form magnificent walls of soaring cliffs imprisoning the canyons below. Vegetation is sparse except for the rare flat surface where a little soil may have settled.


The Egyptian Temple
The Eqyptian Temple at the base of the Waterpocket Fold resembles an ancient temple in the Valley of the Nile. Soft Moenkopi Sandstone is covered protectively from above by harder Shinarump Sandstone forming this magnificent "structure".


Chimney Rock
Hard rock covering softer rock is a prevailing theme when it comes to explaining the existence of so many outlandish geologic features in Capitol Reef. When harder Shinarump remains to protect underlying Moenkapi, we get to enjoy features like Chimney Rock.
From the Chimney Rock parking area, a trail leads up onto a small plateau. Fantastic views and photo opportunities abound if you take this short hike. If you look closely, you may even see the tracks of long-extinct reptiles preserved in the Moenkapi.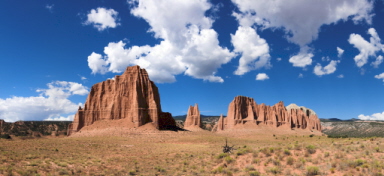 Cathedral Valley
A few decades ago, Cathedral Valley was unknown. Accessible to only the afore-mentioned hardiest prospectors and adventurers. Even today, only primitive roads lead in. Four-wheel drive vehicles only please.
Added to Capitol Reef in the late 1960's, it fits the term other-worldly. Monuments. Gothic temples. Sheer walls standing straight up in the midst of flatness. Volcanic dikes. Breath-taking. Potentially dangerous. Remote.
If you want to see this area, prepare and educate yourself! If storm clouds move in and heavy rains start to fall, Cathedral Valley roads can quickly become impassable. And stay that way for days. Get as much information as you can about what you'll need before venturing into this area.




Hickman Natural Bridge
Hickman Natural Bridge is a large natural arch in a scenic side canyon far above the Fremont River. You'll find yourself surrounded by towering white domes of Navajo sandstone. You can get to it by taking an enjoyable 1.2 mile (1.9 km) hike from UT 24.
This trail gets a lot of traffic. Some of the more able-bodied continue up the Rim Overlook Trail. It's a steeper 2 mile (3.2 km) trail heading up the cliffs. It ends at the summit - 6,900 feet.
The view of the escarpment and the river valley is one of the most spectacular views in Capitol Reef. Take some time to enjoy this one. It's worth it. You'll also be rewarded by seeing remnants of the long-departed Fremont Indian culture.


Hiking Capitol Reef
Hiking is the best way to experience the geologic formations, plants and wildlife of Capitol Reef National Park. Even a short hike will reward you with unforgettable experiences.
Park rangers are available to help you plan a hike suitable for your interests and abilities. If it's solitude you want, Capitol Reef will provide it.
Horseback riding is allowed in Capitol Reef National Park but off-road mountain biking isn't. You can enjoy the scenery and solitude by biking one of the many back roads.
And there are numerous mountain biking trails outside the park. They offer many of the same views you're likely to see in the park.
There are also several exhilarating scenic drives available in the park and surrounding areas.


When To Visit?

The best time of year to visit Capitol Reef National Park is probably spring. April, May and early June. Awakening from winter's bite. When the historic orchards are in full bloom. When flowers break out in wild colors. The wetter the spring, the wilder they are.
In spring, wildlife starts becoming more visible. Indigenous to the area are an amazingly variety of birds.
warblers
northern orioles
doves
finches
swift
swallows
Golden eagles
Mule deer are abundant. As you might expect from the terrain, cougar also. Where there are deer, there are usually cougar. You'll likely never see one of those though. They're pretty much invisible.
Summertime is when the orchards bear the fruit mentioned above. Cherries, plums, apricots, peaches, pears, apples. But temperatures frequently exceed 100° F (38° C).
Autumn rivals spring for the best time to be here. Warm days and cool nights. Fewer people. October and November are perfect for hiking and photography.
Winter will limit what you are able to see and do. Nonetheless, it's a fascinating time to visit the park. Snow is common but doesn't stay long.
And if you are lucky enough to be here right after a heavy snow, the moisture from melting snow provides some of the most amazing colors you'll see anywhere in the world.
Map of Capitol Reef National Park



Back to top of Capitol Reef National Park

Back to National Parks in Utah

Back to Home Page