Natural Bridges
National Monument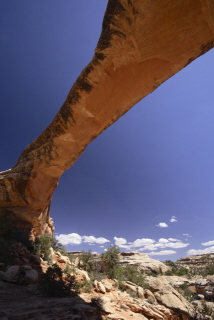 Arches National Park, with over 2,000 classified arches, there are only three bridges here. But they are still among the world's greatest natural bridges.
At one time, the three bridges within Natural Bridges National Monument were known by very common English names – Edwin, Caroline, and Augusta.
And prospector Cass Hite had his own names for them. President, Senator, and Congressman. Not really appropriate for world-famous natural stone architecture in southern Utah's canyon country.
It is believed the ancient native inhabitants of the area didn't have names for the individual bridges. Whether it's true that prehistoric ancestors of the present Hopis once lived here, the three bridges now have Hopi names:
Owachomo (Edwin or Congressman)
Kachina (Caroline or Senator)
Sipapu (Augusta or President)
Natural bridges are formed by running water. They're much rarer than arches caused by other erosional forces. This explains why natural bridges tend to be found within deep, often hidden canyons. Arches, on the other hand, are usually high and exposed. They're the last remnants of cliffs and ridges.

Natural Bridges National Monument is located about 60 miles (96.5 km) northeast of Rainbow Bridge National Monument . Although not as grand as Rainbow Bridge, these three bridges are still among the greatest in the world.
I'm not going to tell you that one of the many natural arches and bridges in Utah is better or more spectacular than another. Each has their own merits and your individual taste will determine your favorites.
---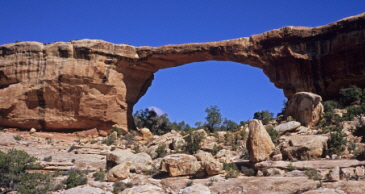 Owachomo Bridge
Owachomo Bridge is thought to be the oldest of the three natural bridges. It's certainly the smallest and thinnest. For these reasons, it's also the weakest. And the most classic.
In Hopi, Owachomo means rock mound. This comes from the rock formation on top of the bridge's east end. Prior to being given its present name in 1908 by government surveyor William Douglas, it was called both Edwin and Congressman.
From the overlook along the rim drive, an easy trail takes you down to the bridge on a series of uneven stone steps. The trail is .2 miles (.64 km) in one direction. Plan on around 30 minutes and an elevation change of 180 feet.
Owachomo is 180 feet (55 meters) long and 106 feet (32 meters) high.


---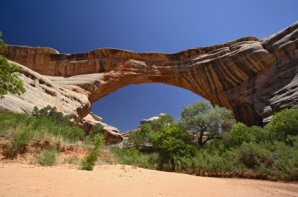 Kachina Bridge
Kachina Bridge is the middle bridge. It spans the canyon an equal distance from the other two. And, appropriately enough, it is the middle one in terms of size. Larger than Owachomo. Smaller than Sipapu.
And ever-changing. In June of 1992, 4,000 tons of sandstone fell from inside the opening of Kachina. Expanding the opening as it has done countless times before.
William Douglas named the bridge Kachina when he discovered petroglyphs and pictographs carved near the base of the bridge. He thought that the human figures represented Kachina dancers – masked members of the Pueblo peoples. And ancestors of the present-day Hopis.
And before he renamed the three bridges, this one was called Caroline – named after a local cowboy's mother. And Senator. Named by a prospector named Cass Hite.
There is a short trail here also leading down from the parking area along the rim drive to the base of the bridge. Watch for the uneven stone steps. For switchbacks and steep slickrock sections. Luckily, there are handrails to aid your descent.
The one-way hike is .75 mile (1.2 km). Allow about 45 minutes. The change in elevation is 400 feet.
Formerly thought to be 210 feet (64 meters) long, Kachina Bridge was recently measured by laser rangefinder at 192 feet (58.5 meters). It is 204 feet (62 meters) high.


---
Sipapu Bridge
Sipapu Bridge is the most impressive of the three bridges in Natural Bridges National Monument. It's also the longest. The 7th longest arch in the world at 225 feet (68.5 km). It is 220 feet (67 meters) high. And considered to between the other two in terms of age also.
This bridge was named President by Cass Hite in 1883. Horace Long named it Augusta in 1904 after his wife. And, as with the other two, William Douglas, a government surveyor, renamed it Sipapu in 1908. Sipapu is a Hopi term for the opening between worlds.
An average trail, in terms of difficulty, leads from the parking area along Bridge View Drive down to the bridge's base. With stairs, ladders, and areas of slickrock along the trail, you've got to watch your footing especially in winter. The trail is .6 miles (1 km) long. Allow about 45 minutes down and back.


---


It's Better At Night!
Every year, almost 100,000 people visit Natural Bridges National Monument. But only a small number of those people see its most spectacular sites. Why? Because they're only visible at night!
Don't get me wrong. The monument is fantastic during the daylight. But the night sky is absolutely incredible. With the night sky's natural beauty. The total absence of unnatural light. And the contrast between the starry skies and the dark canyon walls.
This night-time spectacle has compelled the International Dark-Sky Association to christen Natural Bridges National Monument the world's first International Dark Sky Park. Quite simply, it's the darkest starriest sky they've found.
On a clear night, the romantic sky gives you a panoramic view of the Milky Way galaxy and an infinite number stars and planets. An overwhelming sight under a pitch-black sky.


Horsecollar Ruin
The Horsecollar Ruin site is one you'll want to see on your visit. One of the best-preserved ancient Puebloan sites in southern Utah. Deserted more than 700 years ago, its name comes from the two structure's doorways resembling horsecollars.
The modern discovery of the site occurred in the late 1880's. The ruin looks much like it did then. Unusual structures. Perfectly round. But without roofs. With plaster floors. Were they ever covered? And what were they used for. No one really knows why these structures were built.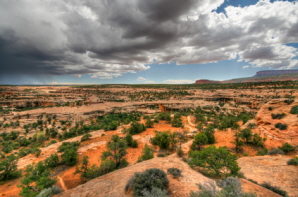 What Is The Weather Like?
Like so many other southern Utah treasures, Natural Bridges National Monument is located on the Colorado Plateau. A high desert climate, it means dramatic temperature swings. Sometimes as much as 40 degrees F (4.4 C) in a day. The best time of year to visit is in the spring or in the fall. April-May. September-October. Summer temperatures can exceed 100 degrees F (38 C). Much too hot for moving around and seeing much unless you do it early in the morning.
There are no services available in Natural Bridges National Monument. Food, gas, and lodging can be found in some of the nearby towns like Blanding, UT, Monticello, UT and Cortez, CO.


How Do You Get Here?
Natural Bridges National Monument is located at the end of Highway 275. Approximately 35 miles (56.3 km) west of Blanding, UT on Highway 95. Plan on a 45 minute drive from Blanding.
Blanding is 239 miles (385 km) south of Salt Lake City . And 61 miles (99 km) west of Cortez, CO. Grand Junction, CO is 117 miles (188 km) northeast of Blanding.

Map of Natural Bridges National Monument
Back to top 

Back to Utah National Monuments

Back to Home Page