Rainbow Bridge
National Monument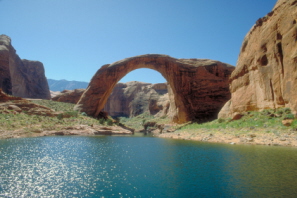 Rainbow Bridge National Monument is probably the most inaccessible of all the scenic wonders in the National Park System.
It traverses a part of Bridge Canyon which extends from the western slope of Navajo Mountain to the Colorado River near the Utah-Arizona border.
And can only be reached by a two-hour boat ride on Lake Powell. Or you can hike several hours overland from a trailhead.


The World's Longest Natural Bridge
Carved out of the coral-pink Navajo sandstone, Rainbow Bridge is the world's greatest natural bridge. It is a perfectly symmetrically curved arch below.
But it has the same curve on top. Appearing to be a rainbow to the Navajos and Paiutes, they called one in their own languages long before white men showed up.
For years it was estimated to be 287 (87.5 km) feet long from pier to pier. As you can read on my Utah Arches page, recent updated measurements have put Rainbow Bridge's length at 234 feet (71 meters). That places it number six among the Top 10 longest arches in the world! 42 feet (13 meters) thick at the top. 33 feet (10 meters) wide.
Rainbow Bridge National Monument has mystified and uplifted people for centuries. Neighboring Native American tribes considered – and still do today – Rainbow Bridge to be sacred.
And more than 300,000 people from around the world come to marvel at it each year. When you visit Rainbow Bridge, do so with a spirit of respect and honor for those who consider this ground sacred.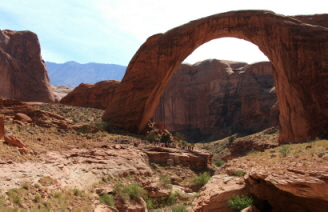 History
Rainbow Bridge National Monument was proclaimed a national monument less than ten months after it was "discovered". President William Howard Taft set it aside on May 30, 1910 because the natural bridge itself "...is of great scientific interest as an example of eccentric stream erosion and it appears that the public interest would be promoted by reserving this bridge as a National Monument..."
Rainbow Bridge itself hasn't changed in the past 100 years. But how we get to it sure has. In the early days, the only way to see it was to hike for several hours from Navajo Mountain. But with the creation of Lake Powell in 1963, we now had an entirely new way to visit the bridge. By boat. But that boat ride still takes several hours.
The land making up Rainbow Bridge National Monument was historically occupied and used by the Navajos, Paiutes, Utes, and Hopi. Before that, Ancestral Puebloans and even earlier indigenous people lived in the area.
And author Zane Gray used to visit Rainbow Bridge. He loved the area and used the majestic landscape to inspire the backdrop for many of his books.


How Was Rainbow Bridge Formed?
By water. Like so many of the spectacular sights on the Colorado Plateau. Captivating millions of people each year. Water can be a skilled and talented sculptor. And it wasn't always as scarce as it is now in the southwestern part of the U.S.
Millions of years ago, the Colorado Plateau was thrust upwards violently due to forces below the earth's surface. This caused the paths – or more correctly, gradients - of many rivers to be forcefully steepened. The Colorado River was especially transformed by this change.
With the combination of abrupt uplift and the tremendous force of water from these steepened river gradients, many deep canyons were sliced relatively quickly into the plateau. And the heavy rains during this period caused massive amounts of water to flow across the plateau.
Canyon cutting was easy due to the uplift and abundance of water. But so much of the bare rock on the plateau is sandstone. Sandstone made up of nothing more than sand. Fine, coarse sand. Bound together by water soluble materials. Calcium carbonate. But water will dissolve this bond and as it washed away the grains of sand, it created awe-inspiring masterpieces.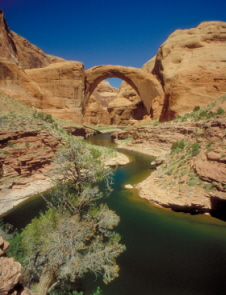 A Rainbow Made of Stone
Long before Rainbow Bridge National Monument was formed, water flowed off nearby Navajo Mountain and twisted and turned over the landscape. It followed the proverbial path of least resistance.
A drainage known today as Aztec Canyon etched its pathway deep into the sandstone. Where Rainbow Bridge now stands majestically, the Aztec Canyon stream took the easiest path. It flowed tightly in a curve around a thin fringe of sandstone that jutted into the canyon.
But as time passed, this stream wore a hole right through the fringe. Once again, the stream simply took the path of least resistance and flowed right through the opening. Rainbow Bridge was the result. And the process continues. The shape of Rainbow Bridge continues to change as each day passes.
Those wonderful forces of erosion which sculpted this masterpiece will eventually destroy it. In terms of geologic time, what we see today in the Colorado Plateau is just a phase. Ever-changing. Whatever we are fortunate enough to be a witness to today will certainly change in the blink of an eye geographically speaking.
Rainbow Bridge National Monument can be reached by a two-hour boat ride on Lake Powell. An awe-inspiring ride. At the most recent levels, the hike from the Rainbow Bridge dock to Rainbow Bridge National Monument is approximately 1 ½ miles (2.4 km).
Or you can hike several hours overland on a trail from Navajo Mountain. You have to get a permit from the Navajo Nation for backpack trips. And it isn't handicapped accessible.
Rainbow Bridge has no lodging. No food. No other services. Boat fuel and some very limited food services can be obtained at Dangling Rope Marina. Approximately 10 miles (16 km) south of Rainbow Bridge.




When Should You Visit?
Rainbow Bridge National Monument is open year-round. As you would expect, the heaviest traffic is during the summer. Tours are available year-round.
Remember where Rainbow Bridge is located. Temperatures in the summer can exceed 100 degrees F (38 C). And there is no shade on the trail from the dock. Take lots of water. Sunscreen. And a hat!
You won't find any lodging near Rainbow Bridge National Monument. And don't think about camping within the monument boundaries. It's not allowed. But shoreline camping is allowed within Glen Canyon National Recreation Area.

Map of Rainbow Bridge National Monument
Back to top

Back to Utah National Monuments

Back to Home Page