Utah Arches




Utah Has The Longest Arches In The World!
Utah is famous for having more natural rock arches than any other area in the world.  Utah arches are so numerous and famous we even have a national park ... Arches National Park ... with over 2,000 of them!
But there have always been arguments about which arches really are the longest spans in the world.
Well, over the past three decades, a group of professional and amateur geologists – members of the Natural Arch and Bridge society - determined that the "size" of these spans should be determined by measuring the total horizontal length of the opening.
They recently came out with their official list. And Utah arches have six of the top 10 spots in a listing of the biggest arches in the world! Landscape Arch in Arches National Park is officially the longest arch in the world. The second longest is Kolob Arch in Zion National Park .
Only one of the top 10 is located outside of the American Southwest. As you might expect, there were some casualties also. Kachina Natural Bridge – another one of the Utah arches - in Natural Bridges National Monument 35 miles (56 km) west of Blanding, Utah was measured at "only" 192 feet long.
Geologists originally used old-school devices to measure arches:
tape measures.
survey transits.
slide rules.
plum bobs.
But today, they use lasers and Google Earth to do the job more quickly and efficiently. And the amazing thing is there may be many more yet undiscovered.
You would think that there is nowhere on this planet where man hasn't left his foot-print. But number 9 on the list wasn't discovered until 2006! By a group of climbers. Outlaw Arch on the Colorado side of Dinosaur National Monument.

The Top 10


1. Landscape Arch - 290 feet. Arches National Park in Utah.
2. Kolob Arch - 287 feet. Zion National Park in Utah.
3. Aloha Arch - 250 feet. The Ennedi Range in Chad, Africa.
4. Wrather Arch - 246 feet. Paria Canyon, Arizona.
5. Morning Glory Natural Bridge - 243 feet. Arches National Park in Utah.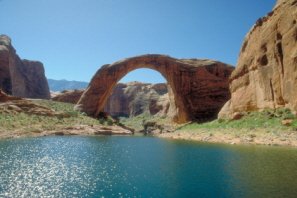 6. Rainbow Bridge - 234 feet. Rainbow Bridge National Monument in Utah.
7. Sipapu Natural Bridge - 225 feet. Natural Bridge National Monument in Utah.
8. Stevens Arch - 220 feet. Escalante River in Utah.
9. Outlaw Arch - 206 feet. Dinosaur National Monument in Colorado.
10. Snake Bridge - 204 feet. Sanostee, New Mexico.
As you can see from this list, Utah arches do indeed take up six of the top 10 spots in the world.



Back to top 

Back to Utah Attractions

Back to Home Page