Dinosaur National Monument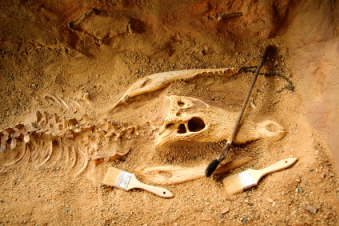 History Of Dinosaur National Monument
There's no telling who first saw the petrified bones of Dinosaur National Monument – in various shapes and sizes - sticking out from the coarse-grained rock along the Green River as it flows into Utah from Colorado.

The area's cultural history dates back 10,000 years. The Green and the Yampa Rivers have been the lifeline – the source of water - in this very arid country for a long time.
Petroglyphs and pictographs – the rock art visible throughout the area - show very clearly that many people have lived here over the years. And for a long time.
It is now known that the Fremont Indians lived in the area around Dinosaur National Monument 800 - 1,200 years ago. They were followed by the Fremont Indians. Then the Utes. And the Shoshone.
The Dinosaur Quarry is located just north of the town of Jensen. The first recorded discovery of the fossilized dinosaur bone quarry at this location was by O.A. Peterson in 1893.
In 1909, Earl Douglas working for the Carnegie Museum of Pittsburgh, found the prodigious main deposit we now know as Dinosaur National Monument.
What caused so many of these prehistoric reptiles to die here more than 100 million years ago? Whatever happened, the perfect conditions created one of the world's most famous storehouses of perfectly preserved dinosaur skeletons. And one of the best.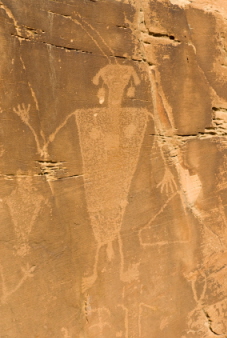 By 1922, the Carnegie Museum had removed numerous specimens. And so did the U.S. National Museum. And the University of Utah.
While the Carnegie Museum was at work in the quarry in 1915, a Presidential Proclamation set aside 80 acres to be protected as a national monument. Perpetual protection by the National Park Service.
In 1938, the monument was enlarged to include 325 square miles of federal land in both Utah and Colorado. The seemingly meandering boundaries were actually set up to preserve not only the dinosaur quarry but also the stunning Green River canyons Major John Wesley Powell passed through on his way to the Grand Canyon:
Lodore Canyon.
Whirlpool Canyon.
Split Mountain Canyon.


Also included in the monument were the Yampa River canyons from near Lily Park to the Green River. This additional land was added as America's desire for preservation matured and grew.
The fact this area was preserved and protected probably happened none too soon. It was an era of dam-building. Now it's true that many of our dams were not only justified, but necessary. Many were much less necessary. But dam-builders build dams and if this area hadn't been preserved, there's no telling what might have happened.
It's been said that when this nation has created national parks and monuments, seldom is too much land taken. It's usually a case of too little land being taken.
Dinosaur National Monument is found in mountainous, rocky and dry terrain. But it's obvious the creatures whose fossilized remains you see here weren't built to climb mountains. They moved through lush vegetation in an area as flat as a table. The rivers were probably streams meandering through muddy plains.
Flash forward to now and it's obvious that colossal changes have occurred to the area's geography since then. If you leave the bone quarry and take a look at the gorgeous canyons of the Green and Yampa, you'll see fast-flowing rivers that carry abrasive canyon-carving materials.
Those rivers are still flowing along the beds they always have. Geographic uplift has buckled, distorted, and sunk parts of the landscape to leave what exists today. Instead of flowing along flat plains, these rivers now flow at the bottom of staggering canyons.
And that's why adding more land to a monument like this makes so much sense. It lets you see the "big picture" of what has occurred since these creatures lived here.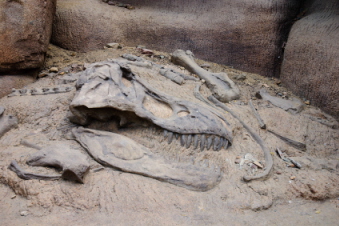 The Monument Today
The Quarry Visitor Center was shut down in 2006 because of structural problems plaguing the building since 1957. The structure was built on unstable clay.
The Visitor Center contains the main exhibit wall of dinosaur fossils so that's a huge loss. I took my family there years ago and we still talk about our visit.
Good news, though. There's a temporary Visitor Center near the Quarry Visitor Center. And it contains real fossils and exhibits.
From here, you can take the Fossil Discovery Hike (1.5 miles – 2.4 km - round trip). You'll see dinosaur fossils embedded in the rock on this walk.
Other things to do in Dinosaur National Monument include hiking, petroglyph viewing and whitewater rafting.


Fantastic News About Dinosaur National Monument!
Ever since the Dinosaur National Monument's Quarry Visitor Center was built, the earth has moved. Under it. If you had the good fortune of visiting before it was closed, you would have been amazed at the world-famous display of more than 1,500 Jurassic-period fossils.
But the Visitor Center was so unstable, it was closed. And, of course, visitors disappeared. Revenues evaporated.
As part of the new $750 million stimulus plan just announced – in April of 2009 - Dinosaur National Monument is the big winner! It will receive $13.1 million to:
totally rebuild and repair the Quarry Visitor Center with construction to begin no later than the fall of 2010.
replace water lines.
repair trails.
repair the Gates of Lodor boat ramp on the Green River.
install energy-efficient windows at the park's headquarters.
It hasn't all been bad news, though, during the Quarry Center's closure. Although there are few visitors to the monument, those who come are staying longer and exploring the area much more in-depth.
Nonetheless, the total renovation of the Quarry Center is fantastic news for anyone who has been to Dinosaur National Monument. or wants to visit in the future.


Weather
Dinosaur National Monument's climate is semiarid. Temperatures average between 0 F to 30 F (-17 C to -1.1 C) in January and 50 F - 100 F (10 C to 38 C) in July.
The elevation varies from 4,700 feet on up to 9,000 above sea level. Winter snow closes the higher-elevation roads during winter. Lower elevations usually receive light to moderate amounts of snow.
Thunderstorms during the summer can cause flooding in one area while a short distance away, the ground remains parched.




What To Do?
Among many things to do in Dinosaur are petroglyph viewing and whitewater rafting. Dinosaur National Monument straddles the Utah-Colorado border. There are established short hiking trails within the monument itself.
There are a variety of mapped hikes taking you through whatever kind of terrain you want – desert, mountains, plateaus or a combination. And campgrounds located near the Visitor Center.
The nearby Green and Yampa Rivers are world-renowned for whitewater rafting. You need a permit from the ranger headquarters though. Local companies offer guided raft trips from spring through fall. For one day on up to five days.
For more information about Dinosaur National Monument, contact:
Dinosaur National Monument
4545 E. Highway 40
Dinosaur, CO 81610-9724

Or go to the monument's website at:


Back to top

Back to Utah National Monuments

Back to Home Page