Utah Waterfowl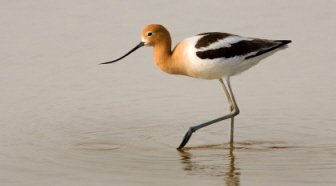 Utah waterfowl usually spend only part of their year in the state.  But they do it in some of the best bird watching habitat anywhere. 

Prodigious numbers and hundreds of species of migratory birds make their home here at various times of the year.


Bear River
Migratory Bird Refuge
The Bear River Migratory Bird Refuge affords some of the most remarkable Utah waterfowl watching in the United States. Find solitude among millions of birds on over 41,000 acres of freshwater wetlands.
One of the three largest American white pelican breeding colonies in North America is found nearby on Gunnison Island. More than 50,000 of them!
The refuge has a long, rich history. With more than 74,000 acres total of marsh and upland, it's a literal oasis for waterfowl and shorebirds. And it provides many people with solitude and peace just about any time of the year.
If you drive the 12-mile (19 km) auto tour loop, you'll experience sights and sounds found in very few places in this country.
More than 200 species of waterfowl and shorebirds can be seen or heard in the refuge especially from March through November.


Farmington Bay
Waterfowl Management Area
During migration, this area east of the Great Salt Lake is home to an unbelievable diversity of waterfowl, songbirds, and raptors. Hundreds of thousands of them! More than 200 species.
Ducks and geese are the first Utah waterfowl to arrive even before spring. Usually by late February. And then other species soon after. Canada geese and great blue herons are the first to start preparing for egg laying in March.
By June, more than 57 species will either be nesting or taking care of their young in these wetlands just north of suburban Salt Lake City.
Fall is the migration period for waterfowl with Farmington Bay being a major flyway. During peak migration, as many as 200,000 ducks can be found at any time on the bay.
But by December, most species have moved on. Tundra swans are usually the last ones to leave in November and December.
Farmington Bay then becomes the winter home for hundreds of bald eagles. You can thrill to watching these beautiful raptors at the annual Utah Bald Eagle Day in late February or early March.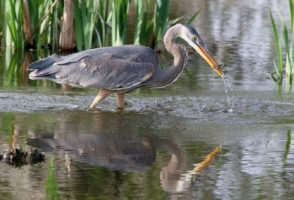 Fish Springs
National Wildlife Refuge
Fish Springs National Wildlife Refuge is located at the southern end of the Great Salt Lake Desert. Established in 1959, it provides a wonderful haven for migrating and wintering birds.
It covers 17,992 acres with 10,000 acres of lush, green wetlands. When water levels are at their highest in the spring, the overflow disappears into the desert. The warm water never freezes even during winter. And it attracts thousands of wintering Utah waterfowl.
The water in the nine shallow impoundments is crystal clear and you can always see the bottom. Fish Springs is a virtual oasis in the middle of the desert.
The springs are fed by underground water that once fell as precipitation. It is 80 miles (128.7 km) from the nearest gas station or grocery store so come prepared.


Ouray National Wildlife Refuge
Out in the middle of the desert, along the Green River south of Vernal, is a veritable wonderland – the Ouray National Wildlife Refuge. Vernal is 128 miles (206 km) east of Salt Lake City.
More than 200 species of Utah waterfowl make their way here especially during April and October. And many of them endangered. Bald and golden eagles. Canada geese. Whooping cranes. Ospreys. And many more.
The 9-mile (14.5 km) route through the 11,480-acre refuge lets you see some of the other wildlife in the area - elk, mule deer, river otters, and prairie dogs. Amazingly, the Refuge receives less than 7 inches of precipitation each year.
But the Green River carries water down from the Wyoming mountains and through the refuge. With approximately 19 square miles of bottomlands, the Refuge has one of the most impressive stands of cottonwoods you'll see anywhere.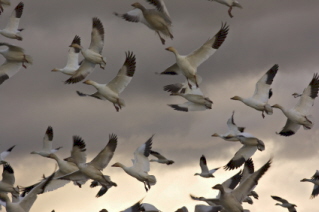 Utah Snow Goose Festival
Every year, on their way through Utah, thousands of pure white snow and Ross' geese stop at Gunnison Bend Reservoir near Delta.
The annual Utah Snow Goose Festival is usually held the last week of February or first week of March. Delta is 100 miles (161 km) southwest of Salt Lake City.
As these beautiful birds make their way north from California, it is an unforgettable spectacle for those who have witnessed it.
During the festival, the Division of Wildlife Resources is on site to educate bird-watchers about Utah waterfowl. And especially about the migration habits of the Snow Goose. The birds spend most of the night on the reservoir.
During the day, they fly from the reservoir to the surrounding fields to feed. And then return to the reservoir after feeding. Patience will pay off as the skies are engulfed by thousands of snow-white geese flocking back to the reservoir.

As you can see, the northern part of the state offers a great variety of opportunities to view Utah waterfowl.



Back to top 

Back to Utah Wildlife

Back to Home Page