Rocky Mountain Goats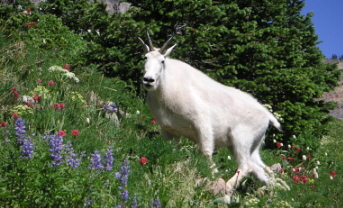 A Mysterious Species
Rocky Mountain goats live in only the most rugged areas of our highest mountains. Even during winter, goats typically stay on ledges and cliffs well above the range of other animals.  They are one of the most mysterious species living in Utah.

Mountain goats inhabit several mountain ranges in Utah. All have been introduced since 1967. The population is growing quickly in various parts of the state.
But their numbers vary. From as many as 200 in the Lone Peak area of Salt Lake County. To Willard Peak in Box Elder County where six goats were introduced in 1994.
Mountain goats occupy the highest alpine environments in Utah. In the summer, they climb up to elevations as high as 13,000 feet. Even in winter, they can be found on windblown ridges as high as 11,000 feet.
Mountain goats love exposed, precipitous cliffs. For protection. For ease of finding food. And as birthing and nursery areas.
Where To Find Them
You can find Utah Rocky Mountain goats in several Wilderness Areas due to transplantation efforts.
the High Uintas
Lone Peak
Mt. Olympus
Twin Peaks
Mt. Timpanagos
All of these areas are great places to get a look at mountain goats. Beautiful flowers and warm weather are sure signs of spring. So are the mountain goats plainly visible high up the cliffs at the mouth of Little Cottonwood Canyon just above Salt Lake City.
As you might expect for an animal with limited numbers, hunting of mountain goats is also limited in Utah. Thousands of applicants vie for less than a dozen permits every year.
If you love viewing wildlife, seeing a mountain goat in the wild is one of the most memorable experiences you'll ever have.



Back to top 

Back to Utah Wildlife

Back to Home Page