Utah Elk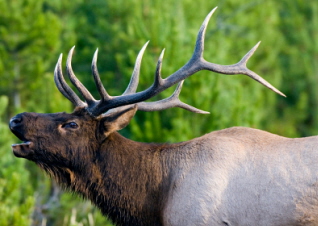 Have you been hearing more about Utah elk lately?  Well, there's a reason.  Whether you like hunting, wildlife photography or animal watching, Utah is now the place for the biggest elk on the planet.

In fact, the new Boone and Crockett Club world record non-typical elk was taken in Utah in 2008! The largest antler rack ever recorded.
Elk hunting in Utah is big business. From 2000 to 2006, no other state produced more record-book bulls than Utah. Not Colorado. Not Wyoming. Not Montana. And this doesn't mean it's only a haven for elk hunters.
The growing numbers of wildlife watchers and photographers in the state have the same fantastic opportunity as hunters.
A big hand has to go to Utah big game managers. Some pretty awesome game management decisions have been made by the Utah Division of Wildlife Resources (DWR). If you want to hunt, photograph or just see elk, Utah is the place.
The most recent estimate put Utah's elk population at 63,879.
Over the last 30 years, Utah elk numbers have exploded. Elk are the second most abundant big game species in Utah. Second only to mule deer. The 2003 post-hunt estimate for elk in Utah was just over 58,000. This is below the management objective of 68,400.
The population has leveled off and stabilized over the last few years however. Depending on water levels in the state, elk numbers are reduced or allowed to rise accordingly. Improved water levels improve range conditions and allow for more elk.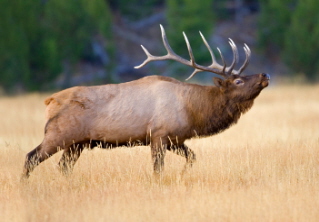 Where in Utah Will You Find Elk?
Manti
Logan Canyon
the Fish Lake area
the Oquirrh Mountains
Mount Nebo
Mount Timpanogos
Through the years, many elk have also been transplanted from one area of the state to another. Southern and eastern Utah have gained elk from some of these intra-state relocations.
Utah elk are found in quite diverse habitats. Why? It's because they thrive on a varied diet. You'll find elk in all of Utah's mountains. In low-lying deserts. And in between.
They eat grasses, shrubs and other types of browse. Of course where they live and what time of year it is dictate the amounts of each. And water must usually be available within a short distance or they'll move on.
Elk love cover. Big elk like dense thick cover. And isolation and safety. Elk are migratory creatures and they'll move long distances between their summer and winter ranges. Even so, there are always exceptions and you'll find Utah elk that stay in the same general area year-round.



Back to top

Back to Utah Wildlife

Back to Home Page