Experiencing Guardsman Pass in Fall's Full Splendor From Park City
to Midway Utah



Introduction
I've written a previous article about experiencing the Guardsman Pass scenic drive.  It is not a byway due to its shortness but it could be.  In this post, we get to experience this mesmerizing drive in the opposite direction … from Park City to Midway via Bonanza Flat.
My wife and I just drove this picturesque drive in late September of 2023.  We started our journey with breakfast at Eggs In The City in Salt Lake City with our daughters and grandson.  It was excellent and you can read about that here.
We drove up Parley's Canyon to Park City because we had to get to where the best part of this drive was going to start.  26 miles from the restaurant to the roundabout in Park City at the base of the Guardsman Pass road.  The road heading straight up the mountain is Marsac Avenue.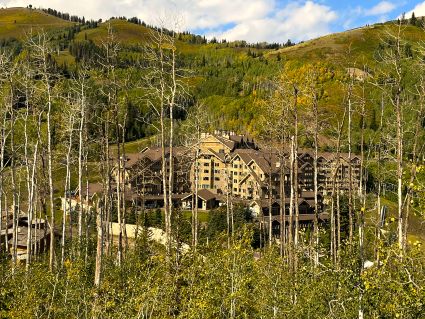 You follow that road right up the mountain past the fabulous Montage Deer Valley hotel.  The road winds past multi-million dollar homes, condos and "cabins."  This road is newly-paved but narrows to the point where you find yourself wandering to the left. 
Why?  There is nothing but a cliff … with nothing to stop you … on your right.  But this doesn't last long.  It is a whole different perspective than driving this route in the opposite direction.
Just above the Montage access, you reach the top of this road at a point called Empire Pass.  There's a parking and view area there.  And an access point for mountain bikers and hikers.  As you drive over the top, everything changes almost instantaneously.
Picture a canvas painted … when we got our first glimpse … with stands of golden aspens barely starting to turn color mixed with the steadfast green of pine trees.
Now place this canvas on a backdrop of majestic mountains, crisp azure skies with a mix of gnarly clouds.  Add in a newly-paved road that seems to hug the terrain in rhythm with every undulation and you've arrived.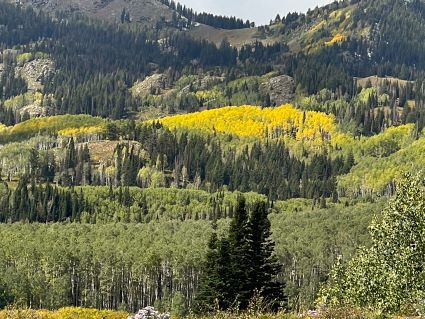 That … in essence … is the Guardsman Pass drive in early fall.  Or really any season.  Driving in either direction.  Whether you are a long-time Utah resident or a visitor to the Park City area, this drive is an experience that etches itself into your memory.  So much so that we make this one … or from the Big Cottonwood Canyon side … at least four or five times each year.
As we dive a little deeper into this trek, you might discover some of the nuanced diversions to explore if you come up here for more than just a drive.  There are semi-hidden hiking spots and mountain biking trails that offer a more intimate rendezvous with nature and the sheer wonder that makes this area worth exploring.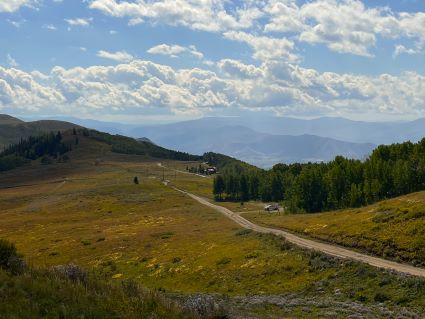 Guardsman Pass in Autumn
Autumn is still … without a doubt … the best time to make this drive.  It is as if nature has turned artist meticulously painting each leaf. The once-green aspens are just now … as I write this … starting to wear a soon-to-be brilliant shade of gold.  We've always called them quakies as they shimmer with each gust of the cool mountain wind.
The maples, not to be outdone, already flaunt hues of fiery red and deep orange.  They are right in the middle of this artistry now as we made our drive in late September.  Of course, there are the steadfast evergreens that remain a robust green while bearing witness to the seasonal transformation around them.
It is not just the vistas but the entire sensory experience that makes this drive impressive.  The air takes on a crisp coolness, a refreshing embrace that invigorates the soul.  There is an earthy aroma, a blend of pine, damp soil and fallen leaves.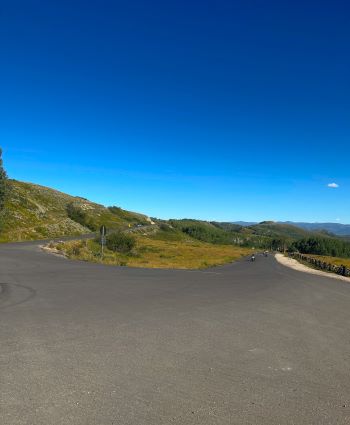 Rain had fallen earlier in the day and it was apparent that it had already snowed up here.  As I got out of my car to take some photos at a turn-off, the mud bore testament to the fact that soon this entire area would be covered by white stuff. 
While the drive itself is breathtaking, there are moments when you are tempted to stop, step out and breathe it all in.  And take some photos.  And we did. 
From the roundabout at Park City to the fork in the road to make your left at Bonanza Flat is 6 miles. 
The Route
As you drive over Empire Pass, to your left stretches out Bonanza Flat.  Drive to the bottom and make a sharp V-shaped turn to the left at the fork.  The right fork … only slightly angled … makes its way to the top of Guardsman Pass and then over to Big Cottonwood Canyon.  We're not going that way on this drive.
Bonanza Flat is a stretch of land that feels almost untouched by time considering the opulence of what you just passed minutes before.  Meadows stretch out like green carpets, punctuated by dense patches of forests.  Along your right side, the colors of the wildflowers and vegetation are just uplifting. 
The fall colors here tend to be more sporadic making each burst of yellow, orange and red stand out starkly against the emerald landscape.  Like today.  A group of golden quakies … actually aspens grow from one organism … stood out in contrast to the pines around it.  While the rest of the aspens had barely started turning color at all.
One of the best photographs I ever took was taken right here in late fall.  There was one lone solitary orangey-red tree standing alone in the midst of the entire group which had lost all of their leaves.  The photo was … according to my wife … one of a kind.
It sure was.  Now it is none of a kind.  It was a Fuji Velvia slide and we pulled it aside to get a print made of it.  We wanted to blow it up and frame it.  Well, we lost the slide, hence the photo and, of course, no print.  We're still looking for it.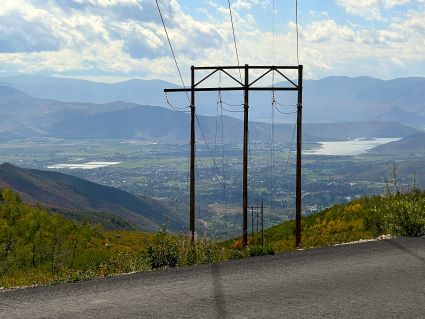 The drive from the fork to the bottom at Wasatch Mountain State Park in Midway is 10 miles long.  It is a wonderfully-paved, winding, tree-lined motorway that inspires me every time I drive it. 
We only seem to drive this one in the fall so I know it is going to explode with color if we hit it right.  And we did this time.  It looks like it is only going to get better as the aspens haven't started to turn yet. 
Once again, this is late September after a record winter for moisture.  Everything seems to be happening just a little later in the season due to the late spring.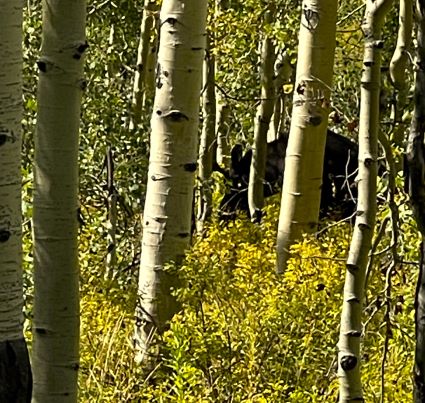 My Not-Good Bull Moose Photo From Car

Moose
As we were driving downhill towards Midway, a couple of vehicles ahead of us were pulled over.  Of course being a seasoned traveler in these kinds of environments, I knew what it was.  An animal sighting.
As we drove up … to our right … were two moose.  A bull and a cow.  They got a little skittish.  We tried to get a good photo but the guy behind me kept trying to want to smash my rear bumper.  We didn't get a good photo but it is included just the same.
Years ago, my wife and I were hiking in Millcreek Canyon and came across a bull moose.  Right in our path.  Not 10 yards away.  He looked at us with extreme disinterest but he was monstrous that close up.  We got the hell out of there and made sure there was a tree between us with every step.  I never forgot that experience.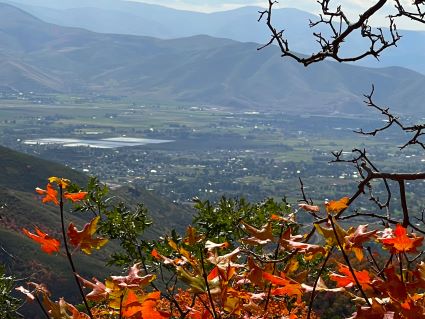 Wasatch Mountain State Park in Midway
The drive ends at Wasatch Mountain State Park in Midway.  A campground.  A golf course.  A wonderful, scenic course which I played before my left shoulder shouted at me to stop violently swinging a club.
With its varied topography and diverse plant life, this Utah State Park offers a microcosm of the entire drive.  Gentle trails lead you through groves that are ablaze in autumn colors and open fields give way to views that seem to stretch forever.
In all, this drive isn't just about getting from Point A to Point B.  It is a journey through changing seasons, contrasting landscapes right through the heart of Utah's mountainous beauty.
Stops and Detours if You Want Them
No journey is complete without those special spots where time seems to stand still urging travelers to pull over, step out and immerse themselves fully.  Sometimes it seems when we do these drives … maybe due to our age and just being "tired" … we just want to "do the drive" and then move on.
But the Guardsman Pass scenic drive is studded with gems each offering a unique slice of Utah's breathtaking beauty if you want to stop and indulge.  One of them is Bloods Lake Trail.  Just off the main road, a moderately challenging trail beckons the adventurous.  Bloods Lake Trail, with its twists and turns, culminates in a serene lake setting.
Be Prepared
Even in early fall, mountain weather in Utah can be and will be unpredictable.  Check the local forecasts before heading out.  While daytime might gift you with warm sunlit hues, evenings can quickly turn chilly.  Layered clothing, a light jacket and a raincoat or poncho could be your best companions.
Omnipresent in my car is a two-layered coat with a hood (waterproof and liner), a good pair of walking shoes and socks, gloves in the coat.  We never drive anywhere without a BIG water flask with ice. 
The winding roads of Guardsman Pass … while enchanting … require attentive driving.  Ensure your vehicle is in good condition particularly brakes and tires.  If you're unfamiliar with mountain driving, take it slow and use pull-offs to let faster vehicles pass.
I have a multi-speed automatic (not a new vehicle) and I downshift frequently.  I let my gears do the work on roads like this.  160,000 miles on a Chevy SUV and I have never replaced the brakes.  Thank you.
Parts of the route might have patchy cell service so it is always wise to always let someone know of your travel plans.  Download offline maps or carry a printed one although there are signs all along this route.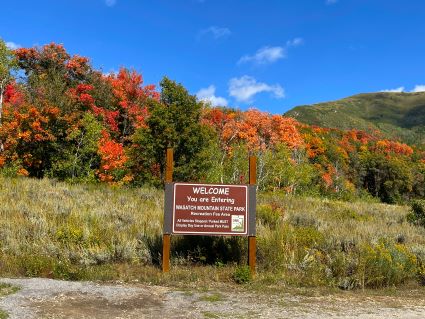 Leave No Trace
This has been my mantra since long before it ever became a mantra.  Always, always, always pack out what you pack in.
Why Do We Keep Coming Back to Guardsman Pass?
If you read what I've written here and on my previous post about Guardsman Pass, it is clear that this is more than just a drive.  It is a symphony of nature, emotions and experiences.
From the fiery hues of fall foliage to the gentle whispers of wildlife.  From the winding roads that challenge and thrill to the tranquil moments of pause and reflection.  This route is a testament to the unparalleled beauty of what I write about on this site.
Yet, every traveler's experience is unique.  While I've tried to paint a picture with words … and some photos … the true essence of Guardsman Pass is something you'll want to capture with your senses.  Leading to your own memories.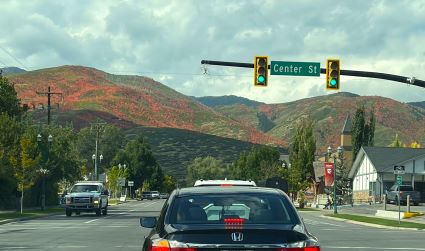 Man I wish I could find that slide I wrote about above.  My wife still has hope.  Her mantra has always been "leave something alone long enough and it'll fix itself."
The drive from Park City to Midway along this route is 16 miles.  We drove through Midway and down Provo Canyon.  Then back to Salt Lake City.  The drive from Holladay > Park City > over Guardsman Pass > Midway > Orem > back to Holladay is 103 miles. 
It took 2 hours and 45 minutes.  I got out several times to take photos and breathe.
It was worth every minute!
---
Have A Great Story About This Scenic Drive?
Do you have a great story about this scenic drive? Share it!