Eggs In The City

One of Salt Lake City's Best
Breakfast Spots


Salt Lake City's Breakfast Oasis
Eggs In The City was formerly located at 1300 South and 1700 East.  They moved to the current address at 1675 E. 1300 S. in 2019.  It is easily accessible and hard to miss due to its iconic retro signage.
We had never tried it before recently stopping in on a Friday morning.  I had driven by it almost daily on my way to and from work.  There always seemed to be a crowd waiting to get in. 
It looks to be located in an old garage or service station.  I had read a quote elsewhere that this was "one of the best reincarnations of a garage space." 
That certainly explained the layout as it is located in a completely-renovated building which does look like it may have been a garage or service station. 
There is ample parking directly across the street although the lot was almost full by the time we were leaving.  Even so, cars and people were leaving almost fast as they were arriving so that was good.   
We arrived at around 09:40 A.M. on a Friday morning and … despite the place being almost full … walked right in.  Good timing too as the crowd waiting to get in started growing almost immediately. 
On our way out around 10:00, there were dozens of people waiting to get in and people were circling the area trying to find a parking spot.  The several gaudy, oversized pickups trying to get in the lot were having a hard time doing so without hitting someone as it's a little tight.

Navigating through the Eggs In The City menu can take some time but I usually know where to go when looking at a breakfast menu.  My wife and I do a lot of intermittent fasting so we don't eat breakfast a lot.  When we do, we tend to go with the higher protein lower carb fare.
With its offerings of traditional comfort food while branching out to contemporary breakfast plates, there seemed to be something on the menu to satisfy any appetite. 
I went with the meat lovers' skillet told the waiter to hold the pancake.  My wife ordered the same with the pancake.  That pancake was about 10" wide so she didn't eat much of it.  My daughters tried the eggs benedict while another tried a breakfast burrito I believe.
There were no complaints and everyone enjoyed what they ordered.  Mine was excellent.  I thought the coffee was a bit too steeply priced at $3.75.  It was a special local blend and the waiter eased my concern by telling me I could have as many refills as I wanted.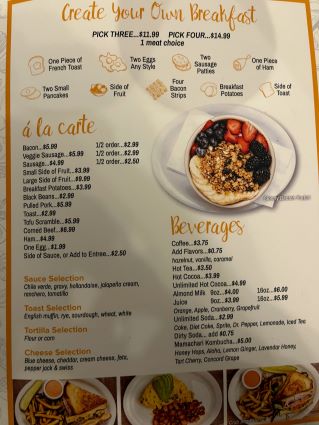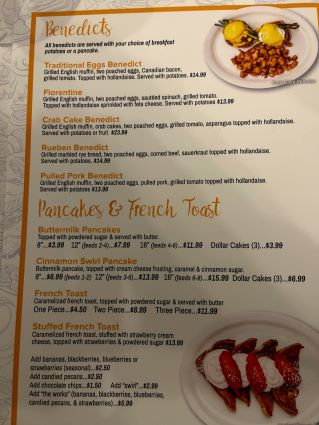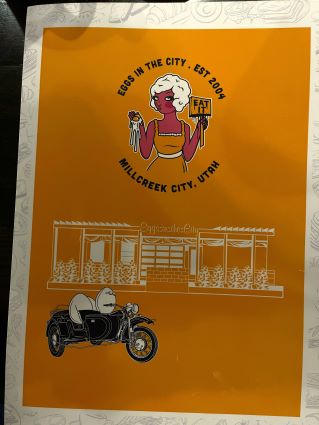 Four of us ate breakfast while the fifth just had a coffee.  Our bill came to right around $80 without the tip. 
$20 each especially with $3.75 coffee for four seemed reasonable for what we got especially with today's prices.  $20 for breakfast and coffee and it's reasonable.  Definitely not Dennys.
The waiter was friendly and the lady who brought our food was especially cheerful.  I was also appreciative of the stevia packets they offered for my coffee as well as real cream instead of watery half and half. 
If you're seeking a breakfast spot with a little soul, history and a menu that teases you with a variety of choices, I suggest you make your way to this iconic spot.  It was fun, tasty and we'll be back.
1675 E. 1300 S. (1700 E.)
Salt Lake City, UT 84105
801-581-0809
Hours: 8:00 – 2:00
---
Have A Story or Comment About
This Restaurant?
Do you have a story or comment about this restaurant? Share it!