Flaming Gorge National Recreation Area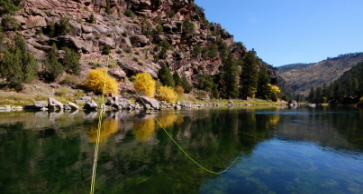 Flaming Gorge National Recreation Area is the proper name for the recreation playground referred to by Utahns as Flaming Gorge . When it comes to outdoor recreation, Flaming Gorge may be unequaled.
Flaming Gorge is tucked into the northeast corner of Utah and southern Wyoming. Although most of the reservoir is in Wyoming, the most dramatic scenery and the best places to visit are in the southern Utah end.
Flaming Gorge gives you the opportunity to enjoy panoramas that are almost too big to fit into the lens of your camera. It offers unlimited year-round recreational activities and great facilities.
If you want to read more – a lot more - about the Flaming Gorge National Recreation Area, go to my Flaming Gorge page. If you're interested in a scenic drive through this fantastic area, visit my Flaming Gorge-Uintas National Scenic Byway page.
The Flaming Gorge-Uintas National Scenic Byway takes you through the Ashley National Forest, over the eastern section of the Uinta Mountains, and then past Flaming Gorge.
This is a truly "scenic" drive showing off the best of what Utah has to offer.
The Gorge is extremely popular but rarely seems crowded. That is except for busy summer weekends when the three places renting rafts near Dutch John sell out.
The ramps do get crowded then. Get a reservation on these busy summer weekends. The river is fantastic for rafting. And the fishing is world-famous.
Early fall may be the best time to visit. The leaves are changing. It's cool during the day. Chilly at night.