Flaming Gorge-Uintas
National Scenic Byway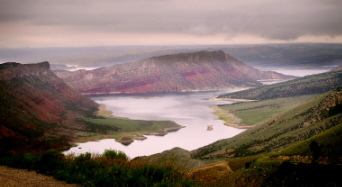 The Flaming Gorge-Uintas National Scenic Byway takes you through the Ashley National Forest, over the eastern section of the Uinta Mountains, and then past the Flaming Gorge National Recreation Area.
A truly "scenic" drive showing off the best of what Utah has to offer.
You can get to this byway by taking US-191 north from the town of Vernal … 125 miles (201 km) east of Salt Lake City. It runs to the Wyoming border.
The byway also includes the section of road from the junction of US-191/44 to Manila ... a town 38.6 miles (62.1 km) northwest of Vernal.
The byway offers 17 interpretive roadside kiosks. These exhibits along with numerous short nature trails allow you to experience the Flaming Gorge area and the Uinta Mountains from many different perspectives. It's a great way to see as much as possible in a limited time.
You'll find:
abundant wildlife
dinosaur fossils
unique geologic formations
unbelievable scenery
unequalled recreational opportunities
The Flaming Gorge-Uintas National Scenic Byway runs right through truly historic country. The dammed waters of the Green River have created a breathtaking lake extending upstream for 90 miles (144.8 km). The resulting playground – the Flaming Gorge National Recreation Area - couldn't be more appropriately named.
The Gorge is tucked into the northeast corner of Utah and southern Wyoming. Although most of the reservoir is in Wyoming, the most dramatic scenery and the best places to visit are in the southern Utah end along US-191.
Driving the byway from Vernal to Manila covers 67 miles (107.8 km). Allow 1 hour and 45 minutes if you don't plan on stopping. Plan accordingly for sight-seeing, stops, photography or anything else you might want to do along the way.



Back to top

Back to Utah Scenic Byways

Back to Home Page