Utah Ice Fishing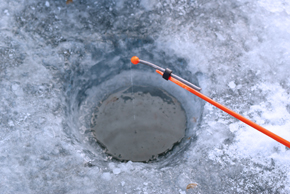 Yes, we have cold winters in Utah.   But Utah ice fishing allows you to enjoy the state's fantastic fishing year-round. 

You don't have to put your gear away just because the snow has buried our mountains and frozen our lakes.
We've been able to enjoy ice fishing in Utah for several decades … since the 1980's … after the DWR eliminated the long-established fishing season. And for many people, it's the best time to fish.
Of course, most of our rivers don't change much during the winter. If you dress for it, dry fly fishing during the winter can be very productive and quite enjoyable.
Midge hatches are frequent as are blue wing olive hatches. Especially on the Green.
The only time you really can't fish our lakes and reservoirs is just after the first ice forms. Then you've got to wait until there's at least 4" of depth on the ice for it to be safe. But there's really no hard and fast rule of whether or not a certain depth of ice is safe or not.
What time of year is it? Is it sunny or cloudy? Is there a heavy snow pack on top? Such conditions can cause rotting and unsafe conditions.
There are a couple rules of thumb to keep in mind when enjoying Utah ice fishing:
Carry an ice pick always. It will help get you out if you fall through the ice.
Cleats on boots will help give traction on ice.
Don't fish on ice next to open water. It's probably not deep enough and can possibly break away from the main section.
Try to find a reliable source … like a local fishing store or the DWR … to give you advice about whether or not the ice is safe on a particular water.
Utah ice fishing is relatively low-cost. Especially once you make some initial purchases. What'll you need?
Warm waterproof boots. You're standing on ice!
Warm clothes. A variety of outdoor clothing in a multitude of fibers are now available to keep you warm and dry. I'm not going to get into all of them here.
An auger.
A fishing line … preferably a rod.
Some lures.
Other equipment will certainly make things more comfortable if you want to spend the money. An ice shelter … they come in a variety of sizes and shapes … can certainly make your experience more comfortable. And certainly advisable if you have small children.
Remember that Utah ice fishing allows the use of two rods. You'll want a shorter rod if you're fishing for panfish. And a longer rod if you're fishing for big trout in deeper water.

Ice Fishing On Strawberry Reservoir


Best Waters For Ice Fishing in Utah
Listed alphabetically:
Causey Reservoir - east of Ogden in Ogden Canyon. One of the first reservoirs to ice over in the northern part of the state. Good for kokanee salmon and trout.
Deer Creek Reservoir - just southwest of Heber. Great for perch, rainbow trout, brown trout, smallmouth and largemouth bass.
Flaming Gorge Reservoir - straddling the Utah/Wyoming state line. Usually frozen by early December at the north end. You'll need a Wyoming reciprocal stamp. Six poles allowed on both sides.
Fish Lake - in the heavily forested Fishlake Mountains 34 miles southeast of Richfield. Lake trout, rainbow trout, and splake.
Huntington Reserrvoir - about 140 miles southeast of Salt Lake City. Tiger trout, largemough bass, bluegill and catfish. One of the first to freeze.
Joe's Valley Reservoir - 20 miles southwest of Castle Dale. Big splake – a sterile trout developed by crossing a brook trout and a lake trout. Cutthroat and tiger trout.
Mill Meadow and Forsyth Reservoirs - 47 miles southeast of Richfield. Can freeze quite early even before December. Both great for perch. Hybrid tiger trout, brown trout crossed with brook trout, and hybrid splake in Forsyth.
Otter Creek Reservoir - near the little town of Antimony 220 miles south of Salt Lake City. Rainbow trout, cutthroat trout, brown trout and smallmouth bass. Usually frozen by Christmas.
Panguitch Lake - 20 miles south of Panguitch on Route 143. Rainbow, brook, cutthroat, and brown trout. Usually frozen mid to late December.
Pelican Lake - a natural lake in the Uinta Basin southwest of Vernal. Excellent for bluegill. Frozen by early December.
Pineview Reservoir - up Ogden Canyon east of Ogden. Good ice fishing for perch and crappie during December and January about 1/2 mile from the dam on the north side of the reservoir.
Rockport and Echo Reservoirs - about 40 minutes east of Salt Lake City on I-80. Stocked rainbows and browns. Perch not expected to be great.
Scofield Reservoir - 60 miles east of Provo. Scofield is usually our first major water to freeze. Usually safe for ice fishing by Thanksgiving Day. Cutthroat or tiger trout.
Steinaker Reservoir - 15 minutes north of Vernal. Rainbow trout, largemouth bass, bluegill. Usually safe by the beginning of January.
Strawberry Reservoir - an hour southeast of Salt Lake City. Big fish over 5 lbs. are common. Big cutthroats and rainbows. My favorite place for Utah ice fishing and fishing in general.



Back to top

Back to Fishing in Utah

Back to Home Page