Things To Do In Utah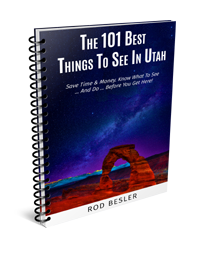 Things to do in Utah.  And things to see in Utah.  That's what this website and blog are all about. 

And that's why I've written this FREE ebook "The 101 Best Things To See In Utah."

By requesting this FREE eBook, you're going to get my newly updated and revised edition on the best things … in my opinion … to see and do in Utah … named by Fodors in 2015 as their top destination in the world to visit. 

It just happens to be where I live and work and play. 

This ebook has some great information, some amazing photographs, and links to pages on my site.  It is worth at least $9.99 on Amazon and even more in other formats. 

But I've decided to offer it for FREE to encourage you to continue to visit my blog and site in the future. 

If you order this FREE ebook, you'll continue to receive emails about new posts or pages on my site, new ebooks I've written, new product offerings, links to recommended products and services (about Utah), and whatever money-saving and time-saving secrets I can come up with if you're thinking about visiting Utah.

But there'll always be a link enabling you to opt out at any time.

No matter what, this FREE ebook is yours to keep simply by asking for it.