Utah Utes Defense Beats Down UCLA
by Rod
(Salt Lake City)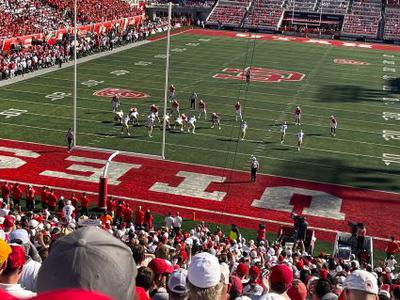 Utah Utes & UCLA
In a nerve-wracking but exciting showdown at the iconic Rice-Eccles Stadium, which witnessed its 79th consecutive sellout, the No. 11 University of Utah Football team earned its latest win moving to 4-0 on the season.

The Utes showcased a stifling defense smothering the No. 22 UCLA Bruins in a tight 14-7 win. This type of defensive performance isn't an anomaly. It is the 13th time the Utes have held a Pac-12 opponent to single-digit scores since their induction into the conference.

The Bruins amassed only 243 total yards and converted a paltry 3-of-16 third downs. The Utes held the Bruins to a net 9 yards rushing and sacked their freshman QB 7 times.

On the offensive front, Utah proved amassed a pedestrian 219 yards … 102 rushing and 117 passing with freshman Nate Johnson at QB once again. Starter Cam Rising was still out recovering from knee surgery.

It was a beautiful sunny 70 degrees but even that that temperature, the cloudless skies and relentless sun made it quite warm.

I've read about some of the fans booing in the 4th quarter and it was written by some that fans were booing the players. I've been to hundreds of games in that stadium and I'm not going to make excuses for fan behavior. I've seen and heard too many stupid things in that stadium.

I do think, though, listening to people around me that the booing was for the extremely conservative play calling consisting of three hand-offs up the middle and then a punt.

My personal opinion is that I don't believe fans were booing the young players. Not that Ute fans aren't above that. Just that I don't think it was the case here.


Join in and write your own page! It's easy to do. How? Simply click here to return to Utah Utes Invitation.