Utah Utes Football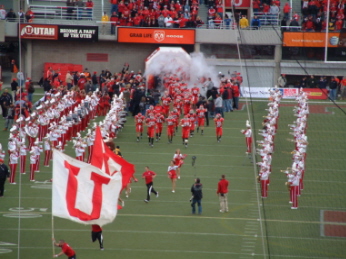 Utah Utes football.  The reason I first came to Utah.  On a football scholarship from Canada.  My alma mater.

On July 1, 2011, the University of Utah became a member of the PAC-10 ... now the PAC-12 ... Conference. The Utes begin conference play in the fall of 2011.
Colorado accepted an invitation to join the Pac-10 the week before Utah. The two schools are the conference's first new members since 1978.
The University of Utah Utes football team went where no non-BCS program had ever gone before when it qualified for a BCS bowl in 2004. Going undefeated (12-0). Ending up the season ranked No. 4 in the nation.
Pummeling Big East co-champion Pittsburgh in the Fiesta Bowl 35-7. With Quarterback Alex Smith a Heisman Trophy finalist and drafted as the No. 1 pick in the NFL Draft.
The Utes topped that, though, in 2008 going 13-0 and ending up #2 in the nation in the AP Poll. Dominating Alabama – Number 1 in the nation for much of the year - in the Sugar Bowl 31-17.
The only team in history to bust the BCS twice and go undefeated both seasons.
The University of Utah Utes Kick Alabama's A..
In The 2009 Sugar Bowl
Rice-Eccles Stadium is the home of the Utes. After a multi-million dollar facelift, this beautiful stadium hosted the opening and closing ceremonies for the 2002 Olympic Winter Games in Salt Lake City .
The intense media exposure during those Games showed the world what Ute players and fans already knew. The classic modern structure looking up at the jaw-dropping backdrop of the Wasatch Mountains and peering over the panoramic Salt Lake valley is, to Ute fans, the most beautiful stadium in the country.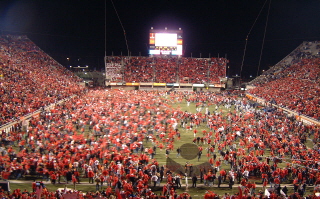 The stadium seats 45,017 but during the 2008, 2009, and 2010 seasons, the average attendance per game exceeded official capacity!
To "seasoned" Utes, the fact Rice-Eccles sits on the same ground as the previous Ute and Rice Stadiums, makes it even more beautiful.



The University of Utah is located in Salt Lake City, the largest city in the Intermountain West with a metro population of well over a million people.
The Utes have a long and colorful history. Some facts about Utah Utes football going into the 2013 season:
Play in the PAC-12 Conference.
Overall record: 628-435-31 for a .591 winning percentage.
Home record: 383-179-16 for a .681 winning percentage.
Rice-Eccles Stadium (1998-present) record: 65-22-0 for a .747 winning percentage.
Road record: 226-243-13 for a .482 winning percentage.
Neutral field record: 19-15-2 for a .559 winning percentage.
Conference record: 387-223-19 for a .634 winning percentage.
Mountain West Conference record: 62-28-0 for a .689 winning percentage.
Bowl Game record: 13-4-0 for a .765 winning percentage! Ten bowl wins in a row before losing the last one! The Utes win bowl games.
Homecoming record: 57-31-4 for a .648 winning percentage.
Overtime record: 7-5-0 for a .583 winning percentage.
If you want read everything you could ever want to know about Utah Utes football, you'll find some amazing facts, figures and photos in the most recent Utah football media guide. Click here to go there on the Utah Utes website:


2017 Utah Football Media Guide



---

Are You A Fan Of Utah Utes Football?
Did you see one of Utah's BCS Bowl games live? Or maybe another game stands out. Were you at the game in which Utah scored three times in the last couple minutes to beat Air Force? Or beat BYU 56-28 after getting pummeled for years?
Then you already know there are few things as enjoyable as watching the Utes beat up another opponent in Rice-Eccles Stadium.
Share your memory with people who'll get a lot of joy out of it. With friends who share your passion!
But the difference here is that:
your story will be placed on a separate webpage on our website.
sharing your story is FREE.
it's as easy to do as typing your story.
it will be available to you and visitors to this site for years to come!.
Share Your Best Utah Utes Football Memory!
Do YOU have a great memory about Utah Utes football?
The best game you ever saw? Or most memorable? The best road game you ever attended?

Any fantastic photos of Ute games or players? Or your best tail-gating moments?

Then share them! They will be enjoyed by other people who love Utah Utes football... for years to come.

Thank you for sharing them with all of us!
What Other Visitors Have Said
Click below to see contributions from other visitors to this page...




Back to top 

Back to Utah Sports

Back to Home Page