Utah Utes Football



Why Am I Writing About Utah Utes Football?
Utah Utes football.  The reason I came to Utah many years ago on a football scholarship from Canada.  Decades ago might be more appropriate. 
How I got here is another story.  They called it a scholarship back then.  They still do, to some extent, but it is so much more now with all of the NIL money.  It's probably closer to a pro contract now.  A one-year contract you can tear up any time and move on to another school. 
I did get a college degree in Economics, though, so I can truthfully say Utah is my alma mater and I was a scholar-athlete despite attending college in the 1970's.  If you went to college in the 1970's and still happen to be around, you know what I'm talking about.
So the first thing I want you to know is that this page is a long one.  Why?  Because I probably know more about this subject than just about anything else that I write about on this website.  I could have written many more words.  Maybe eventually I will.
I've lived Utah Utes football … and seemingly died with it … for many years.  It is the reason I came to Utah.  So please bear with me.  There's a lot of material here but you may find some of it a little more interesting than the usual so-called "insider" drivel you read elsewhere.
It is sometimes amusing … if not annoying … listening to the "insiders" of today in their 20's and 30's talk Ute history and "best ever."  Their "best ever" lists seem to only include players from the last decade or so.
This is coming from the perspective of someone who has: 
played football at Utah
graduated from Utah
been a grad assistant coach at Utah
been a season ticket holder at Utah for decades
been a Crimson Club member for … the same
seen almost every game played by Utah Utes football in one form or another during those years
watched and analyzed football for decades
attended each ESPN College Gameday at Utah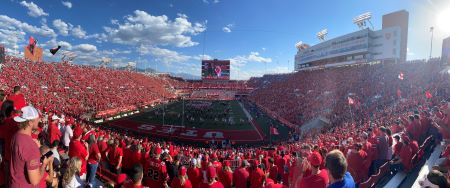 The 2,000's
On July 1, 2011, the University of Utah became a member of the PAC-12 Conference.  It was a proud moment for long-time alumni, fans and students.
Especially someone like me who remembered times when we got our head kicked in by football powers like New Mexico, San Jose State, UTEP and Wyoming.    
The Utes were now in a Power 5 conference.  One of the five best football conferences in the country.  The Utes began PAC-12 conference play in the fall of 2011.  But how did they get here?
The University of Utah Utes football team went where no non-BCS program had ever gone before when it qualified for a BCS bowl in 2004.  BCS – The Bowl Championship Series. 
What a crock.  The ridiculous BCS was set up so someone from the SEC could play someone from one of the other conferences ... but not necessarily … for the national championship.  Regardless of how good other teams in the country were.  Couldn't have a real playoff.  Gotta watch out for those student athletes. 
Utah … contrary to what you might hear about Boise and their trick play to beat Oklahoma was awesome … was the first BCS Buster.  Going undefeated (12-0) in 2004, the Utes ended up the season ranked No. 4 in the nation.
That team was loaded and never tested.  It would have been fun to see them go up against the other undefeated teams like USC or Auburn.  In fact Auburn had the same beef that Utah did.
The Utes pummeled Pittsburgh in the Fiesta Bowl 35-7.  It was a complete mismatch.  They were the champion of some football conference called the Big East.  Formerly a great basketball conference.
Ute quarterback Alex Smith ended up in New York City as a Heisman Trophy finalist and was later drafted as the No. 1 pick in the NFL Draft.  He played 16 seasons in the NFL and is still my favorite University of Utah athlete ever.  Well, at least one of my favorites.  Many of his teammates went on to play in the NFL.
Coach Urban Meyer went on to win national championships at Florida and Ohio State.  And … my wife called it before it happened … trade in a big share of his integrity for those championships.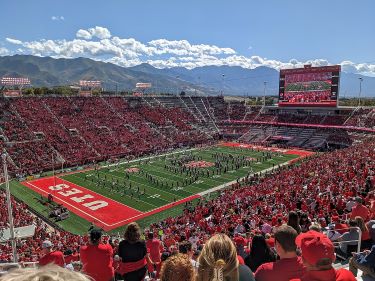 The Utes topped that, though, in 2008 going 13-0 and ending up #2 in the nation in the AP Poll.  The only team in history to bust the BCS twice and go undefeated both seasons.
They dominated Alabama … #1 in the nation for much of the year … in the Sugar Bowl winning 31-17.  And were actually the only undefeated team in the country when it was all over. 
I remember listening to national radio host Colin Cowherd leading up to the Sugar Bowl and hearing him say how the Utes were completely out-classed in talent.  It wasn't even going to be a contest according to the guy who has made more bad calls than anyone not named Steven A. Smith. 
He tried to back up his lack of knowledge of the Utes by listing the sizes of the Ute defensive line going up against the Tide offensive line.  No film watching.  Never watched a Utah game I'm sure.  Just "yackety, yackety, yack."  And, of course, how they didn't have a snowball's chance in Death Valley of beating the Tide.
I remember Barry Switzer … long-time Oklahoma coach … just absolutely dissing the Utes in the pre-game TV show on Fox.  He literally gave them no chance.  Actually, he didn't even talk about them.  He was speechless … tough for Barry … and looked almost lost at half-time as he had no explanation for his lack of actual preparation. 
The Tide gained just 31 yards on the ground.  Gave up 8 sacks.  And had a total of 208 yards offense.  By my count, 15 players from that Ute team's two-deep went on to play in the NFL.  I know.  Too small, too slow, not enough stars, from where?  
This is not Kyle Whittingham.  It's just how some Ute fans think of him.  And rightfully so.
Kyle Whittingham
Kyle Whittingham has been the head coach since 2004.  He is the winningest … and obviously the best … Ute football coach ever.  He has compiled a record of 154-74 going into the 2023 season and was an assistant for Ron McBride before that.  
I can't say enough good things about what Whitt has done for Ute football fans and for the university.  He guided Utah into the PAC-12 and next year into the Big 12.  He has also won the last two PAC-12 Championships ... going into the 2023 season ... despite all the experts picking someone else.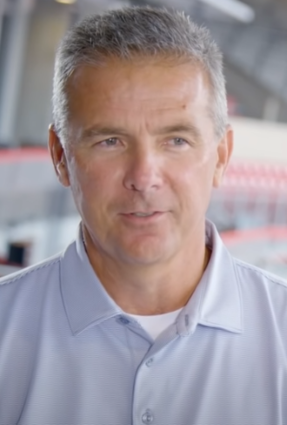 Urban Meyer

Urban Meyer was only here two years but he made a major impact.  He went 22-2 and won two conference championships.  His 2004 team was one of the three best Utes teams ever.  It was extremely talented and fun to watch with Alex Smith leading the way. 
But, as soon as the door opened, he was out of here.  He took the first plane to Gainesville.  Took over at Florida and won a couple national championships.  He left a lot of us with a sour taste in our mouth. 
Not because he left.  Anyone would have.  But because he kept saying he wasn't going anywhere right up to the moment he walked up the steps and got on the plane headed for Gainesville.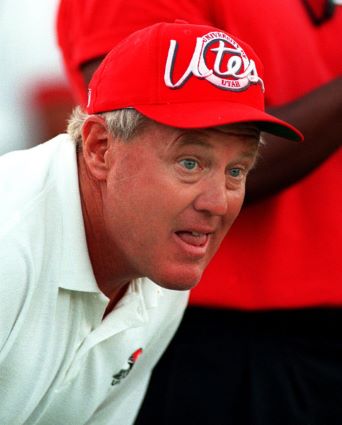 The 1990's – The Ron McBride Era
I must give credit to my old coach Ron McBride.  When Coach Mac came in with his emphasis on defense and toughness, it was a wonderful breath of fresh air for Ute fans.  And it absolutely turned this program around.  He set the stage for what Utah Utes football has become. 
He completely changed the whole perception of Utah Utes football.  Toughness became the keyword that we are still using today after kicking Florida's ass (in 2023). 
In fact, Ronnie hired the best Utah coach ever … Kyle Whittingham … as a member of his staff.  He brought him in from Idaho State to be an assistant.  He also brought in Kyle's dad … Fred … who had been coaching in the NFL for a decade or so.  Another "tough" sucker.
Mac was the head coach from 1990-2002.  He was my offensive line coach at Utah starting my junior year and became the best "Utah Man" ever.  I learned more from him about playing O-line, being fit and playing football in one winter and spring than in my entire first three wasted … literally … years playing for the previous incompetent Tom Lovat staff. 
It was a sad day for me when Chris Hill had to ask him to step down. 
Mac turned the program around when he was named head coach in 1990.  The program immediately took on his persona of mental toughness, aggressiveness, fanatical effort and unity (MAFU).  These are the things he taught when I played for him.  We absolutely got this drilled into us every single day although the acronym came later. 
He took the Utes to our first bowl game in 18 years.The 1980's had brought a few more wins but not enough.  Mac changed the whole mentality of the program after the 1980's era of trying to gain more yards and just outscore the other team. 
During his time at the U, he compiled a record of 88-63.  Those 88 victories are still the third most wins by a coach in Utah football history.  But Mac did so much more than win 88 games.  He instilled a reputation … an expectation … for toughness after decades of being soft.
Mac is still my favorite coach of all time … in any sport and on any level … and I am definitely one of his disciples.  I can't even begin to tell you how many players' … and their families' … lives this man has touched.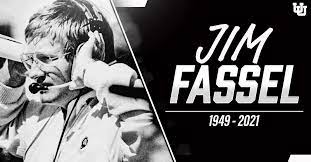 The Jim Fassel Era
Jim Fassel coached the Utes from 1985-1989.  He compiled a record of 25-33.  I had known Jim prior to that as he was our offensive coordinator my third year here.  It was apparent then that he was a great offensive mind.  And still one of the nicest men I ever met.
He was the Offensive Coordinator at Stanford with John Elway as his QB before he came to Utah as the head coach.  That's how we always described him.  "The guy who coached Elway to the Heisman."  His Ute teams were crazy prolific on offense setting yardage and points records on a seemingly weekly basis. 
Scott Mitchell … who came from Springville High School to play for Fassel … threw for 620 yards in one game.  He ended up with 4322 passing yards that year (1988).  He also averaged 392.9 yards passing per game that year. I just kind of wonder what would've happened if he had stay and played one more year … with a pretty good defense … under Ronnie Mac before going to the NFL.
He went on to an excellent NFL career as a backup QB to Dan Marino and then the starting QB for the Detroit Lions leading them to the playoffs.  I followed his career and cheered for his success even though I wasn't a Lions' fan.  And, of course, now he's the color guy for the voice of the Utes, Bill Reilly.
Unfortunately, as great an offensive coach as he was, Fassel's teams couldn't stop anyone.  We lived and died through losses such as:  47-44 to Washington State; 64-6 to Ohio State; 45-35 to Air Force; 47-43 to New Mexico; 52-7 to Arizona State; 55-45 to UTEP (that's right UTEP); 48-27 to Air Force; 56-49 to Air Force; 48-20 to Hawaii.  And on and on.  Soft and defenseless.
Jim went on to the NFL and became a successful offensive coordinator.  Then … as a result of that success … the head coach of the New York Giants.  It was always obvious that he was a great offensive mind.  He even took the Giants to the Super Bowl for the 2000 season but eventually lost to the Ravens. 
He is famous for his publicly defiant statement that … after dropping to 7-4 … the Giants would make the playoffs.  They did.  They made the Super Bowl.  I had always hoped he was successful here but coaching college football is almost like shooting craps.  The head coaches who are successful over time are an enigma.
The Chuck Stobart Era
Chuck Stobart came to Utah from Toledo for three seasons … 1982-1985.  He compiled a record of 16-17-1.  I loved the way Chuck's teams played defense.  They were completely opposite of the Fassel teams.  Great defense and mediocre offense.  And inconsistency. 
Close losses … frustrating losses … with the defense keeping us in games was the common narrative.  Losing 21-12 at Austin against Texas; losing 27-21 at Tennessee; losing 10-7 at Hawaii; a 21-14 loss at Laramie.  He never got more than six wins and that wasn't good enough.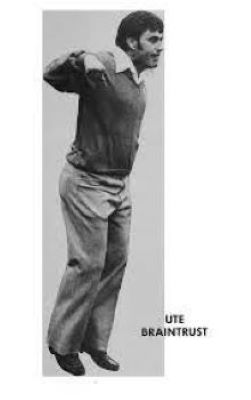 The Wayne Howard Era
Wayne Howard came to Utah in 1977 and stayed until 1981.  After seasons of 1-10, 1-10, 3-8 under Tom Lovat, Howard's enthusiasm and winning ways turned the program around.  He compiled a record of 30-24-2. 
I was a junior when Howard's staff got here.  I never liked coach Howard.  A little bit too car salesman-like.  A little bit too shifty.  It probably resulted from the way he treated the guys that were already here.  Like dirt.  Of course, everything and everyone from California was better.
But he had some amazing assistants.  His offensive line coach and offensive coordinator … Ron McBride …was my offensive line coach.  The best coach I ever had.  I learned more about playing offensive line in one winter and spring from him than I had in the three previous years of "les incompetents."  Other guys like Tom Gadd, John Pease, Pat Hill, Dave Kotulski went on to very successful careers elsewhere.
We took our lumps in Mr. Howard's first year as we started as many as 6-7 freshmen at times.  But his stressed-out demanding attitude along with some great assistant coaches behind him brought in a different attitude and persona. 
Howard and company produced some great players but he could never get over the "beat BYU" hump as he only beat them once in five seasons.  I think that's what eventually drove him to quit.  He took it way too personal. 
After losing to BYU, once again, for the conference championship in 1981, he moved on.  As Wikipedia says "he was not clear why.  He later said, "I just did.  No real reason.  I wasn't unhappy.  I was not treated badly.  I really never tried to get another job.  I liked it there.  They treated me well."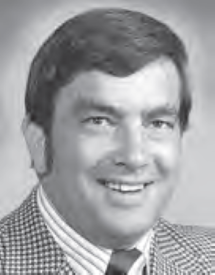 The Tom Lovat Era
Tom Lovat was the head coach at Utah from 1974-1976.  He recruited me from Canada and his three years were my first three years here.  When I got here, I was ready neither mentally nor physically to play at this level. 
In those three years, we went 1-10, 1-10, 3-8.  It was humbling and embarassing.  We had some exceptional football players including All-American LB John Huddleston.  A freaking tackling machine.  All neck and arms.  A stud who played for the Broncos and Raiders in the NFL.  But the coaching?   I won't say anymore.
I almost quit about 300 times but never quite did.  So many of my teammates believed … including the guys who were the leaders of our team ... that those coaches never coached any of us to get better.  Except for one or two exceptions.  When they got fired, very few of them went on to get another college job.  What does that tell you?
After hours in the weight room every day and a lot of calories consumed, I earned a starting nod in 1977 and 1978 being voted by teammates as one of the four team captains for the 1978 season.  This was one of the biggest honors of my life.  Voted by my teammates.  Unfortunately, my very promising senior season ended with back surgery.
Lovat's record was 5-28.  1-10, 1-10, 3-8.  There is nothing good I can say about this era as it pertains to football.  I … and a lot of my teammates … earned the equivalent of a graduate-level degree in drinking beer during the Lovat era.
It was the 1970's.  The stories that I could tell about that era.  If you lived it, you already know about it.
Back to The Present
Prior to the Lovat years, you'll have to check the history books.  Or the Utah Media Guide mentioned below.
The Utes … as of 2023 … have played 12 seasons in the PAC-12 (if you count the Covid non-season of 2020).  They've won the last two PAC-12 Championships while losing the last two Rose Bowls.
The two conference championships have been enormously satisfying after beating Oregon twice in 2021 and USC twice in 2022.  Two of the most arrogant fan bases in the country. 
The 2022 Rose Bowl … after the 2021 season … was an absolute classic.  The Utes lost to Ohio State by a field goal on the last play of the game 48-45.  Utah had to start and play a running back at corner due not having any corners left due to injury. 
QB Cam Rising got knocked out of the game early in the 4th quarter which sealed their fate.  The defense was shredded by C.J Stroud and a cadre of wide receivers that were unworldly.  Our RB turned corner was a stud but not as a corner.
Injuries and DNP's due to "preparing for the NFL draft" hit them the next year also as they were taken apart by Penn State.  No excuses as everyone has players out at this time part of the season especially in today's world.  I was very impressed by the physicality and speed of that Penn State team. 
But the two consecutive losses in the Rose Bowl are a sore spot for Utah Utes football fans. At least they are for me.  The Utes used to win bowl games every time they played in one.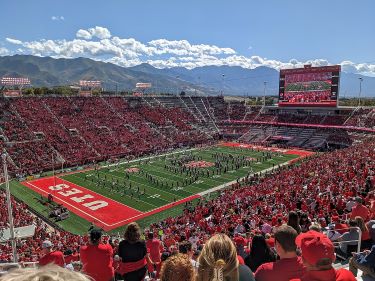 Rice-Eccles Stadium & Salt Lake City
Rice-Eccles Stadium is the home of the Utes. For more about this iconic stadium, please go to my Rice-Eccles Stadium page. 
The University of Utah is located in Salt Lake City, the largest city in the Intermountain West with a metro population of well over a million people.  The area is exploding.  It isn't the boring, sleepy little Salt Lake City anymore.  Unfortunately, I liked that place.
In the summer of 2023, the college football world continued to be rocked by conference realignment as well as outright disintegration of conferences.  When the dust finally settled, USC, UCLA (actually announced last year), Oregon and Washington were headed to the Big 10 starting in 2024.  Arizona, Arizona State, Colorado and Utah were headed to the Big 12 also in 2024.
Then … just in the last couple weeks … it was announced that Stanford and Cal are headed to the ACC.  That left a PAC-2.  Who knows how this is all going to shake out? 
For Utah, it's a great landing spot.  They're going to the best college basketball conference in the country and probably the third-best football conference.  There are some great schools and teams in the Big 12.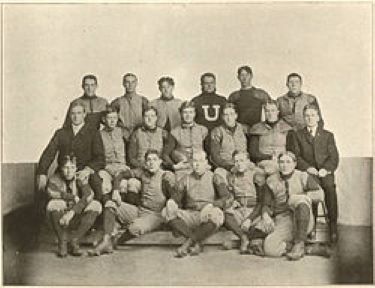 Utah Utes Football History
The Utes have a long and colorful history.  Some facts about Utah Utes football going into the 2023 season:
The University of Utah was originally established by Mormon (now Church of Jesus Christ of Latter-day Saints) leader Brigham Young to the shock of many Ute faithful who don't happen to be members of that church.
It was established as the University of Desert in 1850.
Utah is the oldest state university west of the Mississippi.  They used to have that on the stone sign at the south entrance to the U but it has been removed. 
Utah's first football game was played November 25, 1892 against Utah Agricultural College … now Utah State … in Logan, Utah.  Utah lost 12-0 to the farm boys from northern Utah.  Football was a free-for-all compared to what it later became.  It was the only game Utah played that year. 
The best book ever written on the history of Utah Utes football is "University of Utah Football Vault" by Shane Hinckley.  I've linked to it on Amazon for your convenience.  I'm not an Amazon affiliate so I get nothing for the link.  This is just a great book with amazing photos and information.  It even contains ticket stubs and other memorabilia tucked into its pages.
The Utes have played at the same location … with various stadium names and versions but at the same address … since 1927.  Go to my Rice-Eccles Stadium page to read some great stories about it.  Having played there and been a season-ticket holder for many years, I have a unique perspective on the evolution of that stadium.  And the devolution of some of the fans.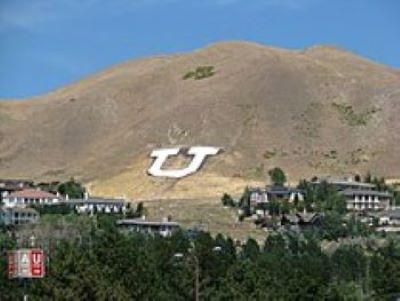 As Utah Utes football goes, so does the University of Utah athletic department.  And, consequently, the entire university.  Most of the phenomenal growth and gleaming new buildings on campus can be attributed to being in the PAC-12 Conference.  The national visibility the football program provided has been priceless.  Literally.  And football got us there.
We called the U the U long before Miami ever thought of it.  Look it up and you'll see that Miami started calling themselves "the U" well after 1973.  I can tell you from personal experience that Utah students and fans called Utah "the U" well before 1973.   

To prove the point, the white block "U" on the mountain above the campus was built of limestone in 1907.  The U is over 100 feet (30 meters) tall and has a surface area of over 5,000 square feet (455 square meters).  It can be seen from most of the Salt Lake Valley. It was modified in 1967 by adding 124 lights.The "lighting of the U" has become a team tradition after a home win by Utah athletic teams.
If you want to read everything you could ever want to know about Utah Utes football, you'll find some amazing facts, figures and photos in the most recent Utah football media guide. It is compiled and published prior to every football season. 
It contains everything you could ever think of about Utah Utes football.  This is the same publication they used to print out in color and send to press people all over the country. 
The average fan could never get a copy.  Hell, we players tried to get one when I played and that was as hard to get as a good meal back then.  And don't get me on that subject as I look at NIL today.   
Click here to go to it on the Utah Utes website.  It's a PDF so you can download it:
2023 Utah Football Media Guide
---
Share Your Best Utah Utes Football Memory!
Do you have a great memory about Utah Utes football? The best game you ever saw? Or most memorable? The best road game you ever attended?

Any fantastic photos of Ute games or players? Or your best tail-gating moments?

Then share them! They will be enjoyed by other people who love Utah Utes football... for years to come.

Thank you for sharing them with all of us!

What Other Visitors Have Said
Click below to see contributions from other visitors to this page...




Back to top 

Back to Utah Sports

Back to Home Page