ESPN College GameDay
At Utah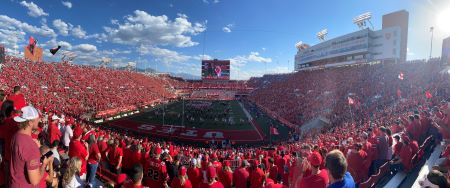 ESPN's College GameDay is once again headed to the University of Utah for the huge game between the #13 Utes and the #8 Oregon Ducks this coming Saturday October 28, 2023.
They have been here on four previous occasions.  My family and I have attended all of them as we've had Utah football season tickets for more than 40 years.  They each hold a different group of memories for us. 
Here's a look back at the previous four and a look forward at the upcoming one. 
ESPN College GameDay's History in Salt Lake City
The excitement is already palpable for Utah Ute football fans as ESPN's iconic College GameDay makes its return to the University of Utah for the fifth time. 
This is especially true after beating USC in Los Angeles this past weekend for the fourth win in a row over the Trojans.  Only one of the five GameDay "experts" last week picked the Utes to win.
Let's revisit the previous four times College GameDay has visited Salt Lake City for a Ute game as I was there … at GameDay and the following game … for all of them. 

1.  November 20, 2004 - Utah vs. BYU
The inaugural visit of College GameDay to Salt Lake City occurred on November 20, 2004.  It was crisp and it was cold.  In fact, checking the history, at 8:00 A.M when were at the Rice-Eccles Stadium parking lot where GameDay was set up, it was 29º F.
The #6 Utes were "hosting" their long-standing and much-disliked rivals, BYU, in a highly anticipated showdown. All the games between these two were highly-anticipated back then.  Utah was trying to cap off an undefeated regular season and become the first team to break the poorly-conceived BCS. 
BYU didn't have one of their better teams that year so a Ute victory was highly-anticipated.  Even so, they still have to play the games.  Urban Meyer was in his second year as the Ute head coach.  
As fans like my wife and I remember well, he told the GameDay crew on stage on national TV the morning of the game that he loved it here and wasn't going anywhere despite the rumors. 
Of course, come to find out, the plane was on the runway at the airport fueled and ready to take him to Florida.  As I've said elsewhere, we didn't fault him for leaving. 
They probably tripled his salary.  A little honesty ... or a "I'm not going to discuss other jobs" ... would've gone a lot farther.  We got the guy we wanted after he left anyway.
Alex Smith led the Utes to a 52-21 win marking an unforgettable day for Utes fans.  College GameDay, a win over BYU, winning the conference, an undefeated season, busting the BCS, and being invited to the Fiesta Bowl (another win). 
College GameDay's presence added to the excitement while cementing the rivalry game's status as one of the most intense in college football.  At least at that time. 
It was a fun atmosphere for the entire game.  My son and I got to wander around on the field with thousands of fans after the game.  The invitation to the Fiesta Bowl was announced over the giant (at that time it was giant) video board.
2.  November 6, 2010 - TCU vs. Utah
The second visit of College GameDay to Salt Lake City occurred on November 6, 2010.  The location was the University of Utah's Rice-Eccles Stadium parking lot once again.  It was a nice late fall morning with a temperature of 52º F. at 8:00 A.M. 
The game featured the 3rd-ranked TCU Horned Frogs facing off against the 5th-ranked Utah Utes.  Both teams were undefeated with the Frogs at 9-0 and the Utes at 8-0.

GameDay's arrival once again added an extra layer of excitement to an already electric atmosphere.  Despite the excitement, the game wasn't even close. 
The Horned Frogs demolished the Utes 47-7 behind a smothering defense … their calling card … and a solid performance by future NFL QB Andy "the Red Rifle" Dalton.
Ute QB Jordan Wynn was running for his life most of the game and … if I'm not mistaken … was injured in this game even though he continued to play. 
When healthy, Jordan was an excellent QB but, unfortunately, his body just gave out.  I was at this game also and this game was never in doubt.  It was one of the most disappointing Ute performances ever in a big game.


3.  October 10, 2015 - Cal vs. Utah
The third visit took place on October 10, 2015, when College GameDay returned to the University of Utah once again.  This time, they held the event on the President's Circle off University Street right in front of the Park Building.  A much better venue. 
It was a beautiful sunny morning with a temperature of 53º F. at 8:00 A.M.
The 5th-ranked Utah Utes hosted the 23rd-ranked California Golden Bears in a crucial Pac-12 matchup.  The Utes were determined to prove their mettle on the national stage again as they were 4-0 going into the game.
In a thrilling contest, Utah picked off future NFL QB Jared Goff 5 times … even though he passed for 340 yards … and held on for a 30-24 win.  It was a big win for the Utes who had only been in the PAC-12 for three years.  Goff was moving his team down the field in the last few minutes before the Utes picked him off the fifth time.
4.     October 29, 2016 - Washington vs. Utah
The fourth occasion of College GameDay at Utah happened the very next year.  Hard to believe they came out here two years in a row but it was another huge game. 
It was held at the same venue as the year before … the President's Circle.  It was another beautiful day with a temperature of 58º F. at 8:00 A.M. 
This time, the 4th-ranked Washington Huskies were in town to face the 17th-ranked Utes. Both teams were contending for a Pac-12 Championship and a potential spot in the College Football Playoff. 
Thankfully, the BCS was a distant memory although with only four playoff teams, this system wasn't a whole lot better.  The Huskies emerged victorious with a 31-24 win over the Utes solidifying their playoff hopes.
Dante Pettis returned a punt 58 yards for a TD to win the game.  They were a great team.  Not to make excuses but replays clearly showed that there were two obvious and one not-so-obvious blocks in the back by Washington on the return.
This would have moved them back to at least their 35 yard line.  We sat in the north end zone with a panoramic view from sideline to sideline and the not-called infractions were obvious. 
Two of the blocks directly involved players that could've tackled Pettis.  TV replays verified the no-calls by the always less-than-mediocre PAC-12 officials.  Nonetheless, it was a memorable day for Utah and Washington fans alike. 
Game 5 – Oregon vs. Utah
As College GameDay returns to Salt Lake City for the fifth time, it is clear that the show is still the biggest thing in college football.  Despite viewership dropping over the years, it is still an integral part of the college football landscape.
The Ducks are undefeated and #8.  The Utes are 6-1 and #13 despite being decimated by injuries this season.  I won't go into those.  Suffice it to say, the Utes' depth has paid off as, at times, they've had more starters out than were playing in the game. 
Temperatures for GameDay are expected to be in the mid-40's so it'll be another chilly one.  Looking forward to it.  My 12-year-old grandson is almost giddy with anticipation.
A nice college football-as-it-should-be 1:30 P.M. starting time makes it even better.  Ute fans have been very lucky this year with our start times. 
We've had none of those funky "PAC-12 after freaking dark" 8:00 – 8:30 P.M. start times that Coach Prime hates so much. 
---
Share Your Best Utah Utes Football Memory!
Do you have a great memory about Utah Utes football? The best game you ever saw? Or most memorable? The best road game you ever attended?

Any fantastic photos of Ute games or players? Or your best tail-gating moments?

Then share them! They will be enjoyed by other people who love Utah Utes football... for years to come.

Thank you for sharing them with all of us!