Rice-Eccles Stadium


Rice-Eccles Stadium, Rice Stadium, Ute Stadium.  Although the name has changed, the University of Utah football team has played their home games at the same address since 1927. 
But oh, how it has changed.
Since I arrived at the University of Utah from Canada in 1974 ... on a football scholarship ... to play in that stadium, I've seen almost every home game played in it.  I even played in a few.
I don't remember the exact number but I was proud of the fact that until a couple years ago, I had missed fewer than ten home games during all those years.  And I saw almost all of the rest on TV. 
I'm also happy to say that after a couple of health issues, I'll be back to every game in person this season (2023).  I've seen a lot of great games.  Amazing games.  And many absolute stinkers.  
The history of Rice-Eccles Stadium … and its predecessors … is long and storied.  It should be since it has been the home of Ute football for 106 years as of 2013. 
Way back in the 1920's, an explosion of interest in college football ... and the subsequent revenue from ticket sales ... made it a no-brainer for some schools to build large stadiums for fans wanting to experience it.  And, of course, TV (especially my 65" 4K) wasn't a factor back then.  You had to see the games live or not at all. 
These large concrete stadiums were made possible by new innovations in construction techniques fueling the boom.  Along with the thriving economic times of the Roaring 20's.
Ohio State … the Buckeyes … started the rush in 1922 when they built a stadium seating 66,000 fans.  Unheard of at the time. 
And the University of Minnesota wasn't far behind.  They built one in 1924 that seated 52,000 fans. 
Northwestern built a stadium seating 45,000 fans in 1926.  And … in 1927 … Michigan built the first Big House seating 72,000 people! 
What an amazing experience it must have been to be the first fans to walk into those places.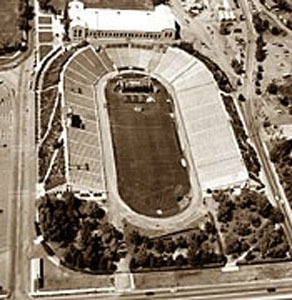 Ute Stadium (1927-1971)

The University of Utah played its first football game in 1892.  They played on old Cummings Field through the mid-1920's.  
After they had to turn fans away for their final game of 1925, the talk about a new stadium started in earnest.  But the idea of a new stadium was actually conceived in 1924.

The final plans called for a horseshoe or U-shaped design seating 20,000.  If future growth demanded it, plans allowed for an additional 10,000 seats.  Always a U.

Ute Stadium was built on the current site of Rice-Eccles Stadium ... on the extreme south side of the Utah campus along 500 South across from the Mount Olivet Cemetery.  The cost?  An estimated $125,000.

The Utes hosted their first game ever at their new stadium on October 1, 1927 against Colorado Mines.  It resulted in a 40-6 drubbing of the visitors.  It was legendary coach Ike Armstrong's third year at Utah.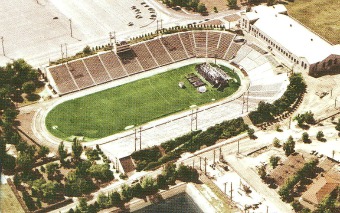 Ute games have been played at the same location since then.  Through the years in:

the Rocky Mountain Athletic Conference
the Mountain States (or Big Seven as it was commonly referred to) Conference
the Skyline Conference
the Western Athletic Conference
the Mountain West Conference
the Pac-12
and soon, the Big-12 (or whatever it is going to be called)

10,000 seats were added in the north end-zone in 1947 completing the horseshoe.  Before this, old photos show a pile of dirt there.
Today, that end-zone … because of the exuberance of the fans … is a nightmare for opposing teams.  It is where I have my season tickets.  The things I've seen and heard while sitting there.
The seating capacity remained at 30,000 from 1947 until the next expansion and renovation in 1972.
Rice Stadium (1972-1997)
After the 1947 expansion, the stadium didn't change much through the years until the early 1970's. 
In 1972, Robert L. Rice … a local businessman and Ute supporter … donated $1 million to help upgrade the stadium.  It was definitely showing its age.  

 The stadium had been constructed of wood and concrete with some earth fill.  Quite cost-effective but not the most attractive design.  And there wasn't much you could do with this look without a completely new stadium.
Artificial turf … Astroturf … was installed.  A Scholarship Box was added on the east side.  The press box was expanded. 
Seating capacity was increased to 32,500.  And the name was changed to Rice Stadium.
Contrary to a couple items I've read … a Wikipedia article and a book about Utah football history … the track wasn't removed at this time.  The field wasn't lowered.
And the south end zone seats weren't added then either.  Obviously written by someone too young to have spent any time in the stadium during those years.
I came to Utah in 1974 on a football scholarship.  Along with most of my teammates, I hated the turf.  It was like playing on concrete with a rug thrown over it.  In fact, that's what it was.
It caused ugly, painful, slow-healing rug burns.  It was usually 10-15 degrees hotter than grass.  There was no give whatsoever. 

When you planted your foot, the only thing giving way was usually a knee or ankle.  I blew my knee during spring practice on that turf.
The running track was also rock-hard.  When you walked on it with cleats, you had to be careful or you'd end up on your butt.  Old-school football cleats ... which were the absolute worst shoes ever created ... just didn't work on it.
There was a covered and heated seating area atop the east side seats called the Scholarship Box.  This was for the comfort of boosters who donated larger sums of money to the program. This was long before the The Crimson Club.  This "box" had a great view of the football field.  The best view of the field from anywhere in the stadium.

Even back then, they played the Utah high school state football championships at Rice Stadium every year.  Some of us Ute players would work the games for a little extra cash.

Our job was to keep exuberant kids from jumping the fence (some of which was covered by hedges) trying to get in free for the games.  We were often allowed up in the Scholarship Box where high school coaches from around the state were allowed to watch the games. 
They almost always had a great spread to feed the coaches.  If we were lucky enough to get up to the box, we were allowed to grab a plate or two ourselves.  NIL didn't exist.  We were lucky if we had a training table for the season.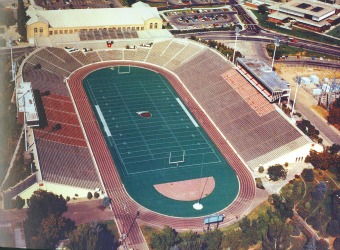 During that renovation, some of the bleachers were replaced by red plastic chair seats.  But not enough of them.  Most of the old, wooden bleachers … slivers and all … still survived as you can see in the above photo.  
It was a significant improvement over old Ute Stadium but still a long way from what it would become.It was still rather ugly but kind of cool on game days if it was full. 
I remember when the U hosted the WAC Track and Field Championships in ... I believe ... 1976. There were incredible athletes from UTEP (on a run of multiple national championships), Arizona State, BYU, Arizona, and others.
It was a fun experience as so many of the athletes were from other countries.  They were already or soon-to-be Olympic competitors.  But I remember thinking how we got that event here with such a horrible track.
In 1982, another upgrade occurred.  The field was lowered more than nine feet.  New seats were added along the sidelines.  A whole new south end seating structure was built.  We even had our football season tickets in the new south end for a few years.  
The south end addition was named after Spence Clark who donated much of the money to build it.  Spence was a former Ute and father of Ute All-American Steve Clark, a former teammate of mine.  It was recently torn down with the new south end addition ... finally getting rid of the open south end ... making the stadium an actual enclosed semi-bowl.

Talk to any Ute who played during these years ... if you can find one ... and ask them what they thought of the Astroturf.  Most of them will tell you how much they hated it.

I believe it did give the Utes an advantage against slower teams because it made fast guys even faster.  And we tended to have a lot of speed. 
Many of our best running backs excelled on that turf.  Popcorn Rogers, Carl Monroe, Eddie Johnson.  And All-American KRs Steve Odom and Errol Tucker (the best I ever saw but I never saw Odom play).  Reggie Dunn got the benefit of playing on the more modern turf we have now. 
Linemen like me hated it.  Our coaches would water it down before practices to avoid injuries.  They believed it lessened the traction so made it safer.  My thought was always "why the hell not just get rid of the damn turf." 
These same coaches ... not their fault, they didn't install it ... avoided practicing on it at all whenever possible.  I saw a lot of knees go on that crap.  Mine included.

In 1994, a new surface was installed.  SportGrass.  A mixture of natural grass and artificial turf.  I never played on it so I can't comment on it. 
Looked nice but didn't last long.  It seemed to wear down and wear out much too quickly.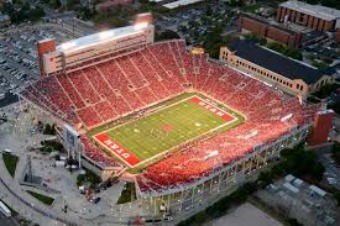 Rice-Eccles Stadium (1997-present)
I have sat in just about every section of Rice-Eccles Stadium.  And Rice Stadium before that.  On the 50-yard line 15 rows up on the east side.  In the south end-zone.  The north end-zone.  The west side in a variety of locations.
And after attending games in old Rice Stadium, I'm not sure my family and I … along with other long-time fans … had any idea how wonderful a whole new stadium was going to be when it was rebuilt in and completed just prior to the Olympics. 
It became easy for the local Salt Lake City media hacks and so-called fans of fewer than 10 years to bash Chris Hill, Utah Director of Athletics, towards the end of his tenure.  Chris Hill is directly responsible for so many of the fantastic things happening at the University of Utah right now. 
He hired Rick Majerus who took the Utes basketball team to the national championship game.  Hired Ron McBride and Urban Meyer.  Then Kyle Whittingham.  He helped get us into the Pac-12.
But back in 1996, Dr. Hill dreamed up the campaign to raise funds to blow up Rice Stadium and build a brand new stadium ... Rice-Eccles Stadium ... on the same site where Ute football had played for 70 years.
With a $10 million gift from the George S. and Dolores Dore Eccles Foundation, the plan was put in motion.  Former Ute All-American skier ... and banker ... Spence Eccles was the man who got it going.  And he stll continues to it at Utah.  Every time that a Ute team wins a championship, Spence seems to be in the photo.

The timing of the planned expansion was perfect.  With the 2002 Olympic Winter Games coming to Salt Lake City, a new stadium would be the perfect venue for the Opening Ceremonies.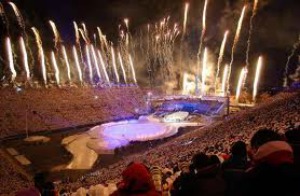 Hard to believe now looking at Rice-Eccles Stadium that the total cost of construction was only $50 million.  Just the new south endzone addition cost $80 million.  Of course, we're now going on 25 years. 
$20 million came from private donors.  $10 million from bonding.  $12 million from the university.  $8 million from the Salt Lake Olympic Committee.
My wife and I … and several of my kids … went to all the home games in the old stadium in 1997.  Some of the work had already started.  But right after the season … a couple days in fact … it all came down.  Old Rice Stadium was no more.
I remember driving up 5th South and looking at the carnage.  At least we had seen artists' renditions of the new stadium and they looked fantastic.  I remember thinking that there was no way they'd have the new stadium completed, though, before the next football season.
But they got it done with lots of time to spare.  The new Rice-Eccles Stadium was ready to go.  For the next season and beyond. 
It was also completed for the Opening and Closing Ceremonies of the 2002 Winter Olympic Games.  The first few seasons of RSL soccer.  Even a Rolling Stones concert. 
A beautiful stadium.  Well-designed.  No real bad seats.  Seats close to the field officially seating 45,017. 
That game day experience was greatly enhanced in the fall of 2021 with the completion of the Ken Garff Red Zone at Rice-Eccles Stadium.  This expansion increased premium seating and expanded the capacity to 51,444.  The $80 million south end zone project was funded in part by a lead gift of $17.5 million from the Ken Garff family which is the largest donation in Utah Athletics history.
Ute fans are proud of Rice-Eccles Stadium and they continue to fill it for every game.  76 straight sell-outs as of the beginning of the season 2023. 
With the stunning backdrop of the Wasatch Mountains on the east side.  The panoramic Salt Lake Valley on the west side.  Especially fantastic on late summer and early fall evenings and sunny fall afternoons.
With the amazing array of weather conditions and temperatures we are used to.  The emergence of The Muss.  The Third Down Jump.  The Moment of Loudness.  And the crazy loud north end-zone.

Utah has averaged more than the stated capacity in attendance every year since 2008.  Standing-room only crowds are now the norm at Rice-Eccles Stadium.
Going into the 2023 season, the biggest crowd ever at Rice-Eccles Stadium is 53,609 for the USC game on October 15, 2022.
Largest Crowds (going into 2023)
1. 53,609 - 2022 USC
2. 52,724 - 2021 Oregon
3. 51,951 - 2022 Stanford
4. 51,922 - 2021 UCLA
5. 51,919 - 2022 Arizona
6. 51,729 - 2022 Oregon State
7. 51,724 - 2021 Arizona State
8. 51,602 - 2022 San Diego State
9. 51,538 - 2021 Colorado
10. 51,531 - 2022 Southern Utah
11. 51,511 - 2021 Weber State
12. 51,483 - 2021 Washington State
13. 47,825 - 2015 Michigan
14. 47,801 - 2016 Washington
15. 47,798 - 2015 California
16. 47,619 - 2014 USC
17. 47,528 - 2014 Oregon
18. 47,445 - 2018 Washington
19. 47,307 - 2019 UCLA
20. 46,915 - 2016 BYU
Season Attendance Averages (going into 2023)

1. 52,057 - 2022
2. 51,817 - 2021
3. 46,533 - 2015
4. 46,506 - 2016
5. 46,462 - 2019
6. 46,436 - 2014
7. 46,332 - 2018
8. 45,913 - 2017
9. 45,585 - 2008
10. 45,459 - 2010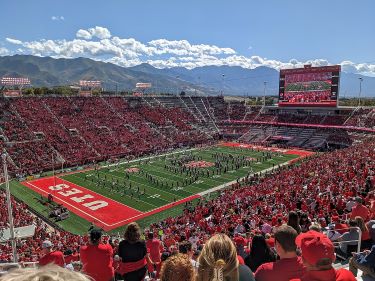 Rice-Eccles Stadium Records (going into 2023)
Home record: 430-193-16 for a .685 winning percentage.
Rice-Eccles Stadium (1998-present) record: 112-36-0 for a .757 winning percentage.
Homecoming record: 63-34-4 for a .644 winning percentage.
 Expansion

Tickets to Ute football games … since we've joined the Pac-12 … have been hard to come by.  At least at face value.  Season tickets … if you don't already have them … are almost impossible to get.
Fans clamored for stadium expansion and they finally got it.  The stadium was expanded to 51,444 in 2021 with the addition of the $80 million Ken Garff Red Zone. 

Many fans wanted more seats.  A bigger stadium.  "The Cougs seat 64,000."  Sure, but they can't fill it.  I agree that a sellout crowd in a smaller stadium is much better than empty seats in a much bigger stadium. 
If you look around college football, you'll see that there's been somewhat of a movement at some schools to reduce seating while trying to fill their stadium.  The emphasis has been to modernize and make their stadium more attractive.
Stanford and Cal are perfect examples.  Well, not perfect examples.  As of the summer of 2023, they're members of a four-team conference. 
It seems these fan bases are too academically superior to like football.  With old, large (80,000+) stadiums not even half-full, they both downsized to smaller, more modern stadiums.  They can't come close to filling those. 
On the other hand, take a look at UCLA.  They put 60,000 fans in a 105,000 seat stadium (the Rose Bowl) and it looks empty.  Look at USC at times.  They seat 90,000+ at the Coliseum but often have thousands of empty seats. 
As I walk up to Rice-Eccles Stadium for games … or even just drive by … I often think back to what this place used to look like.  And how far the program has come.
Parking
The best advice I can give you on parking is that if you don't already have a parking pass, don't drive to the stadium.  Most of the lots are full before the season even starts.
If you insist on driving, if you get there early enough, you can ... I believe ... still park in the Engineering Building parking lot on the extreme northeast end of campus.  If you can get in that lot (free the last time I used it but subject to change), you can enjoy a leisurely 15-minute stroll across campus right to the stadium.

We used to park all the way over by East High School off 1300 East and 800 South but as the crowds have grown, we ended up further and further away.  Another 15-minute walk to the game if you can park here.

If you get to the game early enough, numerous homeowners will charge you $25 or more to park on their property.

Park in any Trax (light rail) parking lot and take Trax from downtown right to the parking lot below the stadium.  The trains will be full and it may take a little longer but you can leave the driving to the UTA.

Take an Uber or Lyft.  They'll drop you right in front of the stadium.

Have someone drive you close to the stadium and drop you off.  We've done that numerous times also.
Tailgating and Alcohol
These two seem to go hand in hand.  No alcohol is sold at the stadium or on campus.  With what I've observed and even been involved in over the years, this would be a good thing.
Tailgating is allowed in all parking lots across the University of Utah campus on game days.  There are reserved tailgating stalls available in the designated lots on a season-long or single-game basis.  Parking lots are reserved according to Crimson Club Athletic Fund Level.
Southeast of the stadium (half a block), you'll find the Guardsmen Lot which takes RVs and allows tailgating.  Season passes for this lot sell out fast well before the season.  You might be able to buy a day-of-game pass, if available, for $100 if you're a Crimson Club member.  Your best bet is to find someone you know by wandering the lot and joining them.
The later the games are ... and a lot of our games tend to be late for TV ... the longer the tailgaters have to get toasted.  This can lead to some unpleasant situations as you can imagine.  I'll be the first to admit that Utah fans can be some of the most polite fans ... but can also be absolutely some of the worst especially when inebriated.  
No different than anywhere else as I've observed.
Concessions and Bathrooms
The lack of bathrooms used to be a huge problem especially for men.  It seemed if you needed to use one, you were doomed to miss at least a quarter of the game.  Luckily, they've added bathrooms and seemed to have semi-solved that problem.
I think the biggest issue is that the concourse area is actually too narrow for a stadium this size.  With the concession stands right across from many of the bathroom entrances, it causes lines and congestion that are still problematic.  But it does seem to be better than a decade or so ago with the extra bathrooms added on both sides of the north end.
Concessions are good with a nice variety of offerings ... although pricey ... and the hot dogs are excellent. 
 The 16 Best Games I've Ever Seen At Rice-Eccles Stadium (and Rice Stadium)

I've been watching Ute games at home since 1974.  And missed fewer than 10 (a few more over the last couple years while I took care of a couple health issues). 
Since I played and even coached a little … as a graduate assistant for Ron McBride … I have a pretty good perspective on the best games ever played at home since 1974.
I applaud the enthusiasm of so many young and recent Ute football fans.  But they have no idea of the history … and the absolute misery … so many of us went through for years.
They might look at some of the games below and wonder what the hell I'm talking about.  But there's a reason for all of them.  Why did I pick 16?  Because I've added a few and couldn't figure out which ones to drop.
A game that stopped a long losing streak.  A game that won a championship.  A game that got us ranked.  A game where we beat a ranked team. 
A game that got us into a BCS bowl game.  When we beat USC, Oregon or Michigan.  Or simply another game where we beat TDS (The Team Down South.  BYU.

This is my list.  Not anyone else's.  From oldest to most recent. 
1.  November 18, 1978.  Utes 23 - BYU 22.  My senior year.  I sat out the game due to a herniated disk in my back.  But I was on the sidelines.  Our gutsy little QB … Randy Gomez … led us to a 4th quarter comeback win over Jim McMahon and his Cougars.  Huge in that they had kicked our ass for five straight years.
2.  November 19, 1988.  Utes 57 - BYU 28.  After another decade of getting beat by them, Scott Mitchell three for 394 yards and 3 TD's.  BYU was ranked 19th.  The Utes force 8 turnovers.  We stood the whole game in snow as there'd been a huge snow dump a couple days before.  It was still piled up between the wooden bleachers.  We didn't care as we stood the whole game.
3.  November 19, 1994.  Utes 34, BYU 31.  During one of our best seasons ever.  With one of our best teams ever.  BYU took the lead with just over two minutes left.  The Utes marched right down the field and Charlie Brown scored on a 22-yard reception to retake the lead.  All-American Luther Ellis forced a fumble on John Walsh to end the game and the goal posts came down.  We finished that season ranked in the Top 10.
4.  October 21, 1995.  Utes 22 - Air Force 21.  An absolutely incredible ending.  With 1:11 left in the game, the stadium was all but empty as the Utes were down 21-7.  The Utes proceeded to score a TD, get the 2-point conversion, recover an onside kick, and score another TD on a 50-yard pass to Kevin Dyson.  The winning extra point was kicked with 31 seconds left.  My sons wouldn't give up and wouldn't let us leave.
5.  September 11, 2003.  Utes 31 - Cal 24.  Not so much a classic as Cal really wasn't that tremendous a team.  It's what this game led to.  Alex Smith started his first game for the Utes.  Aaron Rodgers led Cal.  Cal ended up 7-5 but did beat #3 USC later that year.  The biggest Rice-Eccles Stadium crowd ever up until this one attended this game.  We went on to a 10-2 season and the MWC Championship. 
6.  September 2, 2004.  Utes 41 - Texas A&M 21.  The first game of Urban Meyer's second year.  Our first BCS year.  The Utes went up 27-0 on ESPN and never looked back.  All season.
7.  November 20, 2004.  Utes 52 - BYU 21.  ESPN's College GameDay visited Salt Lake City and the Utah campus for the first time.  This game climaxed our undefeated season, won the MWC, and sent us to the Fiesta Bowl.  I remember walking around on the Rice-Eccles Stadium field after the game with my son and soaking it all in.  A couple days later, Urban Meyer was headed to Florida. 
8.  October 2, 2008.  Utes 31 - Oregon State 28.  During our undefeated season of 2008.  With 2:18 left, the Utes trailed 28-20.  In fact, many fans were filing out of Rice-Eccles Stadium.  But Brian Johnson led us down the field for a TD and a 2-point conversion to tie it.  The defense forced a 3-and-out and then the offense moved down the field again for the winning Louie Sakoda field goal. 
9.  November 17, 2008.  Utes 13 - TCU 10.  Yes, a kick-ass defensive battle.  And it all came down another Brian Johnson-led drive as he hit Freddie Brown across the middle for a TD with 38 seconds left.  Our undefeated season continued. 
10. November 23, 2008.  Utes 48 - BYU 21.  Just like in 2004, this win gave us the MWC Championship and sent us to a BCS game after an undefeated season.  BYU was 10-1 and ranked 14th going into the game.  The Utes forced six turnovers including five picks off Max Hall.  And Paul Kruger tripped on the 5-yard line trying to run a pick into the end-zone.
11. October 12, 2013.  Utes 27 – Stanford 21.  The Utes outplayed and held off the #5 Stanford Cardinal in their first real big PAC-12 win.  The Utes made a goal-line stand in the game's final minute and Travis Wilson threw two TD passes to beat the top-ranked Cardinal.  It was the highest-ranked team we had beaten at home up until then.
12. October 25, 2014.  Utes 24 – USC 21.  Travis Wilson threw a TD pass to Kaelin Clay with 8 seconds left to beat Matt Barkley's Trojans.  The Utes were #19 and the Trojans were #20.  The media made a big deal of the fact that it was Utah's first win over USC at home in 99 years.  We hadn't exactly played them much during that time.  Still a big win and a crazy ending.  I have a large framed photo of that TD in my office. 
13. September 3, 2015.  Utes 24 – Michigan 17.  Running back Devonte Booker had 124 combined yards and the Utes wrecked Jim Harbaugh's Michigan coaching debut.  It wasn't so much beating Michigan since the Utes had gone into Michigan and beaten them twice (2014 and 2008) prior to this game.  It was the Harbaugh thing and national TV.  It was also the arrogance of the Michigan fan sitting beside me who didn't say a word as it became apparent we were going to win after telling me how badly they were going to kick our ass.  :-)

14. November 24, 2018.  Utes 35 – BYU 27.  So what was the big deal with this game?  Utah came out in this "rivalry" game and basically sleep-walked through three quarters.  The Cougs came out on fire.  The Utes were pathetic.  I said a lot of bad words during the first three quarters as ours guys got man-handled.
Then, the switch went on.  With 86 yards of total offense in the first half, the Utes finally started playing mid-way through the third quarter.  They scored 35 unanswered points after being down 20-0 and 27-7.  Backup QB Jason Shelley finished the game 19-for-28 passing for 141 yards and a TD while rushing for 61 yards.  His 33 yard TD run late in the 4th quarter capped the win off as I finally took a breath. 
15. November 20, 2021.  Utah 38 – Oregon 7.  Why is a blowout listed here?  Well, Oregon came in to this game #3 in the nation and on their way to the College Football Playoff.  Or so the narrative went.  Something happened on their journey though.  The Utes completely dominated the Ducks especially physically and this game was never close.  But I stayed until the end and enjoyed every second of it.
16. November 20, 2022.  Utah 43 – USC 42.  Another team on their way to the College Football Playoff.  Unfortunately for them, there was a malfunction at the junction.  The junction being Rice-Eccles Stadium with its umpteenth consecutive sell-out. 
All credit to USC and Caleb Williams, their QB and eventual Heisman winner.  He's fantastic ... although not exactly likeable.  We actually gave the Heisman winner two losses in the same season!  He still never gave us any credit.
This game was a classic.  I've watched the replay multiple times.  The difference in the game was the riverboat gambler Kyle Whittingham going for a 2-point conversion instead of the sure-thing tie and QB Cam Rising executing it perfectly. 
* The Best Game I Never Saw: 
       November 4, 1972.  Utes 28 - Arizona 27.  The Utes were down 27-0 after the first three quarters.  As the Salt Lake Tribune reported, most of the fans were headed for the exits.  With Brownie Van Galder at QB and Steve Marshall returning an interception 68 yards for a TD, Utah won the game with 10 seconds to spare.  The greatest Ute comeback ever.

There have been some other great games.  And great endings.  The crazy blocked field goal by Brandon Burton to beat BYU 17-16 in 2010. 
The equally crazy ending in the 2012 BYU game as the Utes prevailed 24-21 after BYU was allowed to attempt two field goals in the last couple seconds.
---
Have A Great Story About Rice-Eccles Stadium or Ute Football?
Do you have a great story about Rice-Eccles Stadium or Ute football? Share it!