Utah Beats Down Florida to Open The 2023 Season
by Rod
(Salt Lake City)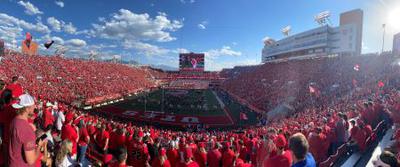 Utah 24 Florida 11
In the season opener for both teams, the #14 ranked Utah Utes ... missing 8 starters ... beat the mighty Florida Gators from the SEC.

With starting QB Cam Rising out along with multiple other starters, the two back-ups ... Bryson Barnes & Nate Johnson ... guided the Utes to a comfortable 24-11 win over the proud and once-mighty Gators.

A record crowd of 53,644 attended the game. It was a hot, breezy day with game-time temperatures ... according to my car thermometer ... at 96 degrees.

The 3,000+ Florida fans had little to cheer about. Hope they enjoyed the rest of their visit.

See the photos above to see a little bit of what happened.
Join in and write your own page! It's easy to do. How? Simply click here to return to Utah Utes Invitation.