Aaron Million Pipeline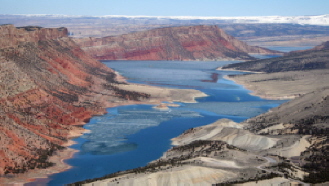 Now why would I write a page about something called the Aaron Million Pipeline on a site like this? Well, it's pretty simple really. Because people in Utah and Wyoming … and anyone who loves the Flaming Gorge area … need to stand up and voice their opinion very loudly about what's going on.
I wouldn't have even heard about this without watching a segment about fishing the Green River on KSL Outdoors with Adam Eakle. The bottom line? A developer from Colorado … that's right, not Utah or even Wyoming … wants to take 81 billion gallons of water per year out of the Green River and Flaming Gorge.
He wants to pump it onto the Colorado Front Range … the most populous region of Colorado. 560 miles! 250,000 acre-feet per year. The cost would exceed $7 billion. And annual operating costs over $123 million.
As a friend of mine says when he commonly questions something he finds absurd … "Are you shittin' me right now?"
An Absolute Disaster Waiting to Happen
The Aaron Million Pipeline is a potential environmental and economic catastrophe that could be unleashed on the local communities, outdoor habitat, and the people who pay taxes in three states … Utah, Wyoming, and Colorado.
What are the potential consequences if this project is actually allowed to happen?
Reduced water levels in Flaming Gorge to the point that it becomes virtually useless for the recreational opportunities that people now take for granted.
Increasing temperatures in the reservoir will raise the salinity levels. The result? The world-class lake trout and kokanee salmon populations in Flaming Gorge will be decimated or even wiped out.
It will destroy the blue-ribbon fishery … the Green River … for trophy rainbow and brown trout. The river flows will not be able to sustain the fishing we now enjoy.
This area is critical mule deer and pronghorn habitat. Not only will hunting opportunities be dramatically reduced … or even eliminated … the wildlife numbers will be slashed as well.
The wetlands in the basin will be altered beyond repair. The waterfowl habitat will disappear! And downstream? Seedskadee National Wildlife Refuge, Browns Park National Wildlife Refuge, Dinosaur National Monument , and Ouray National Wildlife Refuge will all be altered beyond recognition.
Another consequence? If the hunting and fishing opportunities aren't already affected enough, watch out for the spread of invasives like cheat grass, tamarisk and quagga mussels. They may deal the killer blow.
I'm not talking about anything political at all here. This isn't political. This could force the government to spend millions of dollars in taxpayer money … money we can't afford … to rebuild boat launches, campgrounds, marinas, fishing piers and other access points. For what reason? To make a developer more wealthy?
This project ... The Aaron Million Pipeline ... would destroy a $118 million recreation-based economy which the communities in this region depend on for their livelihood.
If you're concerned about species listed in the Endangered Species Act, forget about them in this area. The razorback sucker, the Colorado pikeminnow, and the bonytail chub. They're gone if this project is allowed to continue. The area's recreation-based economy will continue to operate with restrictions required under federal law if the status quo continues.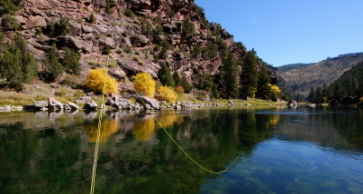 It's Our Dam Water
Exactly how I feel. A developer from Colorado trying to divert water from Utah and Wyoming to Colorado and add to his bank account. It pisses me off.
And if it pisses you off, why don't you do something about it? Go to this site now to learn more:
Take Action Now
The Aaron Million Pipeline project threatens the very existence of Flaming Gorge and the Green River below the dam.
We need your help! And here's what you can do.
Go here and join this coalition.
Contact the governors of Utah, Wyoming, and Colorado and tell them what you think. Tell them this project needs to be opposed and shut down.
Governor Gary Herbert
Utah State Capitol Complex
350 North State Street, Suite 200
PO Box 142220
Salt Lake City, UT 84114-2220
801-538-1000
800-705-2464
Governor Matt Meade
State Capitol
200 West 24th Street
Cheyenne, WY 82002-0010
307-777-7434 (phone)
307-632-3909 (fax)
Governor John Hickenlooper
136 State Capitol
Denver, CO 80203-1792
303-866-2471 (phone)
303-866-2003 (fax)



Back to top of Aaron Million Pipeline

Back to Flaming Gorge

Back to Home Page